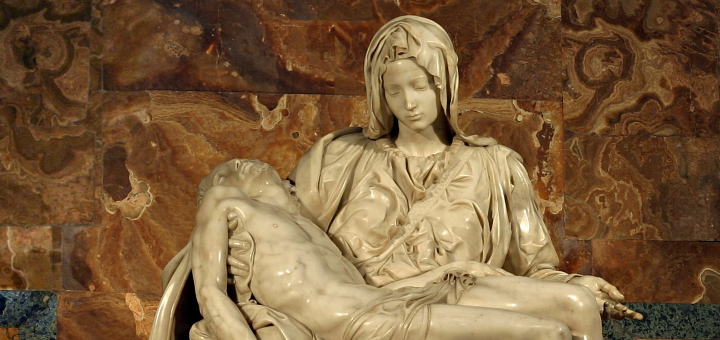 James Tissot [Public domain], "Jesus Tempted in the Wilderness," via Wikimedia Commons[/caption]Recently singer Linda Ronstadt granted a rare interview with CBS This Morning as part of a promotion for the release of her first live album. Suffering from Parkinson's disease, Ms. Ronstadt lost her ability to sing ten years ago. Her life is far different from her days as the reigning queen of pop music. Ms. Ronstadt is stoic about her life even as she is unable to perform the simplest tasks without help, from putting on her shoes to brushing her teeth. It is not dying that she fears, but suffering. Linda Ronstadt is being led where she does not want to go. Jesus too was led in that direction. First it was into the desert where he would fast for forty days and endure temptation. Later it was to the cross where he would give up his life to fulfill the will of his Father. No one could better understand the difficulty of being led where you do not want to go. I am being led that way now as Lent begins. God is calling me to die to myself in a way I could never have imagined. It is turning my life upside-down. Family and friends believe this change will be good in the long run but I am having a hard time getting past the idea of having to take this step. It could result in my having to give up on a long-held and hard fought-for dream, a passion very dear to my heart. Perhaps too dear. I have long been aware that this work for which I have such passion becomes an idol, often coming first in my life over God. Even as I pray to the Lord to walk beside me and guide my work, my mind and heart become consumed, crowding Him out. But I know it is best to answer God's call, no matter how difficult. I look at Linda Ronstadt and wonder how she accepts her life with such grace. I look at Mary, who was willing to enter the unknown by accepting the role offered to her of bearing the Messiah. Part of that role required that she witness the gruesome death of her beloved Son. Meanwhile Jesus accepted His destiny with quiet resolve despite being betrayed, mocked, and tortured on his way to Calvary.
Photo of Michelangelo's "Pieta" by Stanislav Traykov [CC BY-SA 3.0], via Wikimedia Commons[/caption]I am raging at my circumstance, albeit privately so as not to burden others. I ask God constantly to reign in my emotions and accept whatever he has in mind for me. I listen to John Michael Talbot's song, based upon the writings of St. Teresa of Avila to draw comfort:
Let nothing trouble you and let nothing frighten you. For everything passes but God will never change … God alone is enough.
It is a comfort to know that Mary and Jesus both had to deal fear, heartbreak and horror on the path to resurrection. It is likely that Mary had heard Jesus foretell his destiny of dying and rising but the at the foot of the cross, she could only cry out with gut-wrenching pain as she saw her beloved suffer. Did she too rage at her circumstance? Even Jesus had to pour out His fear, begging his Father to "let this cup pass from me." He needed emotional support from His disciples and found them asleep rather than lifting Him up in prayer. One betrayed Him with a kiss. Our Lord's suffering was as much emotional as physical. The Messiah had to pass through the wall of his feelings to get to the other side. I am not alone — Jesus knows how I feel. He is there every step of the way even as my emotions deceive me into thinking I am alone. And He will remind me of the long view — suffering passes and resurrection is imminent. Lent always leads to Easter. https://www.youtube.com/watch?v=8_QovdnsRvI
---
Copyright 2019 Susan Bailey
About the Author