A review of Symbol or Substance? A Dialogue on the Eucharist with C.S. Lewis, Billy Graham and J.R.R Tolkien by Peter Kreeft As we approach Holy Thursday and remember the first Eucharist, questions may arise among our non-Catholic friends on just what we believe about this nearly indescribable sacrament, the source and summit of the Christian life. (CCC1324) Peter Kreeft's new book provides ample information for understanding the views of evangelical Christians and Anglicans and how they differ from Catholic teaching. The ideas presented are deeply theological and philosophical yet the book is easy to read and understand. Kreeft has allowed us to listen in on an imaginary dialogue between Billy Graham, C.S. Lewis, and J.R.R. Tolkien.
Well-known evangelist Billy Graham comes from the evangelical protestant position. C.S. Lewis, the beloved author of Chronicles of Narnia, Mere Christianity, The Great Divorce, and many other titles is an Anglican. And J.R.R. Tolkien, author of The Lord of the Rings is, of course, a devout Catholic. Lewis and Tolkien taught together at Oxford and were, in fact, close friends. As Tolkien was instrumental in bringing Lewis back to Christianity, it is likely they had many conversations just like this one. Billy Graham was included in the fictional dialogue as a representative of evangelical Protestantism. Kreeft does tell us that Lewis may have met once with two people from the Billy Graham Evangelistic Association. The conversation is fascinating. Graham says that Lewis' book Mere Christianity will do more for ecumenism, for unity among Christians, than any other book that's been written. Lewis goes on to say that what they agree on matters infinitely more than their important differences. Graham frequently emphasizes the importance of focusing on all that they have in common. Tolkien, however, quotes Mere Christianity, discussing how the book may bring people into a hall with rooms from which there are many doors that open into several rooms. "But it is in the rooms, not in the hall, that there are fires and chairs and meals." He goes on to say though that there is no common hallway in reality. "The starting point is the church Christ founded." Both Tolkien and Lewis agree that there are two main issues of disagreement among the three of them: papal authority and the Eucharist. Tolkien asserts that if Catholics are right Protestants are missing out on Christ himself. Guy, who is Graham's driver and is included in the discussion, adds that if Catholics are wrong they are idolaters. Lewis continues with the assertion that Catholics believe too much and Protestants believe too little. More than once the beliefs of the first 1500 years of Christianity are mentioned and the fact that there was unanimity of belief up to that point. The beliefs in sola scriptura (Scripture alone) and sola fide (faith alone) are discussed extensively. Tolkien, of course, points out that the Church gave us the Bible. Graham points out that the good thief was saved purely through faith as he hung on the cross. Graham, naturally mentions that belief in the Eucharist looks too much like magic. Apostolic succession is brought in, particularly in regard to the Anglican Communion. Sacramental efficacy, Gnosticism, the Reformation, heresy, and infant baptism are all discussed. As Kreeft says in his introduction to Symbol and Substance, this conversation, while imaginary, "could have happened." And what a privilege for us to be able to listen in. I highly recommend this book. It is entertaining, informative and easy to understand. The summary of Anglican and Protestant differences in belief could be quite helpful in defending Catholic doctrine on the Eucharist. And it presents a delightful example of how deeply differing religious views can be handled with mutual respect. If you would like to understand how our protestant brothers and sisters view the Eucharist and how to explain Catholic teaching with kindness and solid reasoning, this book is for you. It's not long, not hard to read and packed full of faithful Catholic teaching (presented by Tolkien). Peter Kreeft has written yet another wonderful book!
---
Copyright 2019 Rosemary Bogdan -- Cat: Book Notes Tag: Books, Book Notes, Reading, featured-slider Featured image: Book Notes logo TAG LINE BELOW COPYRIGHT IF AMAZON AFFLINKS ARE INCLUDED -- editor will handle this but it helps if you notify editor up here if you have afflinks This article contains Amazon affiliate links; your purchases through these links benefit the author. EXCERPT: 20 words or less, include your full name
About the Author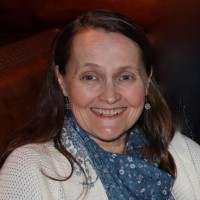 Rosemary Bogdan is a wife, mother of six adult children, and a grandmother. She homeschooled her children when they were young and currently substitute teaches at her favorite Catholic school. When not spending time with her family, Rosemary writes at A Catholic Mother's Thoughts and Catholic365.com.