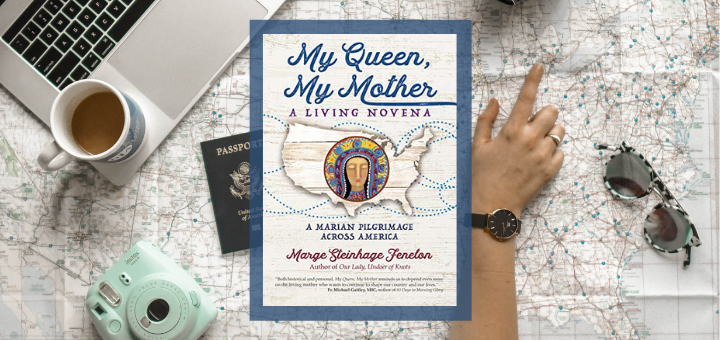 Image created in Canva using free elements.[/caption] My Queen, My Mother by Marge Fenelon (Ave Maria Press) is more than simply a novena of prayers: it's a pilgrimage memoir, travel guidebook, and prayer book all in one. Fenelon leads the reader on a journey around the USA, visiting nine holy shrines to the Blessed Mother and sharing what makes each a unique and worthwhile place to visit and pray. As Fenelon's spiritual itinerary crisscrosses the United States, she reveals the close-to-home spiritual treasures we may have overlooked. Along the way, readers are guided through a novena of consecration to the Blessed Mother. The book can be read over nine days, weeks, or months -- but I had a tough time stopping at the end of any single day's entry.
Each shrine has a particular "personality," emphasizing a different aspect of the Blessed Mother. For example, the Shrine of Our Lady of La Leche (St. Augustine, Florida) is the center of devotion for women seeking intercession for infertility and other difficulties of motherhood. The Basilica and National Shrine of Our Lady of Consolation (Carey, Ohio) is visited by many seeking healing. And the Shrine of Our Lady of Peace (Santa Clara, California) offers refuge for all seeking peace in the hustle and bustle of daily life in the Silicon Valley, one of the busiest places in the country. The author ends by emphasizing the importance of making regular visits to holy shrines, as these are in danger of disappearing due to lack of visitors and funding. To my shame, I can witness to this: I've lived within 15 miles of the Shrine of St. Katharine Drexel since 1992, but I only made one visit there, in 2015, before it closed permanently. But shrines, large and small, dedicated to the Blessed Mother and to various saints, dot the American landscape: chances are good that there's one near you. Don't let shrines become a thing of the past. In My Queen, My Mother, Marge Fenelon makes it clear that visiting a shrine -- even briefly -- can be a beautiful spiritual experience.
---
Copyright 2019 Barb Szyszkiewicz, OFS
This article contains Amazon affiliate links; your purchases through these links benefit the author.
About the Author