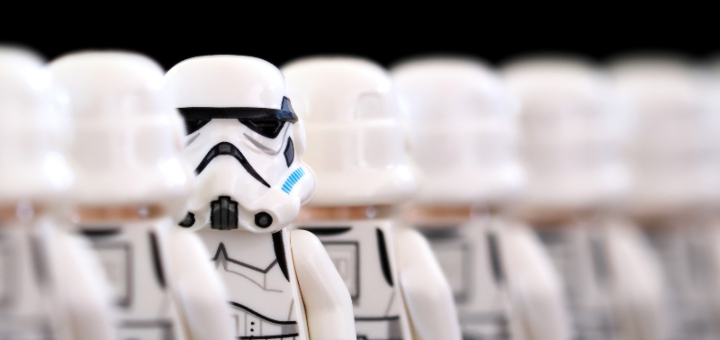 Image credit: Pixabay.com (2017), CC0/PD[/caption] For about the last ten years or so, Star Wars fans have had fun turning the fourth day of the month May into a sort of National Star Wars Day. "May the Fourth be with you" is the tagline. Pretty cute. In honor of our CatholicMom.com readers whose children are captivated by the Star Wars ethos in our culture, I'm here to introduce you to an incredible Catholic creative, Phillip Kosloski. He is a talented writer who has created a Catholic comic book series. These comics infuse some spiritual muscle into the imaginative Star Wars legend. Visit his web page about the comics.
His comic book series is called Finnian and the Seven Mountains. His comics are artfully designed stories of St. Finnian of Ireland. He masterfully creates a saga that gives us a creative parallel universe based on the island where we find Luke Skywalker in exile in The Last Jedi movie. We need to patronize Phillip and his team. We want them to produce more great material that delights and instructs young people with heroic faith and virtue! My son, at age 13, weighed in with his review of Finnian:
Finnian and the Seven Mountains is a cool comic. The Catholic faith is in there, but it's not boring. It's a great adventure with Vikings and swords. It takes place on the real island where the long-lost Luke Skywalker is found in the movie The Last Jedi. It is a great epic comic hero story.
Take a look at a mini interview with Phillip, the creator of Finnian, in the National Catholic Register. An Aleteia article gives a broader introduction to this series of faith-affirming comics. May the fourth is actually the official Catholic feast day of 85 martyrs who gave their lives for their Catholic faith in England and Wales in the late 1500s and early 1600s. Perhaps our prayer can be that our children will find their souls infused with the courage of St. Finnian and all the martyrs and saints of the British Isles as they imagine the stories of valor exemplified in the Star Wars saga. A prayer for us to pray:
God, grant us the ability as parents to turn the fun of pretending into a channel for our children's hearts to seek their strength ... NOT in some unidentifiable spiritual "force." May we use the Star Wars imagination to lead our sons and daughters to find their strength in the very personal gift of grace bestowed on them by YOU ... our loving and merciful Almighty Father.
Phillip Kosloski is a great champion to help us do just that!
---
Copyright 2019 Cathy Gilmore
About the Author