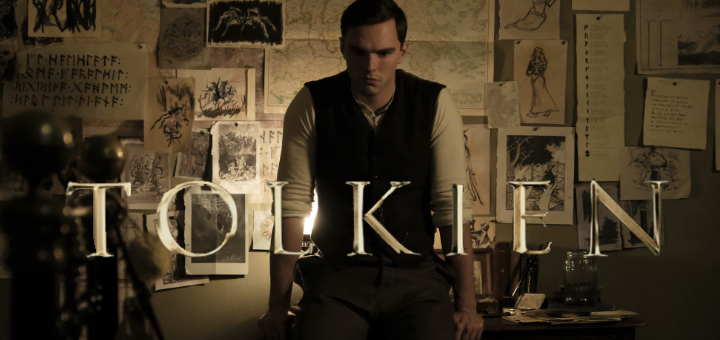 Photo by David Appleby. © 2019 Twentieth Century Fox Film Corporation. All Rights Reserved[/caption] The biographical drama film about John Ronald Reuel (aka J. R. R.) Tolkien shows his early life influences and inspiration for his highly creative and linguistic fantasy stories that will be his legacy for multiple generations. Written by David Gleeson and Stephen Beresford and directed by Dome Karukoski, this film portrays Tolkien's challenging childhood when he and his brother become orphans at an early age. Karuskoski says he connected with the story since he read Tolkien's works at the age of twelve when he was fatherless, bullied in school, and felt to be an outcast. His love of Tolkien's worlds gave him an outlet. He says, "It was destiny to encounter those stories since they shaped the storyteller that I am." Tolkien's mother Mabel (Laura Donnelly) raised her boys Catholic and entrusted them to the care of Father Francis Xavier Morgan (Colm Meaney) before she died. The film does not expound upon Tolkien's Catholicism, though it had great influence on his life and work, especially in his creative imagination. Many people criticize the filmmakers for this supposed downplaying of Tolkien's faith, to which Karukoski replies, "I didn't purposely downplay his religion. ... It's hard to depict spirituality since so much is internal." He continues by saying that, "I tried as much as possible to show it but with Tolkein there was not a religious conflict." And conflict is what makes for a good story. Filmmaking and storytelling build up to an arc of conflict with some type of resolution. But, when there isn't any conflict, it's better not to make it up, especially in a biographical drama. Tolkien's spirituality was present to him in his life choices and daily decisions and that's truly Catholic. When we live our lives living the Gospel values, then we are most authentically religious. As a teenager Tolkien (Nicholas Hoult) and his brother Hilary move into a boarding house where he meets Edith Bratt (Lily Collins), three years his senior. He is struck by her brilliant imagination and spunky spirit, something that spoke to his soul. Karukoski says that Edith was, "strong and smart" and had become, "the light in his darkness." They share their love of language and story. The film interweaves elements from Tolkien's later fantasy stories, especially The Silmarillion, within their conversation and his daily experiences. Some of his later ideas are sparked by Edith's stories and her very person becomes his inspiration for the Elf-maiden Lúthien. It is at this time in his life that begins to construct languages, partly due to his mother teaching him Latin at a very young age. Tolkien goes off to college quickly connecting with three friends, Rob Gilson (Patrick Gibson), Geoffrey Smith (Anthony Boyle), and Christopher Wiseman (Tom Glynn-Carney) who together form the T.C.B.S. which stand for the Tea Club and Barrovian Society since they liked to drink tea in the library. They share their love of literature, poetry, art, and music and their friendship becomes their anchor even when all go off to fight in the First World War. Their bantering and colloquial conversation feed into their artistic minds and provide creative fodder for Tolkien's ingenious mind. Their motto was to "change the world with art," and as Karukoski says, "they would profoundly influence each other." When Tolkien fails his exams, Father Francis prohibits Tolkien from seeing or interacting with Edith, a Protestant, believing that their relationship was the reason Tolkien lacked attention to his studies. Until he was of adulthood age of 21, he could not interact with Edith, though he was very much in love with her. Father Francis was a gentle man and a true father figure to Tolkien. Karukoski says that Father Francis, "simply did not want Tolkien to leave school for a girl." When Tolkien reached that age he contacts Edith and discovers that she is engaged to be married. In a drunken stupor one night, Tolkien staggers on the college lawn looking up to heaven, crying out in a language of his own creation, and is discovered by the college's philologist, Prof. Joseph Wright, graciously played by the incomparable Derek Jacobi. A new friendship develops and a path to his future career. Tolkien goes to find Edith and tells her he never stopped loving her. She was going to marry another man only because she thought Tolkien forgot about her. They marry and she becomes the light in the dark world that was engulfed in war. And it is wartime that shapes Tolkien and his understanding of humanity. It is in the struggle and pain that his creativity ferments, formulating the stories that would shape his life and generations to come. The classics such as The Simirillion, The Hobbit, and The Lord of the Rings not only have captured the minds of those who have read these stories but also those who have been influenced by the subsequent films made based on Tolkien's masterpieces. Not only has he influenced society with his fantasies, but also with his deeply religious nature. His Catholicism and sacramental imagination penetrate his stories, giving them a sacred quality, such that they will live on in the annuals of literature as other notable Catholic authors have done so before him. This film is a lovely testament to the brilliant writer who captured the imaginations of children young and old — a film worth watching!
---
Copyright 2019 Sr. Nancy Usselmann, fsp
This article was originally published on BeMediaMindful.org.
About the Author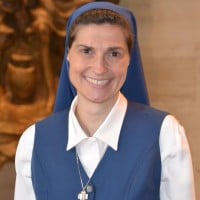 Sr. Nancy Usselmann, FSP is a Daughter of St Paul and the Director of the Pauline Center for Media Studies in Los Angeles, CA. She is a Media Literacy Education Specialist, theologian, international speaker, film reviewer, and blogger for BeMediaMindful.org. Her book A Sacred Look: Becoming Cultural Mystics is a theology of popular culture published by Wipf & Stock Publishing.