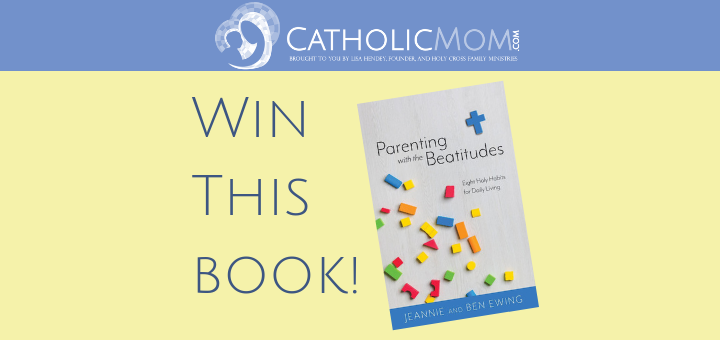 Did you ever think of the Beatitudes as parenting advice? I've been a mom for more than 27 years, and this never crossed my mind. But Jeannie and Ben Ewing make a great case for viewing the Beatitudes not only as a guide for living, but as a model for parenting in their new book, Parenting with the Beatitudes: Eight Holy Habits for Daily Living (TAN Books). The Beatitudes are holy habits. (Mind. Blown.) In this book, you'll learn how fostering those holy habits in yourself and your children will help your whole family grow in virtue.
This parenting book is not for moms only. Jeannie and Ben take turns sharing their own stories, reflections, and impressions of each beatitude and how it can inform our parenting. Jeannie discusses how the Blessed Mother displayed the virtues behind particular beatitudes; in his section of each chapter, Ben recounts the way in which St. Joseph lived out those same virtues. Each chapter also includes an action plan for living the beatitudes and corresponding virtues while parenting children in three age groups: toddlers and preschoolers, elementary age, and adolescence. Rounding out the chapter are saint profiles and a concluding prayer. Only one of these saints was ever a parent, but Blessed Solanus Casey, St. Elizabeth Ann Seton, St. Alphonsus Liguori, St. Vincent de Paul, St. Teresa of Calcutta, St. Thérèse of Lisieux, and St. John Paul II can -- and do -- inspire parents with their holy examples. Enter below to win your copy of Parenting with the Beatitudes! We'll choose 3 winners in the USA at random from among all entries in the comments box below. Contest ends Monday, June 3, at 11:59 PM Eastern. Winners will be notified by email and will have 48 hours to claim the prize. If a prize is unclaimed, an alternate winner will be chosen.
To enter, leave a comment answering this question: What saint is your patron saint for parenting?
It can be a saint mentioned in the Ewings' book, or someone else. Tell us about your parenting patron saint!
---
Copyright 2019 Barb Szyszkiewicz, OFS This article contains Amazon affiliate links; your purchases through these links benefit the author.
About the Author