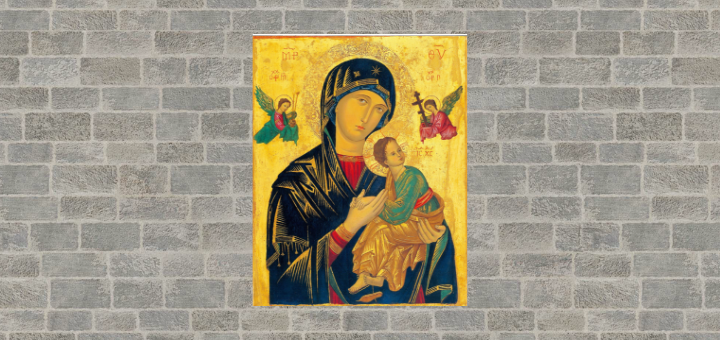 Lloyd Baltazar [CC BY-SA 3.0], via Wikimedia Commons[/caption]For my entire childhood growing up in a suburb of Boston, my maternal grandmother, Jane Blackman, lived with our family, a family comprised of four kids, my parents, and an Airedale Terrier. I remember her as a quiet, pious woman -- an invalid for the last years of her life. Jane was confined to an upstairs bedroom. It was a simple room with few decorations -- a small television, rosaries with tiny blue beads, and two images of Our Lady of Perpetual Help. One image was hand-painted on a necklace; the other was a larger image that hung on her wall. Many years later, I inherited the iconic image. It always mystified me. The Blessed Mother held child Jesus in her arms, his hands clasping her thumb. He does not look at Mary or me. He stares at two angels who hold strange objects. The most puzzling detail is that of our Savior's feet. One of his sandals has slipped and dangles by a strap. What does it mean? The archangels Michael and Gabriel hover in the corners. Each holds instruments of the Passion. Saint Michael holds the spear, a sponge soaked in gall, and the crown of thorns. Gabriel holds the cross and nails. An artist (some speculate that it was St. Luke) captures a poignant moment in the life of Jesus. The little boy had experienced a vision of how he would die. In terror, he flees to his mother for consolation. Now my grandmother's devotion to this icon started to make sense to me. Jane Blackman endured great sorrow in her life. As a young mother, she gave birth to a stillborn daughter, She later gave birth to three sons. In the year 1919, tragedy struck. Her beloved mother died of complications from diabetes. Several months later, her husband Clifford died suddenly, leaving Jane bereft of income. She also was seven months pregnant with my mother, who would be named Helen Virginia. Overcome by grief, Jane was not able to care for her infant daughter. A family historian records a poignant scene. Infant Helen's older brother wraps her in a blanket, tucks her in a baby carriage, and wheels the newborn to an aunt who lived nearby. Ultimately, the entire family was taken in by a maiden aunt named Alice who lived in a large house complete with wraparound porch. In this home, the family clung together, surviving the Great Depression. Later, Jane sent three sons off to serve in the U.S. Army during World War II. Of course, as a child I did not know any of this family history. All I knew was that Grammie seldom smiled and often prayed. She must have spent many hours contemplating the mysterious image of the Virgin Mary, their faces mirror images of each other. In those dark days that brought death, the Great Depression, war, and heartbreak, my grandmother contemplated the icon of Our Lady of Perpetual Help and there found comfort in her grief. We celebrate the feast of Our Lady of Perpetual Help on June 27.
---
Copyright 2019 Kathryn Swegart
About the Author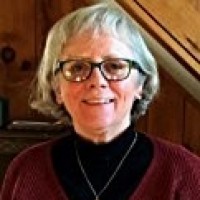 Kathryn Griffin Swegart and her husband raised three children on a small farm in rural Maine. Kathryn, a professed member of the Secular Franciscan Order, is the author of the bestseller Heavenly Hosts: Eucharistic Miracles for Kids Visit her website at KathrynSwegart.com.