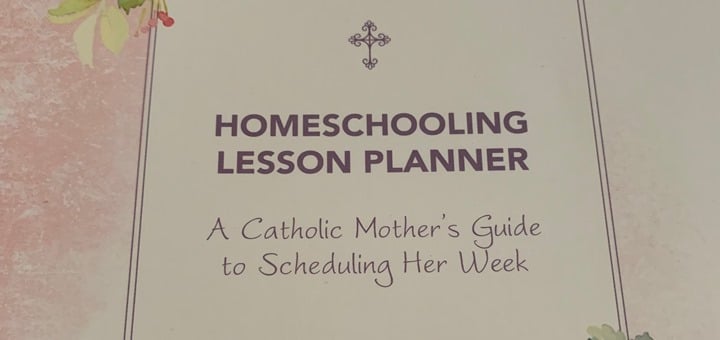 Homeschooling is full of joy, laughter, hardship and sorrow. It is a challenge and it bears great fruit. Though I don't quite see myself as a "veteran" homeschooling mom, I have been at it for almost 4 years and starting this January (or sooner depending on the level of insistence by the not-quite-3-year-old) I will have 4 gathered around the table.
Each year thus far I've used a different method of planning our schooling experience. At first, I used the lesson plans that came with the curriculum. I'm so thankful for those pages because they allowed me to see how little bites of learning add up over time into a bountiful feast by the end of the year. Consistency and simplicity rule the day, at least for our school time.
As the number of kids at the table began to increase, using separate lesson plans became too cumbersome. I turned to a DIY spreadsheet and even created my own printed planner with some success. It was great to have everyone's work in one place. But neither were very pretty. And being totally honest, if a planner is not at least a little colorful, decorative, or otherwise slightly feminine, I'm not going to use it with enthusiasm.
When I heard about the
Homeschooling Lesson Planner: A Catholic Mother's Guide to Scheduling Her Week
(TAN Books), I knew I wanted a closer look at it. For one thing, I love having spiritual elements immediately at hand to help keep me focused on what we are trying to do here. My own DIY attempts were lacking this vital piece of homeschooling. Because for our family, and many homeschooling families, our school isn't just about the academic. It is a place where the domestic church really comes to life in our discussions, projects, explorations and simply spending this time together.
What I Love:
Each and every week is preceded by a Spiritual Cover Page: 2 pages of inspiration, reflection and prayer. Amanda Evinger, the author and designer of this planner, has included inspirational quotes from various saints, authors and homeschooling families, reflections, prayers, liturgical happenings that week, and space to write any spiritual or academic goals as well as prayer intentions.

Image credit: Kate Taliaferro. All rights reserved.[/caption]

The overall design of the planner is simple. Often in other planners I've looked at or considered using there ends up being whole sections of wasted space. Trackers, lists, planning space, pre-year set up, end-of-year reviews, etc. This planner does not go overboard with extras.

Without going overboard with extras, there is still room for doing fruitful planning. The back section of the planner has spaces for yearly progress, end-of-year reviews and looking ahead. But these spaces are very generic and can be used easily for other lists or tracking progress for a number of subjects if you don't want to stick to the categories given at the top of the page.

Image credit: Kate Taliaferro. All rights reserved.[/caption]

Because of the simplicity, I think this would be a great planner for a mom and middle-schooler to work on together. Though I don't have a middle-schooler yet, my 8-year-old is already looking for ways to help steer his learning and pacing. This planner would be great for giving a student some more control over their school day within the bounds set by their parents (you can't only do math and skip grammar, etc.). The reflections and goal setting for the week would be a gentle way to encourage them to consider their spiritual growth as well as academic growth.
What I Wish Were a Little Different
No planner is perfectly going to fit every single homeschooling situation. Each family has their own unique needs and challenges. What follows is what would not work for my personal homeschool, but could be perfect for yours.
Though the planner says it could be used for 4-5 children, I do not think I could plan more than 2, 3 at the most. Or I need to adjust my handwriting to be incredibly smaller than it usually is. The boxes in the weekly spreads are too small to detail assignments beyond a text and page number when you are dealing with multiple children.

Image credit: Kate Taliaferro. All rights reserved.[/caption]

On the weekly spread, each week is assigned a number - July 1-7 is listed as Week 1. The way I choose to plan, we number our weeks based on whether we schooled or not that week. So my Week 1 won't be until sometime in August. This is a super minor thing that I could easily get over though with some washi tape and a marker.

Also needing washi tape and a marker are the subjects. In the weekly spread some subjects have already been pre-written in: Math, Science, History, Religion and English. For some, this may not be a big deal. For our school however, I usually break "English" into "Spelling," "Grammar," and "Reading" because not all 3 are done on every day. Also, not everyone is old enough to be doing history so this would become wasted space that I could use for something else. Again, definitely fixable with a little DIY love.

I know I said that I loved the simplicity and I do very much. However, I would have liked to see a space for some kind of overview of the year. What books are we using, what is the target pace to help keep us on track for each subject, etc. This is something my DIY planners was lacking and I believe would be a helpful resource for us. With multiple children to manage, it can be easy to get off track with one or more subjects without some kind of big-picture element.
Overall I think this is a very useful and purposeful planner. There are many options for how it could be used and customized to your homeschooling experience. The Spiritual Cover Page really enhances this planner above others because it takes into thoughtful consideration you as the homeschooling parent. Yes, the focus of homeschool is mostly on the children being schooled, but it is so important to be feeding yourself as well. Taking time with these pages is something I'm very much looking forward to next year.
The Homeschooling Lesson Planner: A Catholic Mother's Guide to Scheduling Her Week is available for pre-order from TAN Books or now at Amazon.com.
---
Copyright 2019 Kate Taliaferro
About the Author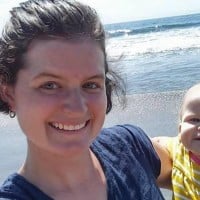 Kate Taliaferro is an Air Force wife and mom of 4. She has a Masters in Religious Education and tries to find God's presence in all parts of her day, be it cooking, cleaning or just the everyday ordinary. She enjoys homeschooling, stitching crafts and finding cheerios between the couch cushions. She blogs at Daily Graces.