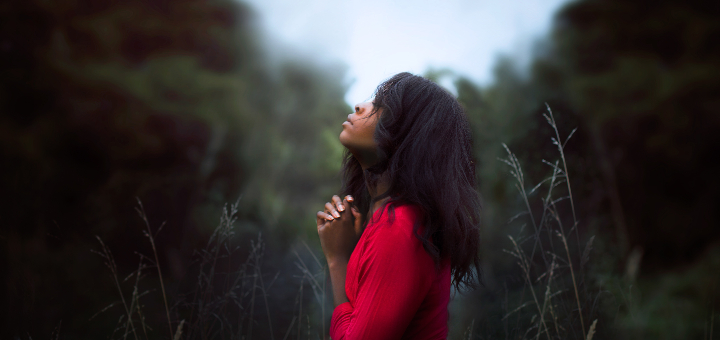 Image credit: By Diana Simumpande (2017), Unsplash.com, CC0/PD[/caption] If your prayer life is hit or miss, your most ardent prayers likely happen during emergencies. That is like cramming for a test as it's being passed out. Prayer is communication with God, so no communication = no relationship. To know God is to love Him, and to pray and have faith in God means moving mountains rather than tripping into rat holes. We know there will be suffering in this life, but without prayer, we often create our own problems. Rather than walking with the Lord and letting Him lead the way, we wander off in the wrong direction. Plus, consider this: Are we even asking for hardships by ignoring God? If we only pray to Him during emergencies, and prayer is how we connect with God, and a life without God puts us at risk for damnation, it makes sense that He is going to take away the things getting in the way of our salvation. Books to Inspire Prayer If we lack the discipline or desire to pray, here are some books that can help. Thirsting for Prayer by Fr. Jacques Philippe offers inspiration based on retreats he gives around the world. Father Philippe explains that when we create a habit of turning to God in everything, we are brought into a unity with him. By walking with the Lord, he leads us away from spiritual pitfalls. Through prayer, according Fr. Philippe, we free ourselves up and become open to all the gifts God has to give us. "Man searches for God, but God seeks out man even more actively," he wrote. In 5 Habits of Prayerful People, Michael St. Pierre explained, "His plans are infinitely beyond anything we can glimpse, desire or imagine. In prayer there is a mystery that absolutely surpasses our understanding." Based on successful business models, he came up with prayer strategies to put muscle into his prayers so that both God and prayer would grow more deeply into his life. St. Pierre provides tools to power through to God by combining organization and discipline with inspiration from contemplative saints and Scripture. Given it's written by a man and based on a business model, this one might be especially helpful for men comfortable with such a strategy. 10 Promises of Jesus by Marge Fenelon lifts the soul closer to Jesus, inspiring you to unite with him in prayer. "'Ask and you will receive; seek and you will find; knock and the door will be opened to you. For everyone who asks, receives; and the one who seeks, finds; and the one who knocks, the door will be opened' in Luke 11:9-13 is a promise that God will hear our prayers." By sharing the promises of Jesus, beginning with "Seek ye first the kingdom of God," Fenelon draws us deeper into trust and faith of Jesus Christ which naturally leads us deeper into prayer. Prayer Hacks In Holy Hacks: Everyday Ways to Live your Faith and Get to Heaven, I dedicated an entire chapter on prayer. Since Jesus prayed, that is the most convincing reason to know that prayer is important "God has an irreplaceable role for us to play as members of his family that is not meant for anyone else," I wrote. "Prayer gets us there." God has much to give us through prayer. 'You would have asked him, and he would have given you living water," (John 4:10). A prayer life is not constant but has highs and lows. The key, as many of the saints told us, is to keep the habit of prayer. What matters most is not so much what we do, but what God does in us. Here are some ideas for deepening your prayer life.
Make a prayer corner or table. It could even be as simple as a chair under a crucifix to go to for quiet contemplation and prayer.
Just start talking to God.
The Bible, prayer books, inspirational writings, and the lives of the saints help bring you to God in prayer.
Ask someone pray for you if you feel stuck.
Pray for someone else.
Praise God. This in itself is a prayer.
Read the Psalms. For instance: "May my prayer be set before you like incense; may the lifting up of my hands be like the evening sacrifice" (Psalm 141:2).
Sing a hymn.
Just say the name of Jesus over and over. Scripture refers to the power of the name of Jesus.
Pray all the ways: praise and worship, intercession, petition, confession, repentance, and thanksgiving.
End and begin your day with prayer.
Create the tradition in your family of praying together before meals, at bedtime and in the morning.
Ask God for help before beginning any task.
Make time to stop off at Church before the Blessed Sacrament at least once a week.
Practice lectio divina, the slow, contemplative praying of Scripture. Ask God to let you know what message he wants you to get from it. Savor each portion of the reading, repeating portions that speak to you and meditating on it.
Whenever there is personal conflict with others, stop and pray.
Meditate on Christ's passion and death.
Keep short prayers ever on your lips such as: "Lord Jesus Christ, have mercy on me a sinner; " "Jesus, I trust in you;" "Praise you, Jesus;" or "O, Mary conceived without sin, pray for us who have recourse to you."
Give thanks throughout your day.
Pray to the saints, asking their intercession. In 1 Timothy 2:1–4, Revelation 5:8, and in James 5: 16-18, we are told that the prayers of the righteous man has great power.
The hope is that through prayer, we too will one day be counted among the righteous. May God bless all your prayer efforts and draw you closer to him!
---
Copyright 2019 Patti Maguire Armstrong This article contains Amazon affiliate links; your purchases through these links benefit the author.
About the Author