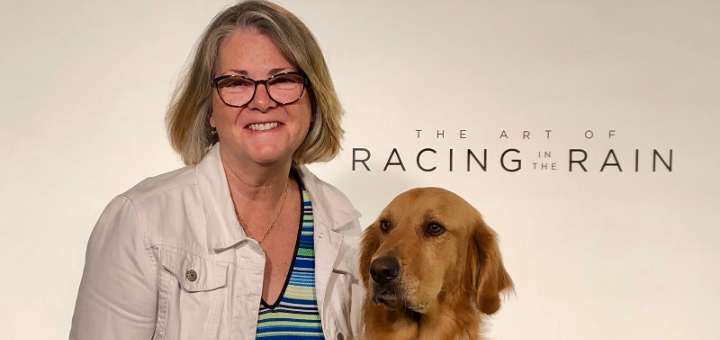 Copyright 2019 Lisa M. Hendey. All rights reserved.[/caption] Taken at its most basic level, THE ART OF RACING IN THE RAIN is a family-friendly look at life and love through the eyes of the family pet. Our guide for the emotion-packed journey is Enzo, a sage and sometimes sarcastic golden retriever voiced to perfection by Kevin Costner. Early in the film, Denny (Milo Ventimiglia), an aspiring race car driver, adopts Enzo. Their family eventually expands to fill our hearts when Denny falls in love with Eve (Amanda Seyfried), a beautiful special ed teacher who is as lovely on the inside as she is on the outside. When little daughter Zoe (Ryan Kiera Armstrong) joins the family, Enzo's role as caretaker rivals the responsibility Denny feels for his brood. In good times and in bad, in health and in sickness, Enzo walks us into the heart of a home and helps us feel all the feelings. He may not have opposable thumbs and a tongue that can form audible words, but Enzo knows and loves his humans and he teaches them, and us, to better love in his own furry way. https://youtu.be/Dp2ufFO4QGg
Synopsis:
From FoxMovies.com
Based on the best-selling novel by Garth Stein, THE ART OF RACING IN THE RAIN is a heartfelt tale narrated by a witty and philosophical dog named Enzo (voiced by Kevin Costner). Through his bond with his owner, Denny Swift (Milo Ventimiglia), an aspiring Formula One race car driver, Enzo has gained tremendous insight into the human condition and understands that the techniques needed on the racetrack can also be used to successfully navigate the journey of life. The film follows Denny and the loves of his life - his wife, Eve (Amanda Seyfried), their young daughter Zoe (Ryan Kiera Armstrong), and ultimately, his true best friend, Enzo.
Copyright 2019 Lisa M. Hendey. All rights reserved.[/caption]
All the Feels
Be forewarned: pack tissue. You'll need it. The arc of this film adaptation of Garth Stein's story takes us from Denny and Enzo's bachelor days into young married bliss and the fun and challenges of parenting. Enzo quickly learns to love racing as much as Denny does. His mental monologue helps us to "hear" his thoughts at every stage of Denny's life. As a result, Enzo loves what Denny loves, until Denny meets and falls for Eve. Enzo's initial jealousy for having to share Denny finally gives way to caring and compassion not only for Eve but eventually also for Zoe, his little "sister." Along the way, there are tender moments, a few "poop" jokes, and an ongoing battle with a zebra stuffed animal that's absolutely hilarious. Nothing gets past Enzo's oversight. In fact, when Eve begins to succumb to a life-threatening illness, it is Enzo whose keen sense of smell first detects that something is terribly wrong. He must helplessly stand by and see all of the sadness play out offering only his unconditional love as a remedy. While I've never owned a dog myself, I am a proud "dog grandmother" and know for myself the beautiful way in which pets not only become a part of our families but also perceive and respond to our deepest emotions. It's important to offer a few words of warning for parents who may want to take young viewers to this film. First and foremost (spoiler alert!), this film deals with death and dying. There is no gratuitous violence, but there is most definitely the lingering illness and death of a cherished mother. Additionally, a protracted custody battle may prove confusing for some young viewers who wonder if they could stand to be separated from their parent. Perhaps most concerning for some viewers, there is a recurring theme of reincarnation at the heart of the film. After viewing a documentary about dogs in Mongolia on television (and yes, he does watch television ... especially racing!) Enzo longs for life as a human. The film's satisfying conclusion underscores a circle of life theme that may concern some who don't want impressionable children to believe that dogs (or humans) come back to life on earth after death in a new form. This being said, I found myself falling in love with Enzo's perspective on relationships and family. Kevin Costner's voice is absolutely perfect for the wise old beloved relative who has so much to teach us. THE ART OF RACING IN THE RAIN connects in so many ways. On a deeper level, Enzo invites each of us into a consideration of the meaning of life and the power of true love. You'll laugh, you'll cry, you'll want a dog, a fast car, and a family to call your own. Rated PG for thematic material
Copyright 2019 Lisa M. Hendey. All rights reserved.[/caption]
---
Copyright 2019 Lisa M. Hendey
About the Author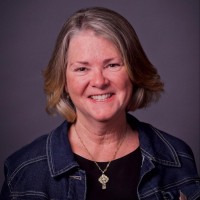 Lisa M. Hendey is the founder of CatholicMom.com, a bestselling author and an international speaker. A frequent radio and television guest, Hendey travels internationally giving workshops on faith, family, and communications. Visit Lisa at LisaHendey.com or on social media @LisaHendey for information on her speaking schedule or to invite her to visit your group, parish, school or organization. Visit Lisa's author page on Amazon.com.