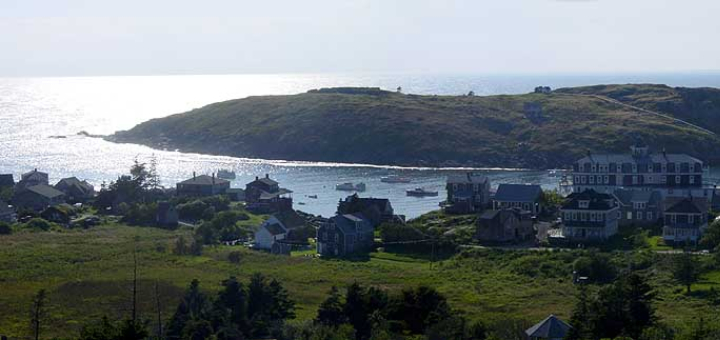 Halfblue at the English language Wikipedia [CC BY-SA 3.0], via Wikimedia Commons[/caption]I was definitely feeling stressed. We were late getting out the door. I barely had time to pack up peanut butter and jelly sandwiches and throw a sweatshirt in my backpack We were going to miss the boat, of that I was sure. My husband, Robert, tried not to assimilate my anxiety into his mindset. I looked at the car clock. We were 15 minutes late and still had to pick up our son, Peter, who was coming with us on a long boat ride to the isolated island of Monhegan, 10 miles off the coast of Maine. It was my bright idea to make this my birthday present. Now I was beginning to wonder if we would miss the boat and not be able to use our prepaid tickets. My husband tried to reassure me. "We'll get there in time. Just get the Maine road atlas in the back." I looked in the backseat. No atlas. If only we had a GPS or smartphone like normal people. "I thought you knew how to get to the wharf," I said. "I kinda do." Now we were really in trouble. I felt my heart begin to pound. We pulled into the designated meeting place. Fortunately, Peter was on time and had a Maine road atlas. Hope sprang eternal. We arrived with 20 minutes to spare. Great. We will all walk down the ramp, settle into our seats and finally relax, but that was my plan, not their plan. Peter took off to get coffee and my husband sauntered over to the porta-potty. I began to wonder if they would hold the boat for us. At 9:25 the men folk casually strolled over to the wharf, oblivious to my agitated state. At long last, the ferry Balmy Breeze left the wharf and we were actually on board. Miracles do happen. As Boothbay Harbor faded from view, I watched harbor porpoises leap out of the water. Black-backed gulls flew overhead. Small birds dove into the water in search of fish. A gentle breeze blew in my face. I felt my shoulders relax. Balmy Breeze chugged along, leaving all my cares behind, like the bubbling wake off her stern.
Hugh C. Leighton Company, Portland, Maine [Public domain], via Wikimedia Commons[/caption]As we stepped off the dock, it felt like we stepped into another world, another era. Wrapped in the Atlantic Ocean, we were in a place without roads and without cars. Three rusty, unregistered pickup trucks bounced their way on dirt paths down to the wharf to gather supplies. One truck hit a rock with a loud clunk. I cringed. That definitely could have poked a hole in his muffler. He calmly drove toward the dock, unperturbed by the nasty crunch. I was surprised at his reaction. It must be the soothing effect of sea air, I thought. If it had happened to me, I confess that an inappropriate word might have slipped out of my mouth. We hiked on boardwalks through wetlands that led us to a forest, up a sandy hill to towering 160 foot cliffs that looked out over the ocean. Kayaks glided in calm waters. Artists set up easels, painting rolling waves and patterns of sea foam along the shore. A few visitors strolled calmly along a narrow path, giving congenial greetings as they passed. I asked one gentleman what he did out here. He replied, "I just look at the ocean." I just looked at the ocean, too. I studied the flat horizon, pondered the vastness of an ocean that spanned thousands of miles, connected continents and a complex ecosystem of marine life. More than 100 research studies have shown that outdoor recreation reduces stress. CRC Health, a secular-based organization states, "Nature leads us to a sense of spirituality and an appreciation for powers larger than ourselves … and gives us a chance to appreciate a grander sense that the world is alive, fascinating and meaningful." Departure time came all too quickly, and I hated to leave this peaceful island. I sensed that my son felt the same way. He gazed longingly at a tiny nearby island where sheep and goats grazed on a grassy hill. "I wonder if I could get a job there," he mused. As the Balmy Breeze churned its way through Atlantic waters, I wrapped up in a deck blanket, my heart lifted up to a grander place, far removed from earth-bound worries. I will recall this birthday gift for many days to come, especially when a blizzard beats against a windowpane and I am snowbound. I will hold on tightly to a sense that God's creation is indeed "alive, fascinating, and meaningful."
---
Copyright 2019 Kathryn Swegart
About the Author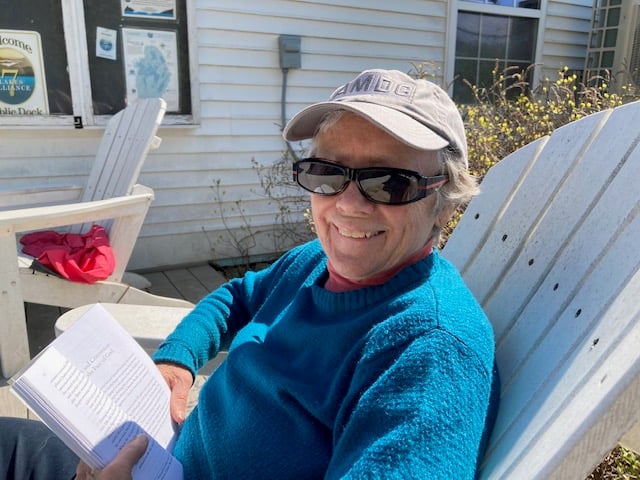 Kathryn Griffin Swegart and her husband raised three children on a small farm in rural Maine. Kathryn, a professed member of the Secular Franciscan Order, is the author of the bestseller Heavenly Hosts: Eucharistic Miracles for Kids Visit her website at KathrynSwegart.com.