Courtesy of CatholicTV.org. Used with permission. All rights reserved.[/caption] CatholicTV Network's series for Catholic women, The Gist, airs every Tuesday morning at 11 AM Eastern. Tune in to CatholicTV to see this show focusing on Catholic women and their families. Each week, Catholic personalities Danielle Bean, Rachel Balducci, and Carolee McGrath host The Gist. They discuss topics such as abortion, raising teens in the faith and confession. In this episode, the hosts discuss fighting the stigma of mental health and making sure children's needs are met.
Guests:
Tricia Coffey, MSW, of Franciscan Children's discusses care for children and adolescents experiencing behavioral and emotional problems. For more information email: kidshealthyminds@franciscanchildrens.org Magnus MacFarlene-Barrow, CEO and founder of Mary's Meals, a charity that provides one good meal to some of the world's poorest children every school day. Visit MarysMeals.org to learn more.
---
Copyright 2019 Danielle Bean
About the Author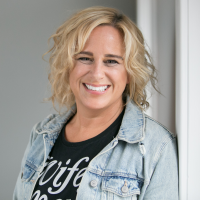 Danielle Bean is an author, speaker, podcaster, and brand manager at CatholicMom. She and her husband Dan have 8 children and live in New Hampshire.