One of my favorite Catholic authors is Heather King. I always feel "godsmacked" after reading any of her books. Her latest, Ravished: Notes on Womanhood, is no exception to that description. In my opinion, it's probably her best work to date. Heather King has always described herself as "an ex-lawyer, a former barfly, and a Catholic convert." Her previous life as a functioning alcoholic led her to numerous illicit relationships that resulted in three abortions and a long-term, but failed, marriage. She is raw and open about her past, and Ravished explores part of it.
In this book, she shares the details on how she sought healing for her abortions through Rachel's Vineyard. Her experience wasn't what she expected, but it brought her children to a new life with her. What Heather really delves into is the women's movement and how it influenced her and the choices she made. Heather King and I are the same age, so her description of how we women were cultivated into believing we could act like men, i.e., sleep around without responsibility and feeling, resonated with me. I have long felt that when the Women's Movement first started, we were told to act like the very men we complained about when dating. Heather debunks all of that. In Ravished, Heather also talks about her place in the Catholic Church, as a divorced, childless, older woman. Her description of going to Mass at the same church alone for years and not being acknowledged in even the smallest way, is heart-wrenching. Mass appears to be about the family, and Heather doesn't have one. A never-married man I know also expressed those feelings to me. It never occurred to me that those who are alone might feel out of place when they were at Mass. I know many Catholic women who will probably love this book, but the women who should be reading it are the non-Catholics who grew up in the '50s and '60s who cling to the Women's Movement as the savior. It's not going to save them. Only Jesus can do that, as Heather King discovered.
---
Copyright 2019 Pam Spano
This article contains Amazon affiliate links; your purchases through these links benefit the author.
About the Author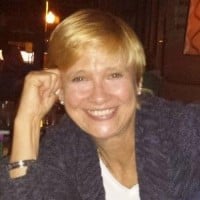 Pam Spano converted to the Catholic faith as an adult over 30 years ago. Her conversion story started when she sarcastically said to her Catholic boyfriend at the time, "I suppose if we were to get married, you would want me to convert." He thought for a moment and said, "Well, I am worried about your soul." And so the journey began ...