Fr. Jacob Restrick, OP is a Dominican priest who led a retreat for my Lay Dominican chapter twenty years or more ago, so when I had the opportunity to review two novels he had written—Sister Mary Baruch: The Early Years and Sister Mary Baruch: The Middle Ages (both released by TAN Books in May, 2019) —I jumped at the chance. Not only did I have good memories of that retreat (and, therefore, high hopes for Father's writing), but one of the endorsements the books had received, which was on their back covers, was by Fr. Peter John Cameron, OP—the founder and former editor-in-chief of the Magnificat publication. He wrote:
When I started Sister Mary Baruch, I didn't know what to expect, but I couldn't put it down, and I couldn't wait to get back to it when I did. It is an endearing tale, lovingly and artfully told.
I've been impressed with Fr. Cameron's literary expertise, so I was confident that if he said the books were good, they must be. I admit it took me a while to really get into the first book, however. I'm one who loves to sink into a book and stay there, and the older I get, the less patience I have for books that don't hook me right away, and the less time I'm willing to devote to books that require work (this, I realize, is an immaturity and failing on my part). Sister Mary Baruch: The Early Years required effort from me for perhaps the first half of the book. Looking back, I'm not sure why. I'm so glad I pressed on, and I suspect other readers will bring a more reasonable mindset to the reading of it and will therefore be able to enjoy it from the beginning. If not, please press on anyway — it's worth the effort.
The story starts in the 1960s in Manhattan, where main character and narrator Rebecca Feinstein was raised and is currently in college while living at home with her parents, two sisters, and brother; her other brother is in Vietnam. She's Jewish, but an experience she has at St. Vincent Ferrer church because of her best friend (who is Catholic) leads her down the path of conversion and ultimately the convent. Her experience is so far from my own in obvious ways, but her voice is familiar: she's a normal girl with normal plans, hopes, worries, and weaknesses who loves her family and friends, and while her faith journey seems strange, extraordinary, inexplicably counter-cultural, and even repugnant to some that she's close to, she sees God working in her life and is happiest and most peaceful following His call. I admit I was distracted at times by the fact that I knew the author to be a man and a Catholic priest whose main character/narrator is a young Jewish woman, but my distraction was of my own making, trying to find the holes in Father's presentation—without success, thankfully. Father's experience ministering to the cloistered Dominican nuns is evident, as is his knowledge of the inner workings of a Jewish family, and I thoroughly enjoyed learning more about both. I also appreciated the accuracy and sensitivity with which he portrayed Becky's conversion—as the wife of a convert, I know the sadness that such a decision can cause both the family and the convert him or herself, even while clearly being the will of God and "such a blessing," as Becky and her mom would say. But my very favorite part of Becky's story was being allowed to witness the interior life of a cloistered convent — I loved discovering every detail about the nuns' daily schedules, jobs, meals, cells, recreation, friendships and challenging relationships, continued connection to their loved ones outside the grille, and particulars about the habits they wear. And their names! Being that I spend a good amount of time thinking about Catholic names, I loved reading about the bestowal of Becky's religious name as Sr. Mary Baruch of the Advent Heart, as well as the names of the other sisters that make up her community. I also really loved reading how Sr. Mary Baruch approached different situations and dealt with different people, and how she prayed and what she prayed for. I felt like I learned as much from her as I would if she were a real-life dear friend, and I cried for her sadnesses and hardships just as I would for a dear friend. In short, the Sister Mary Baruch books are treasures that I recommend without reserve — whether you'd simply like an entertaining story with great characters, or would like something deeper, you won't be disappointed.
---
Copyright 2019 Kate Towne
This article contains Amazon affiliate links; your purchases through these links benefit the author.
About the Author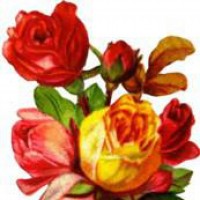 Kate is a writer, wife to a really good man, and mama to their seven boys ages 1 to 15. She shares her thoughts on Catholic baby naming at Sancta Nomina, and her first book, Catholic Baby Names for Girls and Boys: Over 250 Ways to Honor Our Lady (Marian Press, 2018) can be found at ShopMercy.org and Amazon.