Courtesy of CatholicTV.org. Used with permission. All rights reserved.[/caption] CatholicTV Network's series for Catholic women, The Gist, airs every Tuesday morning at 11 AM Eastern. Tune in to CatholicTV to see this show focusing on Catholic women and their families. Each week, Catholic personalities Danielle Bean, Rachel Balducci, and Carolee McGrath host The Gist. They discuss topics such as abortion, raising teens in the faith and confession. In this episode, the hosts interview Father Mark-Mary Maximilian Ames of the Franciscan Friars of the Renewal, who shares how his order's unique use of social media has gained popularity and changed hearts, and YouTube sensation Lizzie's Answers, who talks about her conversion to the Catholic Faith, Christian Unity, and how bipolar disorder brought her closer to Jesus Christ.
---
Copyright 2019 Danielle Bean
About the Author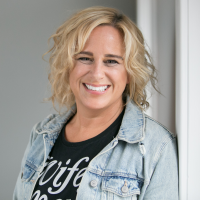 Danielle Bean is an author, speaker, podcaster, and brand manager at CatholicMom. She and her husband Dan have 8 children and live in New Hampshire.