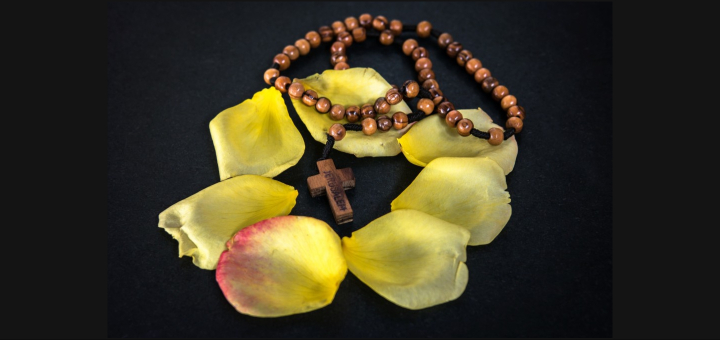 Image credit: Pixabay.com (2015), CC0/PD[/caption] I have wonderful memories of my mother, Dorothy. None are as powerful as watching her saying her daily Rosary at the kitchen table every morning. Whatever was going on with our family, her day would start with her coffee and Rosary. I grew up in a large Catholic family; prayer was something my mother taught us. My father was a salesman and had to travel. If he was running late, it was not unusual for her to wake us and have us kneel down on the kitchen floor with our rosaries to pray for his safe return. When we went to Mass, we would always arrive 15 minutes early to say our Rosary before Mass. Why was saying the Rosary such an important tool for my mother to teach her children? The answer is simple. The Rosary is our most powerful connection to Mary, our Blessed Mother and ultimately to her Son, Jesus. The feast of Our Lady of the Rosary was instituted to honor Mary for the Christian victory over the Turks at Lepanto on October 7, 1571. It is thought that the Rosary was given to St. Dominic when he had an apparition of the Blessed Virgin Mary in 1214. In 1475, St. Alan of the Rock, who was a Dominican priest and theologian, is said to have had a vision from Jesus stating the urgency of using the Rosary as a form of prayer. In 1571, Pope Pius V encouraged all of Europe to pray the Rosary for the victory at the Battle of Lepanto. The Christian victory at Lepanto was celebrated on Oct. 7. It was later renamed the feast of Our Lady of the Rosary. Saint Dominic gave us this prophecy as he received the Rosary: "One day through the Rosary and the Scapular our Lady will save the world." According to the Museum of Anthropology at the University of Missouri, over two-thirds of the world's population use prayer beads in their religious practices. "Bead" itself comes from the old English "to pray." Prayer beads appear in Buddhism, Islam, Hinduism, and possibly even Protestantism. Every time you pray the Rosary you are seeking a deeper connection to your faith. The Rosary itself is the most well-known prayer throughout the world. For more than four centuries, it has been promoted by several popes as part of the veneration of Mary. As you move through each decade of the Rosary you tend to feel a rhythm helping you concentrate on the mysteries of Christ's life. Pope Pius IX said this: "Give me an army saying the Rosary, and I will conquer the world." I would like to share a story of how one day the Rosary made such a huge impact on my life. No surprise, this is a story of my prayerful mother Dorothy. For Dorothy, her Rosary was always nearby so whenever she had a free moment she would begin her prayers holding a Rosary. She became sick for a while at the age of 81. The year was 1997. I received a phone call from her that I remember to this day. She was excited. She said, "This morning while sitting in my chair I was saying my Rosary and I looked up and my living room wall was covered in roses." I responded, "Well, maybe you were imagining it." She said, "No, Connie [my oldest sister] walked in an hour later and asked me, 'Did someone send you some roses, Mom?' The scent was still present when Connie came in." She added, "This means I won't be here much longer. Jesus and his mother Mary are close by." Quite frankly, at the time I didn't give much thought to her explanation of her scent of roses. That is, until two weeks later. She died on March 20, 1997. That's when I remembered. I'm certain she was greeted by Mary and Jesus as she knew she would on the day she was sitting in her chair, saying her Rosary.
Memorare of St. Bernard
Remember, O most gracious Virgin Mary, that never was it known that anyone who fled to thy protection, implored thy help, or sought thine intercession was left unaided. Inspired by this confidence, I fly unto thee, O Virgin of virgins, my mother; to thee do I come, before thee I stand, sinful and sorrowful. O Mother of the Word Incarnate, despise not my petitions, but in thy mercy hear and answer me. Amen.
---
Copyright 2019 Catherine Mendenhall-Baugh
About the Author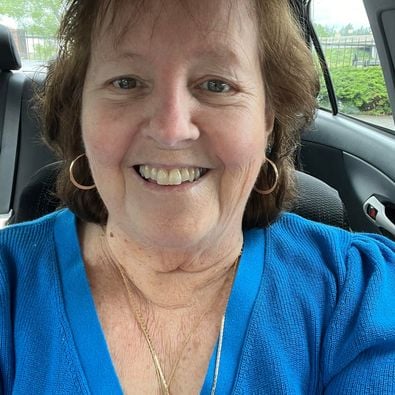 Catherine Mendenhall-Baugh (Cathy) completed her education in Special Education and English and now works as an Agent in the Insurance Industry. A mother and Grandmother, Cathy grew up in a large Catholic family and has spent the last 30 years as a caregiver for her husband, Jack. She is a cancer survivor, which inspired her to begin writing.