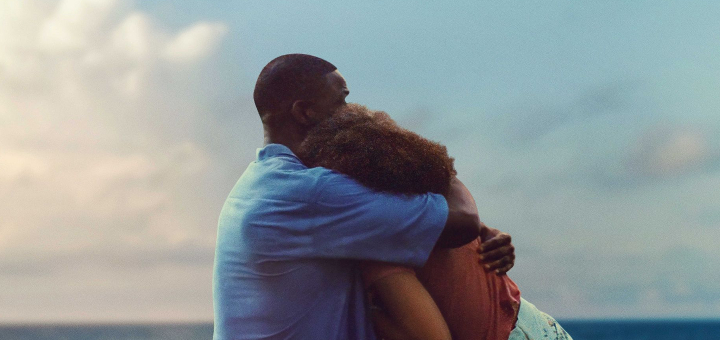 Copyright © 2019, A24 Films LLC. Used with permission.[/caption] Films about families with teenagers can be telling of the extensive amount of drama that surrounds adolescence. What can sometimes seem like a perfect family often hides underlying issues of overbearingness and self-centeredness that blinds parents from truly seeing the needs of the children who struggle with the pressures of life, love, and future goals. What is that balance in parenting that communicates being an advocate but not a judge? How can teenagers realize that they do not have to go it alone and that communication can solve so many issues? Only when we let go of our control on life and others do each of us find grace and forgiveness and realize that family remains our anchor.
Copyright © 2019, A24 Films LLC. Used with permission.[/caption] Pulling together an amazing cast, writer-director Trey Edward Shults offers an intense family drama that presents an upper middle class African-American family in Florida whose teenage children deal with the pressures of making their way in life and the emotional struggles of relationships. Sterling K. Brown stars as Ronald Williams, the father of the family whose love for his kids is expressed in pushing them to be something important in a world that will fight back. Ronald tells his 18-year-old son Tyler (Kelvin Harrison Jr.) as he helps him train in wrestling, "We don't have the luxury of being average. I push you because I have to." Yet, pushing him leads Tyler to be afraid to communicate with his parents about the troubles he faces. Tyler's life begins to spiral out of control when he tears his bicep in competition and begins taking painkillers. His girlfriend Alexis (Alexa Demie) tells him she is pregnant and he brings her to have an abortion. She decides not to go through with it and they argue. Tyler starts drinking heavily and increasing his painkiller intake. His younger sister Emily (Taylor Russell) consoles him when he breaks down. Her presence is his anchor thrown out to him but his series of bad choices causes him to let go of that anchor and lose his way. His parents also try to reach out but he only pushes them away. Tyler sees on social media that his ex-girlfriend is at a party with another guy, so he goes to the party drinking and taking drugs waiting for the moment to confront her. When he does, they get into a fight where fists fly and Alexis falls on the concrete floor bleeding out, thereby landing Tyler in jail for life. The family is devastated and each member grieves in their own way, often blaming each other for the failure in their relationships. Renee Elise Goldsberry who plays the stepmother, Catherine Williams, says that this film is a cautionary tale for every family. She said this film shook her at her core and one of her Christian girlfriends told her after watching the film, "I'm thinking about being mindful of the silences of my children." She continues, "Catherine is an extremely well-intentioned mother and family is an answer to her prayers. She was probably not going to have her own children…but she connects with this family…and she is an answer to their prayers." She is good for them but tries to make up for Ronald's faults, thereby being too hard on Emily and too easy on Tyler. It is a tale of the destruction of the family and the worst nightmare for any parent. But, it cautions everyone to keep going despite the pain.
Renee Elise Goldsberry with Kelvin Harrison, Jr. in Waves. © 2019, A24 Films LLC. Used with permission.[/caption] The second half of the film shifts to focus on Emily as if it is a whole new film. Through her grief she isolates herself at school but is friended by Luke (Lucas Hedges), which quickly turns into a romantic relationship. As the family still cannot communicate, she turns to Luke as her confidant and even helps him confront his own struggle with his estranged father. When Luke discovers his father is dying from cancer she encourages him to visit him saying, "You will regret it if you don't." She goes with him to Columbia, Missouri without telling her parents. She stays with Luke as he helps his father and witnesses their profound moment of forgiveness. Emily contacts her parents saying she is fine but had to do something important. When she sees her father after returning home they talk and share like never before, grieving together over their family tragedy. This lovely scene shows how grace and forgiveness heal relationships and that family is ultimately the ones we can rely on. Music plays an important role in the film. The perfectly curated song list expresses the feelings and emotions of the characters in a way that words cannot. Interestingly, the pre-conversion song of Kanye West, I Am A God, is heard as Tyler struts confidently through his life in sports, school, and in with his beautiful girlfriend. Everything seems perfect. Amy Winehouse's Love is A Losing Game speaks not only to Tyler's splitting with his girlfriend but to the entire family's struggle to communicate. At the end, Radiohead's True Love Waits is the perfect backdrop to the emotionally charged scenes of families reconnecting and repairing past failures. Overall, the film leads the viewer to question: What are the silences in our own lives? How can we be more mindful of the silences of others? In this artistic and creative story of a family dealing with waves of tragedy the themes of grace and forgiveness present in the midst of sinful human nature become the soothing balm. Just like the chaotic waves of the ocean crash onto the shore and then retreat to the calm waters, so the grief and pain of heartbreak can give way to hope and love. Though I feel the portrayal of Emily's romantic relationship a bit adult-like and normalizing of teenage sexual behavior, the film's overall perspective lies on grace in the midst of suffering. Emily, desperate for connection, found it in Luke, who gives her the impetus to continue on with hope. The film questions how a family can deal with grief and missed cues of the children who are in compromising situations while also moving on when devastation overwhelms. It is a family cautionary tale of being mindful of the silences of those we love. *Originally published on bemediamindful.org. All rights reserved.
---
Copyright 2019 Sr. Nancy Usselmann, FSP
Originally published on bemediamindful.org. All rights reserved.
About the Author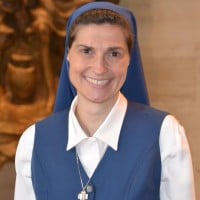 Sr. Nancy Usselmann, FSP is a Daughter of St Paul and the Director of the Pauline Center for Media Studies in Los Angeles, CA. She is a Media Literacy Education Specialist, theologian, international speaker, film reviewer, and blogger for BeMediaMindful.org. Her book A Sacred Look: Becoming Cultural Mystics is a theology of popular culture published by Wipf & Stock Publishing.