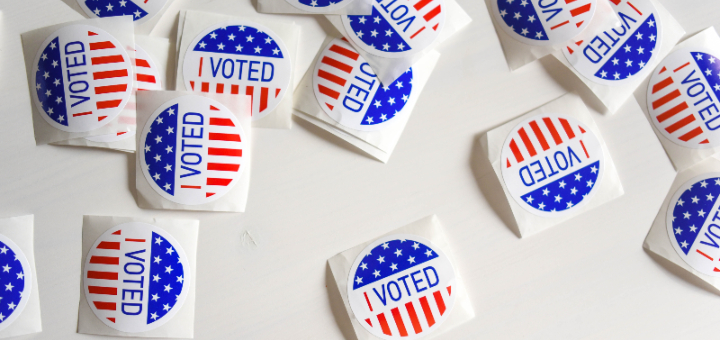 Image credit: Unsplash.com (2018), CC0/PD[/caption] I know CatholicMom opts to not talk politics as there are many other sites to discuss political issues and Catholic faith. I offer this brief non-partisan reflection about local elections held in my district. As someone who recently left parish ministry and is still looking for a new parish to be as fully engaged, I was delighted to find many positive values that one seeks in parish life alive and well in the wider community during this civic event. I routinely volunteer to work the polls on Election Day. Since I live in Virginia, we have an election every year. Polls are open from 6 AM to 7 PM, which means that intrepid volunteers need to show up even earlier in the dark to set-up tables, prepare sample ballots, put up signs, etc. I think anyone who helps out on a Donut Sunday or a church picnic or retreat knows what it's like to work at the crack of dawn and can empathize with unpredictable outdoor weather. For some of us, we also come back at the end to break it down. Some of us even work some shifts in between.
Voting is Sacred
One of my friends works as an elections officer -- a truly non-partisan role. Her job isn't in support of getting out the vote for a particular candidate. Her job is to insure every eligible person has access to and can freely and properly vote at her precinct. She made no bones about telling either side to step back from campaigning too close to the election site. She was elated to see high voter turnout. She grew nervous at the thought of running out of paper ballots. She zealously took up the responsibilities of her role as any of the best Hall Monitors, or Youth Advocates I've seen in parishes past. Finally, a candidate for our school board arrived during one of my shifts. Her spokesman went into the school gym for a moment to get a vote count. Afterwards, he took pictures of me and the other volunteers to post on her campaign page. While I had a little "inside baseball" talk with him about voter turnout and early predictions, the candidate stepped away from us to greet incoming voters and to talk to the volunteers and voters from the other campaign. She was very approachable. She knew some folks by name. She identified parents and children who had been at some of her events or other public forums. On one hand, all of this is what you'd expect from a top level candidate. On the other, her genuine availability to the community as a matter of service and not simply about identifying a party-line voter, was refreshing. It was like seeing a pastor greeting the crowds after Mass and knowing that we may not agree on everything, but we still can come together to be civil and to be community.
Our Public Record
My local polling place happens to be where my daughter went to Elementary School. So I've stood on that sidewalk for many a year. I've come to know many of the people in the 1800+ voting block. I admit I am surprised to find out the party affiliations or voting preferences of my neighbors (either way). But I cherish the times we volunteers are outside handing out sample ballots and thanking people for voting. It is some of the best and longest periods of time spent outside with my neighbors, not just with people who think the same way. I know that some of my best conversations in the parish are like these moments. When believers engage in civil conversations, maybe some gentle ribbing, that gets to the heart of why we honestly care. The time spent is less about talking down to one side and more about working together for the process to succeed. We may have "our Mass" that we prefer. There may be homilies we like or that makes us groan. We may have music that we dislike or choirs we enjoy. We may also encounter people in our parishes that we avoid or with whom we align ourselves. But I hope we also experience moments that aren't just the complaints and talk of "us vs them." We can also celebrate the accomplishment of the common good together. After all, the whole point of democratic voting was to replace the need to physically fight each other. It was nice to experience a little bit of that "heaven on earth" this past November 5. This is the way it's supposed to be. It's good to remember and not just accept a "new normal."
Prayer
Grace is the work worked. Liturgy is the work of the people.
Lord, help us experience Your grace in the world today.
---
Copyright 2019 Jay Cuasay
About the Author

Jay Cuasay is a freelance writer on religion, interfaith relations, and culture. A post-Vatican II Catholic father with a Jewish spouse, he is deeply influenced by Christian mysticism and Zen Buddhism. He was a regular columnist on Catholicism for examiner.com and a moderator and contributor to several groups on LinkedIn. His LTEs on film and Jewish Catholic relations have been published in America and Commonweal. Jay ministered to English and Spanish families at a Franciscan parish for 13 years. He can be reached at TribePlatypus.com.