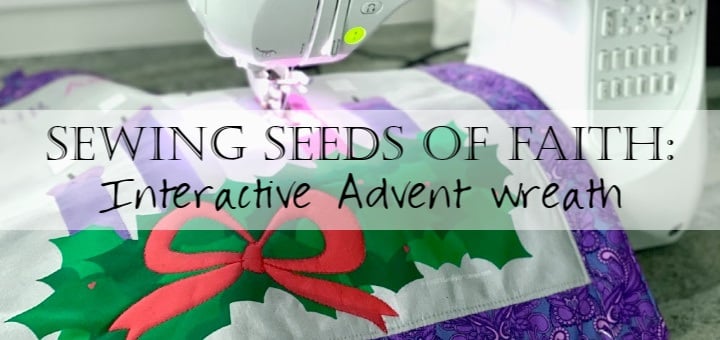 Copyright 2019 Jen Frost. All rights reserved.[/caption] This article is part of a sewing series by Jen Frost (Faith and Fabric). She's passionate not only about sharing her faith, but about sharing the love of sewing with generations old and young. Sewing is a hands-on skill that is seeing a renewed interest, and she's thrilled to be able to incorporate the Catholic faith into beginner-friendly sewing projects and classes!
Copyright 2019 Jen Frost. All rights reserved.[/caption] Can you believe we're halfway through Advent already? This year, like others, seemed to fly by. This time last year we were in Florida on our seven-month cross-country journey, crossing through the panhandle and loving the white sand beaches of the Gulf Coast. It's hard to believe that it was a year ago already that we were there! Last month's faith-focused sewing project were our Sew-a-Saint dolls, which seemed fitting for the month of November. It is the month we celebrate All Saints Day, after all! This month, though we're part of the way through, our faith-focused sewing is on Advent. I have a story to share with you. About 15 years ago, my husband and I were at my parents' home for Christmas. My parents' home had the traditionally "formal" living room at the entrance of their home, and the casual "family" room at the back. My family and I had been sitting in the formal room, enjoying a glass of wine beside the fireplace and Advent wreath that sat on the end table nearby. It was a lovely evening, with the tree sparkling and pine scents filling the air. After a bit, we headed back to the family room to watch a movie. About half way through the film, we heard a small crash – thinking it was a Christmas ball falling off the tree (one had fallen off earlier while we were in the living room), we didn't pay it much attention. A few moments later, I smelled something. "Is that smoke?" My mom and I dashed up from the chairs and ran into the living room – the candle had fallen over from the Advent wreath, and the entire wreath was in flames. She and I reacted by trying to blow out this giant fire (not smart, I know), and succeeded only in getting smoke in our lungs. My husband, the smartest in the group, took off his sweater and smothered the fire, and directed my brother to bring wet towels from the bathroom (which he did). Within moments, the fire was under control. It's amazing how fast a fire can grow; hardly a few minutes passed between the candle falling and the entire wreath catching fire. I'm thankful this fire became a pleasant memory ("Do you remember the time we tried to blow out the Advent Wreath and got so much smoke in our lungs we couldn't talk the rest of the night?") and didn't leave us with a sadder, darker story to tell. In a way, this story was part of the inspiration for my Interactive Sewing Wreath project for beginners. With this wreath, you can light a candle each Sunday of Advent and never need to worry about fire danger! This Advent Wreath comes pre-printed on a panel alongside four flames. You have the option, as the sewist, to add additional fabric as a border or to just stitch the panel directly on some batting and call it done. Each flame, through the power of Velcro, securely attaches above each candle enabling you to light a candle each Sunday of Advent.
Copyright 2019 Jen Frost. All rights reserved.[/caption] To add a bit of décor to the panel, you can add borders around the outside in a complimentary tone, tabs at the top to hang, or even stitch around the candles and bow to make the quilt really pop. These instructions are all included in our free online class. This beginner-friendly project is a wonderful way to create a project that your family can use year after year! … and one that will leave your Advent a bit more fire-safe, too. Wishing you and yours a wonderful, faith-filled Advent season. Happy sewing!
Copyright 2019 Jen Frost. All rights reserved.[/caption]
---
Copyright 2019 Jen Frost
About the Author