Courtesy of CatholicTeenBooks.com. Background image credit: Pixabay.com (2017), CCO/PD. All rights reserved.[/caption] This month's Catholic Teen Books Faith Through Fiction features Catholic Teen Books authors' second anthology, Gifts: Visible & Invisible. Hosts Leslea Wahl and T.M. Gaouette offer short descriptions of each of the eight stories included in the Christmas short story collection of contemporary, historical, and even dystopian stories.
Books mentioned in this episode:
Gifts: Visible & Invisible
Why fiction? Don't underestimate the power of a story. A well-written story takes us into characters' lives and lets us live through them for a while. Faith-filled fiction can entertain and take us on an exciting journey, but more importantly, it can change lives. Strengthen our resolve. Help us grow in virtue. And bring us closer to God. In the monthly video series Faith Through Fiction, Catholic Teen Books authors T.M. Gaouette (The Destiny of Sunshine Ranch) and Leslea Wahl (The Perfect Blindside) discuss a topic relevant to today's teens then share insights from a special guest author. They also share reading recommendations based on those themes. Previous episodes of Faith Through Fiction are available online. Topics featured in prior months include summer reads, temptation, making friends, bullying, putting God first, finding your purpose, and sacrifice. For more information on Catholic Teen Books and other reading recommendations, visit CatholicTeenBooks.com.
---
Copyright 2019 Carolyn Astfalk for Catholic Teen Books This article contains Amazon affiliate links; your purchases through these links benefit the author.
About the Author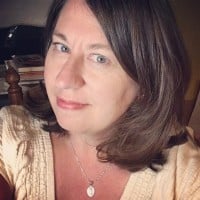 Carolyn Astfalk is a wife, mother of four young children, and a writer. Her contemporary Catholic romances are available at Amazon.com. She is a member of the Catholic Writers Guild, a Catholic Teen Books author, and blogs at My Scribbler's Heart. Visit CarolynAstfalk.com.