Image credit: By Rami Al-Zayat (2016), Unsplash.com, CC0/PD[/caption] January has a tough gig. Smack dab in the middle of the dark and cold winter, it contends with the warm and glowing memories of Christmas. Truth be told, it doesn't even really get to claim much of New Year's Day as most of the attention goes to New Year's Eve! In January, we put all the merriment behind us, take the lights down and stuff them away, and get back down to the business of work and school. What makes it all bearable are our relationships with family and friends at work, school, and just generally in life. Going for cocoa, meeting after Mass, taking the kids skating, meeting for lunch … all of these things make the drab days of January endurable and even joyous! Now imagine what it would be like without those folks around you. Imagine having a sense of bad feelings and ill will with your favorite lunch partner, or the mom of the kid your kids love to play with, or even with your own siblings. It would make life pretty bleak and miserable, especially if those feelings spread out into the spring, summer, and fall and into … November! 2020 is another big election year and although it probably won't have the same drama as the last big election, it still has the potential to blow up in other ways – around the dinner table, or in the car, and in hastily written Facebook posts and comments. My family was not immune. One relationship damaged in a Facebook exchange full of clever quips and quotes has only now started to thaw out and repair itself. Other relationships seem to be more deeply severed, which made subsequent gatherings at weddings and reunions strained and difficult. There's a familiar saying that regardless of who's president, Jesus is King. Amen. But I'd like to extend that. Regardless of who is in the White House, or who has the majority in the Congress, or even who runs your county and city hall, family is still family, and friends are precious. So here's how I plan to run the gamut this election year in preparation of the upcoming long primary season.
I don't do politics on my personal Facebook page. I believe in "Make Facebook Fun Again." I post recipes, memes, quotes, and other funny things that make me smile and laugh. Most of my Facebook followers I have met in real life and I enjoy the idea that something I post might make them smile or laugh.
When I do post political things, it goes on my blog's Facebook page, My Domestic Church Notebook, or Twitter. People who sign up for those do so because they like the content and very few of them are family or close friends. This helps to keep the peace.
I don't follow my politically minded friends on Facebook. However, I do pop in to wish them a happy birthday. I thank sharing good wishes on a birthday are very important.
At family get-togethers and dinners with friends, I avoid political discussions like the plague. If such discussions are unavoidable, I find it wisest to listen and maybe ask a few genuine questions via the Socratic method for amateurs.
Election 2020 will come and go, but the fallout with family and friends can last a long time. It can either give a deep chill like the dark days of January, or "the warmth of hearths and hearts." This time around, I'm choosing the latter.
---
Copyright 2020 Elena LaVictoire
About the Author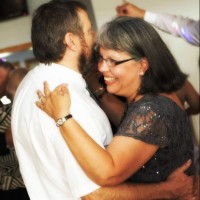 Elena LaVictoire is a graduate of Baker College and a retired medical transcriptionist. She is married and homeschooled six children. Elena is a public speaker on the topics of marriage, homeschooling, and confirmation preparation. She was also a contributing author to The Catholic Mom's Prayer Companion. Elena practices and performs with her flute and records with the Peace Together Choir. She blogs at MyDomesticChurch.com.