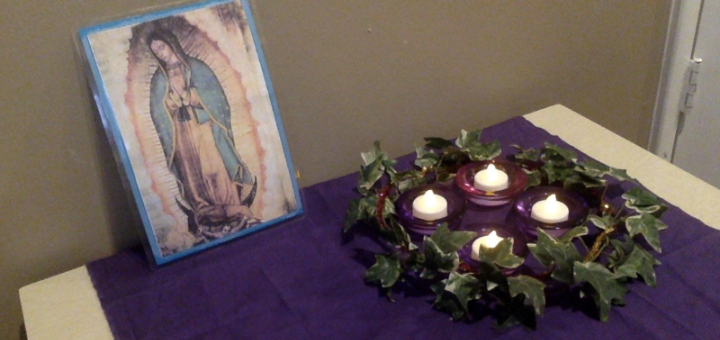 Copyright 2020 Charisse Tierney. All rights reserved.[/caption]
Help me to come closer to God by myself. (from The Religious Potential of the Child by Sofia Cavalletti)
As I watch our family's spiritual life grow and deepen, I find myself particularly fascinated by the spirituality of my two youngest children. At three years old and one year old, I am continually amazed at the spiritual maturity that accompanies their innocence. Their hearts are so open, unjaded by the world, and accepting of the truths that are difficult to understand. But these children of mine are growing quickly. And so, in order to glean as much as I can out of these receptive and formative years, I want to establish an environment in our home that leads them into the arms of our Catholic faith -- with minimal "teaching" from me. In addition to religious art and statues placed around our home in "safe," high places out of the reach of sticky toddler fingers, I've also incorporated a low table which we call our children's prayer table. This is where my youngest children can experience their faith in a sensory way. They can lay a cloth over the table, in the liturgical color of the season. They can play with a peg doll Nativity set. They can freely handle laminated images of the Holy Family, Jesus, and Mary. During Advent, we had a simple Advent wreath with battery-operated LED tea lights so they could turn them on and off and place them in the Advent wreath as many times as they liked.
Copyright 2020 Charisse Tierney. All rights reserved.[/caption] I like to use The Little Oratory: A Beginner's Guide To Praying In The Home by Leila Marie Lawler for ideas on which devotion to focus on during each month of the year. This inspires the pictures and child friendly statues that I place on the table at the start of each month. At the beginning of each month or liturgical season, I simply change what is on the table and leave it for my children to discover on their own. I might say, "That's Jesus" as they hold up a picture, or answer a question if they ask what something is. But I've discovered that their spiritual intuition far surpasses my own, and they seem to know what is on the table in a way I wish I could. I've watched my 1-year-old look with delight at a picture of Jesus and run around the house holding it as if she just discovered her long lost best friend. This resulted in "Jesus" being one of her first words. My 3-year-old has held a picture of Our Lady of Guadelupe to her heart and said she loves her picture of Mary. For the Lenten season, I am looking forward to creating some Stations of the Cross peg dolls and laminating images of the stations for my children to explore -- which will all be placed on their table on a purple cloth. A table like this can be very easy and inexpensive to put together. I found a small table at a thrift store for just a few dollars. I buy the inexpensive "fat quarters" of fabric to use as our liturgical cloths. And you can print beautiful images off of the internet to laminate and place on the table. Two or three items are enough to catch my children's attention, while at the same time keeping them focused on the current theme of the table. And, yes, the pictures will be scattered around the house. The liturgical cloths will end up in a crumpled heap on the floor. But then I often find my older children reverently putting everything back together. My older kids also love talking to the younger ones about what is on the table. We all find joy in learning from the faith of the youngest members of our family. And it is in that way that something as simple as a small table is helping us all to become more like little children -- and hopefully getting us all closer to heaven.
---
Copyright 2020 Charisse Tierney
About the Author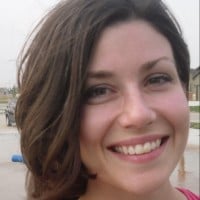 Charisse Tierney lives in Wichita, Kansas, with her husband Rob and seven children. Charisse is a stay-at-home mom, musician, NFP teacher, and a Catechesis of the Good Shepherd catechist. She is also a contributing author to The Catholic Mom's Prayer Companion and Family Foundations magazine. Charisse blogs at Paving the Path to Purity and can be found on Facebook.