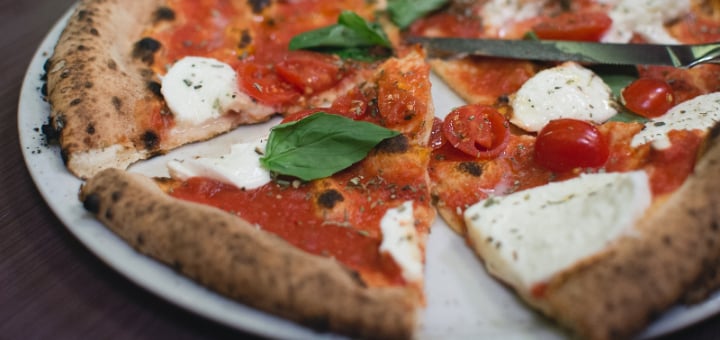 This recipe for pizza dough is easy to make using my bread machine. I typically don't use my bread machine for baking bread, but it is an excellent way to mix up homemade bread doughs, and this pizza is one of my family's favorites. Years ago, my sister sent me this recipe that she adapted to feed her large family. I have used it hundreds of times over the years, to feed my own crew, and even one memorable time when the entire boys' basketball team slept over our house one Friday night.
If you are feeding fewer people, you could cut this recipe in half, or simply put half of the finished dough in an airtight zip lock bag and freeze it for your next pizza night. When you are ready to use the frozen dough, simply thaw it in the bag, on the counter, and then use as directed below.
Margherita Pizza
Here's the recipe for the dough:
2 cups water
3 Tablespoons oil
6 cups flour
1 and 1/2 teaspoons salt
2 teaspoons yeast

Put all ingredients into a bread machine and set it to make dough. In most machines, it will take 90 minutes. At the end of the dough cycle, punch down the dough and cut it into thirds. Roll each piece out flat into a convenient shape for large cookie sheets or pizza pans that have been coated with non-stick spray or a little bit of olive oil. Add your choice of toppings (see below for Margherita pizza) and then bake them 20-25 minutes, or until the cheese is bubbly and beginning to brown.
Toppings for Margherita Pizza:
Jarred pizza sauce (I often use a store brand, and it's actually great)
Blend of shredded mozzarella and parmesan cheese
Fresh mozzarella cut into cubes (or use mozzarella "pearls" packed in water, drained)
Fresh basil leaves, chopped, with whole ones for garnish
Diced or sliced plum tomatoes (I've also used halved cherry tomatoes)
Spread a thin layer of the sauce on the rolled-out pizza dough, and then top with shredded cheese, basil, fresh mozzarella, and tomatoes as desired. This makes an especially pretty pizza! Bake as directed above.
---
Copyright 2020 Danielle Bean
About the Author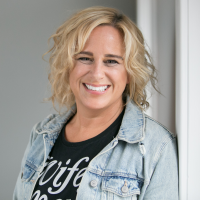 Danielle Bean is an author, speaker, podcaster, and brand manager at CatholicMom. She and her husband Dan have 8 children and live in New Hampshire.