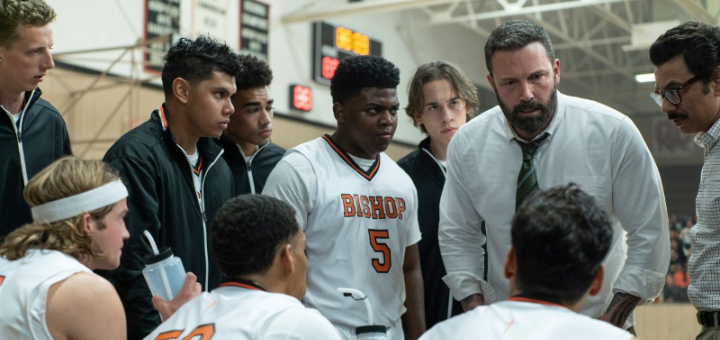 Ben Affleck as Jack Cunningham in The Way Back. © 2020 Warner Bros. Pictures. All rights reserved.[/caption] Seeing Ben Affleck in a film that mirrors closely to his own real-life situation makes for a pretty raw visual experience. The Way Back, directed by Gavin O'Connor (Miracle, The Accountant) looks at the heart and soul of a man deep in his own grief and sunk in the throws of alcohol abuse as a way of covering up his pain. "We were going full into the DNA of the character," O'Connor says, "and the first day of shooting Ben had just gotten out of rehab. He was very raw." However, the film is centered on a true sports drama that gives the story substance and shows how our lives are all interconnected. Jack Cunningham (Ben Affleck), a former basketball star hopeful, is a construction worker living alone and spending his money on liquor. He drinks constantly, even while taking a shower. The film right away makes us feel the unspoken emotion of Jack with muted colors and the monotony of his chosen lifestyle. He gets a call from Father Ed Divine, the president of his former alma mater, Bishop Hayes High School. He goes to meet with Father who asks him to be the new basketball coach. Jack refuses. He goes home and gets drunk working the evidently complex decision-making process in his head. The next day he calls Father Divine and takes the job. The assistant coach, Dan (Al Madrigal) shows him the ropes and even tells Jack, "We all have our own cross to bear," a powerful line that colors the entire film.
Ben Affleck as Jack Cunningham in The Way Back. © 2020 Warner Bros. Pictures. All rights reserved.[/caption] Jack works the lack-luster team into shape, pushing the boys more than they have ever experienced, to the point of either kicking one off the team for cockiness or giving another self-confidence, all the while using his more than colorful street language which is against the school's code of conduct (making this an R-rated film as a result). During a game Jack's cursing gets the better of him and the team priest chaplain tells him to control his language, to which Jack replies, "Do you think God gives a s*** about anything?" Father comes back by calling Jack to his responsibility with one of the best lines of the film, "As Christians, we are called to integrate our faith in our daily lives. So, yes, I think God gives a s*** about the example you set for these young men. Don't underestimate the impact you can have on them." Jack listens and tries to work on his behavior. But years of self-loathing and lack of self-discipline leads him to rely heavily on drinking. He ex-wife, Angela (Janina Gavankar) runs into him and tells him she is seeing another man. They go to a friend's child's birthday party together because their son, who died of cancer, was a friend with this child, a cancer survivor. Jack's grief overtakes him and he who has isolated himself and never talks about his son cries with anguish to his ex-wife, "I miss my son!" The pain expressed onscreen is palatable and overwhelming, showing Affleck's acting talents. He drinks continuously and becomes cantankerous on the basketball court to the point of being kicked out of the game by the referee. We learn that his pain started when he was young with his own father who never paid attention to him until he won basketball games. He tried to hurt his father by hurting himself and got involved in drugs and alcohol. It was his wife who helped him out of that pattern of behavior and never picked up a basketball again…until now as a coach. His life deteriorates rapidly and a series of actions lead him further and further into isolation and grief. At people's urgings, he enters rehab.
Ben Affleck as Jack Cunningham in The Way Back. © 2020 Warner Bros. Pictures. All rights reserved.[/caption] This heart-wrenching and transporting film shows the remarkable power of grace in our lives. No life is beyond redemption. No life is beyond transformation. Gavin O'Connor draws out the most raw and real performance by Affleck to date, who says, "The film became very personal for me." In our isolation, grief swallows us alive holding us in darkness until the light of grace breaks through to give hope and healing. The Way Back is a deeply spiritual film and one that can lead to amazing reflection and discussion for Christians who sometimes find themselves buried in the darkness. There is always hope for we know and believe that Christ is our hope and offers us life when death seems to overpower us. His love is what sets us free from the demons of darkness. He is the light and our freedom. I hope this film helps those who watch it to rely on grace when confronted with the scarring challenges of life. Living aware of the reality of death can keep us aware that we are not meant for this world alone. Our life is fulfilled in Christ in heaven!
Resource links for help through grief:
Catholic Exchange: The Saints and Overcoming Grief Pauline Store: Why Do You Weep Memento Mori Prayerbooks
---
Copyright 2020 Sr. Nancy Usselmann, FSP Article first published on bemediamindful.org. [Photo credits: Ben Affleck as Jack Cunningham in The Way Back. © 2020 Warner Bros. Pictures. All rights reserved. ]
About the Author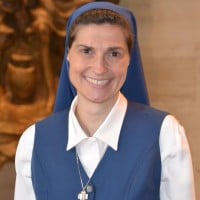 Sr. Nancy Usselmann, FSP is a Daughter of St Paul and the Director of the Pauline Center for Media Studies in Los Angeles, CA. She is a Media Literacy Education Specialist, theologian, international speaker, film reviewer, and blogger for BeMediaMindful.org. Her book A Sacred Look: Becoming Cultural Mystics is a theology of popular culture published by Wipf & Stock Publishing.