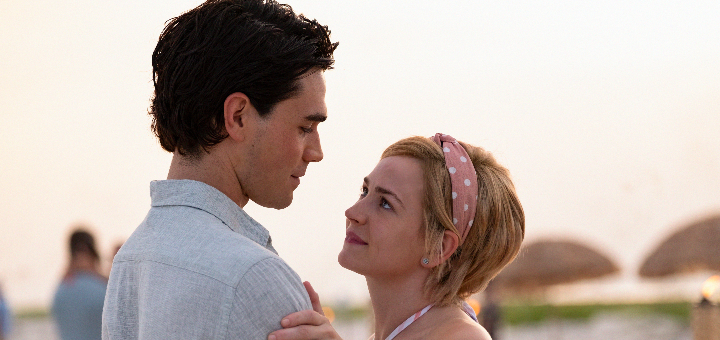 Michael Kubeisy and Jason LaVeris. © 2020 Lionsgate Studios. All rights reserved.[/caption] Jon and Andrew Erwin of Kingdom Studios, riding on the success of I Can Only Imagine, have embarked on another music biopic that delves deep into faith, but also a love that transforms. I Still Believe, which opened in theaters March 13, presents the true story of Grammy-nominated Christian singer-songwriter Jeremy Camp and the woman who captured his heart and soul. Starring the wildly popular New Zealander, KJ Apa (Riverdale) as Camp, the film will hopefully reach beyond the faith-based audience since Andrew Erwin says that, "KJ has a huge audience" and his fan base is largely young women for whom a love story like this will strike a chord. Apa does all his own singing and playing in the film with his renditions of Camp's songs on the movie soundtrack. I Still Believe is being distributed by Lionsgate and will have the widest release for a faith-based film.
Michael Kubeisy and Jason LaVeris. © 2020 Lionsgate Studios. All rights reserved.[/caption] The film shows Camp getting ready to leave for college. His parents (Gary Sinese, Shania Twain) gift him in his send off with a brand new guitar, recognizing his passion and talent. Driving from Indiana to California set Camp on the adventure of a lifetime. When at Calvary Chapel Bible College in Murrieta, California he attends a praise and worship music event where he assists the lead singer-guitarist Jean Luc (Nathan Parsons). From backstage Camp sees in the crowd a young woman who captures his attention for her transparent goodness and genuine beauty. He introduces himself to Melissa (Brit Robertson) and they become fast friends. She invites him to a gathering at the beach where he is invited to play a song for the group. Jean-Luc, who is also interested in Melissa, sees Jeremy's talent and brings him in on the campus' worship scene. His music career trajectory is launched. As Jeremy and Melissa become more intimate, things become complicated because Melissa doesn't want to hurt Jean-Luc's feelings. Jeremy never lets up his attentions but Melissa breaks off their relationship. Camp goes home to his family for Thanksgiving break when he gets an urgent call from Jean-Luc telling him that Melissa is very sick in the hospital and urged him to come back quickly. He makes it to the hospital and sees Melissa awake and alert. They have an honest and intimate conversation realizing that they were meant to be together. She goes through chemo for her cancer and slowly recovers. All the while Camp's popularity and music career takes off as he leads worship events all around Southern California.
Michael Kubeisy and Jason LaVeris. © 2020 Lionsgate Studios. All rights reserved.[/caption] Camp desires to give Melissa everything he possibly can and so proposes marriage to her, desiring to be by her side for as long as they both shall live. It's a beautiful and sweet love story that resonates deeply for the power of love to heal and transform. "The self-sacrificial love of Jeremy and Melissa," says Andrew Erwin, "will hopefully touch young people because of the authentic innocence and relatability of the story." On their honeymoon Camp writes his multi-platinum song "Walk by Faith." Immediately afterwards, Melissa becomes sick and is diagnosed with ovarian cancer and eventually can't beat it. Jeremy's grief is gut-wrenching. For anyone who has experienced the elation of love and the depths of sorrow this story will undeniably be relatable. From his despair comes Jeremy's greatest song to date, "I Still Believe." His faith saves him from the utter darkness. He turns to God and finds renewed hope in life. Jon Erwin says of the film, "It's a love story but allows people to find hope and healing in the midst of difficulty." He continues, "It's a story that can change people's lives. ... it offers a rush of hope."
Michael Kubeisy and Jason LaVeris. © 2020 Lionsgate Studios. All rights reserved.[/caption] Though this is Jeremy Camp's story, it is also very much Melissa's story, since her life was a gentle flower that spread a sweet fragrance wherever she went. Andrew Erwin says that Brit Robertson, "brought it to life in a textured, vulnerable way." It was Melissa who said during her illness, "If one life is changed by what I go through then it's all worth it." Her self-sacrificial surrender to God is one to emulate and hopefully will speak to young men and women today who seek love and relationships. It is truly in the giving that we receive. Jon Erwin says, "I love the idea of telling a story that's entertaining but we are also telling a story of hope beyond heartache…asking the question: What is the purpose of pain?…and finding that it can bring hope."
---
Copyright 2020 Sr. Nancy Usselmann, FSP
First published on bemediamindful.org.
About the Author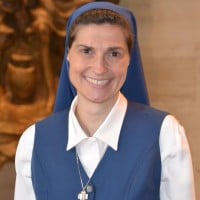 Sr. Nancy Usselmann, FSP is a Daughter of St Paul and the Director of the Pauline Center for Media Studies in Los Angeles, CA. She is a Media Literacy Education Specialist, theologian, international speaker, film reviewer, and blogger for BeMediaMindful.org. Her book A Sacred Look: Becoming Cultural Mystics is a theology of popular culture published by Wipf & Stock Publishing.