Image credit: Pexels.com (2017), CC0/PD[/caption] A message on a sign in front of a church this past week read: "O Lord, I didn't know I was going to have to give up so much this Lent!" It has certainly been a Lent that we will always remember. Many of us began with our own ideas of how we would live this Lent – and then comes COVID-19. What has happened has led us to what we might think of as our communal Lenten experience and so then consider as well what the Lord intends for us to learn together! A great sign of hope has been to see the generosity and solidarity of so many, even at great personal risk, in the case of medical staff and others caring for the sick. But now, where does it all go? The Gospel texts for the 5th Week of Lent, just before entering Holy Week, bring into relief the confrontation that will lead to the Crucifixion: between Jesus, the Light of the World, the Good Shepherd, and the worldly powers that in His time took the face of the Jewish leaders. Each year Lent is to prepare to choose once again to walk the way of Jesus unto the Cross that brings life and to see that walking the other way leads to nowhere but death. The confrontation with the fragility of our human situation that the pandemic provokes should wake us up to see ways we have been living in our society that share in the present day face of those same worldly powers. In his moving Urbi et Orbi address to the whole world last week (March 27), Pope Francis named some of these forces. "We have gone ahead at breakneck speed, feeling powerful and able to do anything. Greedy for profit … We were not shaken awake by wars and injustice … nor did we listen to the cry of the poor or of our ailing planet." This Holy Week we are indeed faced with two ways. Which will we choose? The way of Jesus, the way of the faith and selfless love, that must be the foundation of sustainable generosity and solidarity, or the way of pride, money and consumer comfort that leads to making God irrelevant at best. Will the end of COVID 19 simply mean a return to "the same old same old" ways that have promised happiness but everybody who is honest recognizes deliver something very different? I realize that you who are reading probably share with me the desire to follow the Lord. I write believing that it is important to see where we are in the wider community of humanity to understand the significance of our prayer and mission now. This will be a very unusual Holy Week, participating from our homes. However, it can be just as grace-filled. We need to pray intently and together, that the Church (all of us) be so filled with grace as to rise again with Christ so that others see HIM. Meeting Jesus we deeply understand that faith, solidarity, care for the most vulnerable, and protection of all human life really are a so much better way, the way to LIFE. As the CatholicMom family, may we be united in this prayer and in our common mission to help families come to the Lord with Our Mother Mary. Blessed Holy Week and Easter to you all.
---
Copyright 2020 Fr. James Phalan, C.S.C.
About the Author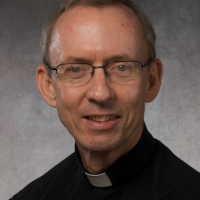 Father James Phalan, C.S.C. is a Catholic priest, member of the Congregation of the Holy Cross, and the National Director of Family Rosary. He served as a missionary for many years as part of the Family Rosary team, travelling the globe to help people come to Jesus through Mary. Now he is happy to be serving back at home in the USA!