Image: Alem Sanchez (2018), Pexels.com, CC0/PD[/caption] God sent His son Jesus into the world for the purpose of leading everyone back to Him. But how does this happen? We are all sinners, so how do we find our way to God? The most important way is to repent and gain forgiveness for our wrongdoings. The forgiveness of all sins began with Christ on the cross. We saw in the story of the Passion of Christ that Jesus' suffering would allow us back to him. It seems pretty incredible when you think about the power of that gift on Good Friday so many years ago. Being given the opportunity to forgive all your sins seems like a wonderful gift. Don't you wonder sometimes how God can absolve all sins? For example, you've seen stories about horrible crimes committed and said to yourself, "I could never forgive someone who committed a horrible crime against someone I loved. I truly don't see how that person can be forgiven by God." Then again, we find it difficult to forget our own sins and forgive ourselves sometimes even after we have confessed them. Some sins just don't seem forgivable. Jesus knew we would wrestle with this.
And be kind to one another, compassionate, forgiving one another as God has forgiven you in Christ. (Ephesians 4:32)
The gift of forgiveness comes from repentance of our sins. It is the basis for the Sacrament of Reconciliation. John's Gospel clarifies why this is such an essential sacrament.
[Jesus] said to them again, "Peace be with you. As the Father has sent me, so I send you." And when he had said this, he breathed on them and said to them, "Receive the holy Spirit. Whose sins you forgive are forgiven them, and whose sins you retain are retained." (John 20:21-23)
Jesus says on the cross, "It is finished." (John 19:30) The penalty of our sins was paid in full on the cross. There are so many references throughout the Bible which clearly encourages followers of Jesus to come to Him for forgiveness of sins. This is why His blood was shed.
Now there is no condemnation for those who are in Christ Jesus. For the law of the spirit of life in Christ Jesus has freed you from the law of sin and death. (Romans 8:1-2)
When you think about the gift of Good Friday in terms of what it meant for everyone, it's so powerful. No more was this more obvious when Jesus died and He said, "Into your hands I commend my spirit!" I put my complete faith in God as I die. I can't deliver all of mankind from the fear of death if I am afraid. Every time we sin and are forgiven our sins we are reminded that this is what Jesus was praying for in Gethsemane. God is all-knowing. He has been aware of who we are since the moment we were conceived. Every breath, every conversation, every moment of our life is known to God. Just like parents know their children will make mistakes growing up, so to, God knows we will sin. Our lives are a constant road leading to God. God's capacity to love is so overwhelming because God is love. I'm certain God feels about all of us the way any parent feels about their children and so much more. That is why we know God will forgive us our sins; all of them. He proved this when he sent Jesus to show us the way. When you proclaim your sins to God, know that His capacity to love you is so great it's allowing you forgiveness. This is the gift of Good Friday!
---
Copyright 2020 Catherine Mendenhall-Baugh
About the Author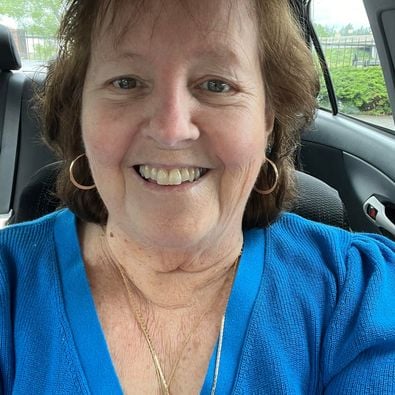 Catherine Mendenhall-Baugh (Cathy) completed her education in Special Education and English and now works as an Agent in the Insurance Industry. A mother and Grandmother, Cathy grew up in a large Catholic family and has spent the last 30 years as a caregiver for her husband, Jack. She is a cancer survivor, which inspired her to begin writing.