It's been three weeks since local schools shut down, and I have an even greater appreciation for teachers and homeschool parents. Thankfully, spring break is here and summer is close! However, in that time, I want my son to still take some time to read. Therefore, I have lined up four Catholic books that are both interesting and educational. Don't tell him that last part, though! Now, sit back, and let me tell you a little bit about them.
Queen Esther is a reprint of a 1986 book by the recently deceased Tomie dePaola. The book summarizes the courageous story of two Jewish people, Esther and her older cousin Mordecai. They lived in exile in Persia under the rule of King Ahasuerus. One day he was looking for a queen, and among all the women of his kingdom, he chose Esther, not knowing she was a Jew. One day, Mordecai overheard a plot to kill the king. Esther warned him and saved his life. Later an evil man named Haman tried to convince the king to kill all the Jews of his kingdom. The king almost went through with this, but three days of prayer and fasting by all the Jewish people and Esther talking to the king saved the Jewish people from a massacre. This was an excellent retelling of this biblical story and one that all children should read.
Brother Francis of Assisi is another classic work of Tomie dePaola. In 1978, Tomie dePaola visited Assisi again and did photographic research on St. Francis and St. Clare. This book is a reflection of that, and because of that doesn't contain the famous tales of these two saints, like St. Francis visiting the Sultan of Egypt and St. Clare stopping the attack on San Damiano. Instead, we learn about Francis' early life, his conversion, and founding of his monastic order. We learn of Clare becoming a follower of Francis, as well as her two younger sisters and mother. Within this book, we also get the tale of Francis and the wolf and creation of the first nativity scene. The book ends with a retelling of the Canticle of the Sun and a small timeline of Francis and Clare's lives. This is a great introduction to two famous saints!
St. Conrad and the Wildfire tells the story of Conrad and his wife Euphrosyne. Both were of noble birth, and lived a financially comfortable life. One day Conrad was going hunting with a group of his servants. They were having no luck with a stag they had been hunting all day, so Conrad wanted a fire started to smoke the deer out. It worked, but the wind shifted and the fire raged out of control. Forest, farms, and homes were burned. Ashamed, Conrad hid in his room the next day, letting people think the fire started accidentally. Unfortunately, an innocent man was blamed and was going to be put to death. Hearing this, Conrad jumped into action, confessed his crime, and was forced to atone. He and his wife gave away all their money, so that the villagers could rebuild their lives. Doing this, they realized that they had never been richer, and devoted their lives to God.
This is an amazing book for children. In addition to your children learning about a lesser-known saint, they will learn the value of honesty, no matter the cost. Maura Roan McKeegan knocks it out of the park again, with an excellent children's book to enrich not only your child's faith, but yours as well. Artist Patty Borgman enhances the story with her beautiful graphics too! Highly recommended!
The Big Book of Christians Around the World is part atlas, part almanac, and part Christian history book. The book is arranged alphabetically taking you across different countries around the globe. We begin with Algeria, whose Church dates back to the first century. We then move to Argentina, birthplace of Pope Francis. There are 23 other countries included in this book, including places like France, Germany, and the United States. Each country gets a two-page spread full of roughly ten facts about the country and how they uniquely celebrate Christianity. These blurbs also come with great illustrations and pictures to drive home what your child is reading.
What I like best about the book is that some countries then get a special section dedicated to them and a specific liturgical season. You and your child can see what Advent is like in Germany or what Christmas is like in the tropics. My son, huge Coco fan that he is, really enjoyed learning more about Mexico and the Day of the Dead. What is really appealing about this book is that it isn't all Catholic, but also includes information on Eastern Orthodoxy too. This is a treasure of a book, and one that my family will reference throughout the year.
[tweet "4 children's books that entertain and educate kids about Catholic saints and culture."]
---
Copyright 2020 Stuart Dunn
This article contains Amazon affiliate links; your purchases through these links benefit the author.
About the Author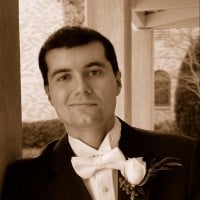 Stuart Dunn was born and raised in Mobile, AL and received a Bachelor of Arts in Psychology and a Master of Business Administration from the University of South Alabama. Stuart reviews all things Catholic including adult books, children's books, Bible Study series, Catholic Courses, CDs, and DVDs in addition to board games at his blog Stuart's Study at StuartsStudy.blogspot.com.