Motherhood mentor Amy Collins encourages new mothers of children up to 4 years of age to observe how their newborns are actually teaching them! Her new book, Infant Inspiration: An enlightening perspective on how newborns teach mothers essential life lessons, is based on journals she kept while her daughters were infants. The book begins,
As a mom, it's normal to feel like you need to teach your baby everything, but have you ever thought about what you can learn from your baby? Our infants can also teach us several valuable life lessons. (xi)
We don't only learn our infant's preferences about wearing hats, being swaddled, or comfort techniques. We also learn many things about yourselves -- and about life. Some of these lessons, Amy notes, include slowing down, choosing trust, sharing smiles, setting priorities, and cultivating learning.
This uplifting book covers 16 life lessons we can learn from our babies, and ties each one to a verse of Scripture that will inspire and encourage new moms. Short chapters can be read in those little bits of time new moms can steal away, and you can read this book in any order, so if you want to start off on Lesson 10 (Setting Priorities) before you read Lesson 8 (Cultivate Learning) that's absolutely fine.
It was my pleasure to interview Amy about her book.
What led you to write a book based on your own journals from early parenthood?
After sorting through my baby journals almost two decades after writing them, I realized the foundation for my motherhood journey has been built upon the lessons I recorded in those journals. I attribute my ability to feel more peace and joy to what I learned from my newborns and hence humbly believe that God keeps sending us babies to learn valuable life lessons. After reflecting on what a positive impact they've made on my motherhood journey (and life overall), I wanted to share them with other mothers so they could also recognize the lessons their babies are teaching them and establish a strong foundation for their mother/child relationship built on faith and learning.
Which of the lessons in your book do you think is the most difficult? (Or which was the most difficult for you?)
My hope is that each lesson resonates with each mother in just the way she needs to hear it. The lesson that was most difficult for me to learn was "Setting Priorities" because what I came to realize was that what's most important never actually appears on our "to-do" lists and that is to build loving relationships by making the time to incorporate several of the others lessons such as being present, listening, and choosing patience and laughter.
What would you most like an overwhelmed new mother to remember?
A couple of thoughts come to mind -- first, I'd like to let her know that it's normal to feel overwhelmed with a new baby! It affects us on every level -- physical, mental, spiritual, emotional -- and I remember thinking that it must be only me that felt overwhelmed, but that's not true. That's why I want to offer a sense camaraderie especially during this time to moms. I learned to ease that feeling of overwhelm by focusing on the present moment and learning from every small undertaking. Also, I'd like an overwhelmed mom to remember that most of all it's about learning every day. Motherhood is an adventure that offers us opportunities to become better kinder people as long as we're willing to embrace all that it has to teach us and approach it with a sense of openness and patience. My hope is that this is what Infant Inspiration offers to these precious mothers.
More about the author:
Amy M. Collins speaks on podcasts, Zoom panels, radio programs and at in-person events about the need for women to clarify who they want to be in this ever-essential role as Mom. Through her talks and classes, she helps women build a solid foundation for their motherhood journey based on authenticity, clear communication and creativity. Her combined background in counseling and mindfulness, offers a unique sense of insight that empowers women to create positive and practical mindsets around motherhood. She offers humor, sensitivity and passion that only a mother could share as she mentors fellow moms. Catch her on a Facebook Live: Monday Mornings for Moms at 10 AM, follow her on Instagram, and visit her website at AmyMCollins.com.
Enter to win!
Would you like to win a copy of Infant Inspiration for yourself or a friend? Enter by telling us if you'd be keeping this book for yourself or giving it to your friend, daughter, or sister who has a new baby. (There are no wrong answers here!) Simply leave a comment on this post and you're entered to win one of two copies of this book.
This giveaway will close at 11:59 PM on Monday, June 8. Two winners will be chosen at random from comments left on this article only. Comments on social media will not be counted as entries. Winners will be notified by email and will have 48 hours to claim their prize. Unclaimed prizes will be awarded to other winners.
[caption id="attachment_172189" align="aligncenter" width="1180"]
Image created by the author in Stencil.com using free elements.[/caption]
---
Copyright 2020 Barb Szyszkiewicz, OFS
This article contains Amazon affiliate links; your purchases through these links benefit the author.
About the Author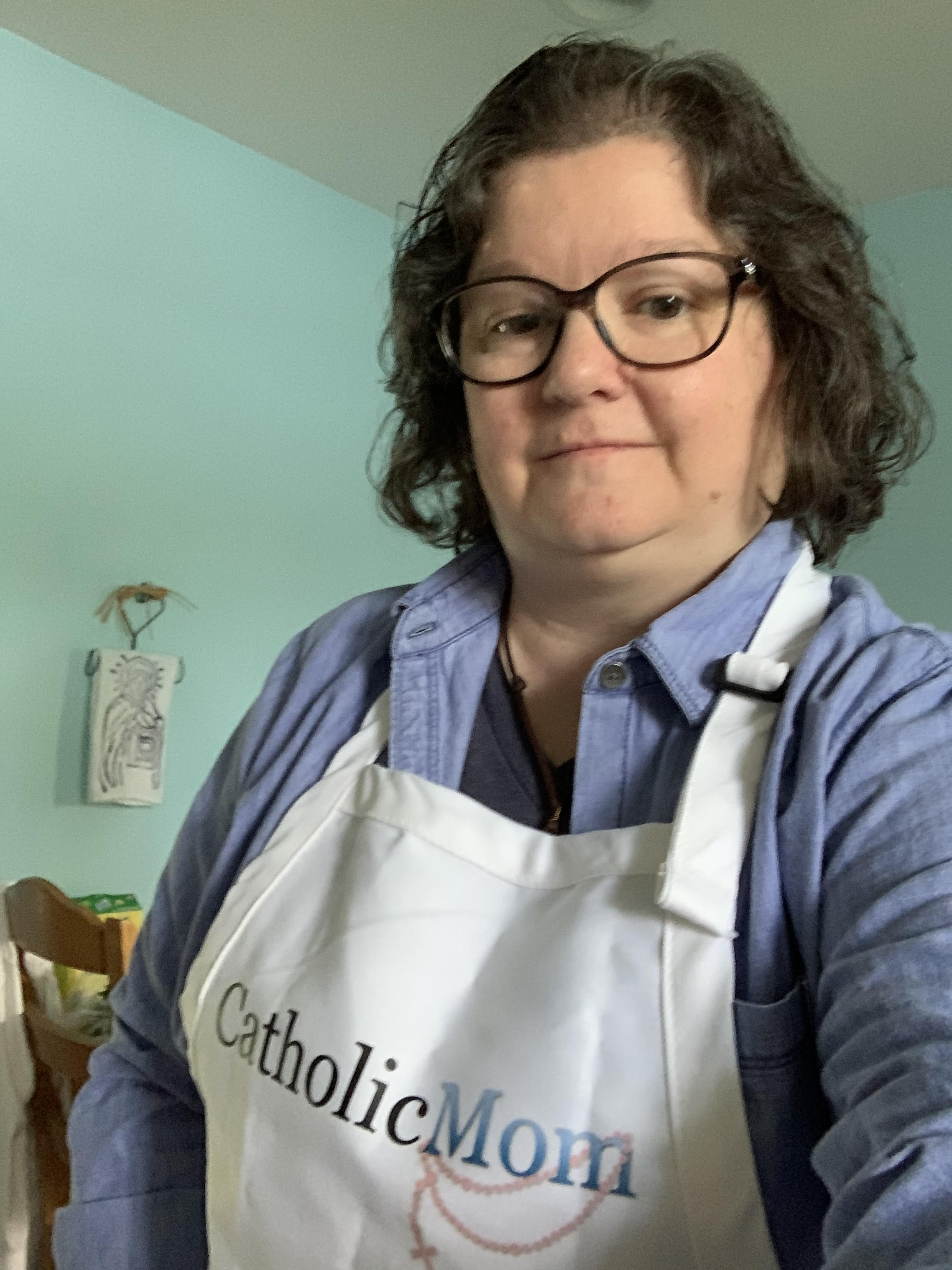 Barb Szyszkiewicz is a wife, mom of 3 young adults, and a Secular Franciscan. She is editor at CatholicMom.com. Barb enjoys writing, cooking, and reading, and is a music minister at her parish and an avid Notre Dame football and basketball fan. Find her blog at FranciscanMom and her family's favorite recipes with nutrition information for diabetics at Cook and Count. Her booklet, The Handy Little Guide to Prayer, is coming in May 2021 from Our Sunday Visitor.