[caption id="attachment_172213" align="aligncenter" width="1920"]
Image: Pixabay.com (2019), CC0/PD[/caption]
Sometimes life just turns pure strange, and there's not a whole lot I can do about it. I received an email this week from someone wanting to know where three bodies were buried.
Now before you jump to unholy conclusions, I happen to be the cemetery secretary for our little town. So the question was perfectly legitimate. Though — it turned out — not so easy to answer.
The woman asking was kind enough to send copies of three obituaries so I knew that the deceased persons in question were, in fact, former residents and buried at our cemetery.
So far so good. Just look the names up in the official cemetery computer file, which was crafted a few years ago, so it only goes back so far and then … well … good luck, buddy. Search the paper files and maps.
I did both and came up with four sites bought in their names. Boy oh boy, I felt good. Nancy Drew had nothing on me. In a fit of generosity, I decided to go out and take a picture of the tombstone to send the family.
I got to the right place … found the right section and site … and matched up all the tombstone names for the area. Except for the ones I was looking for. I found grass. Lots of green grass where the bodies should be. At least, where a particular tombstone should be.
Nada.
So a few more phone calls, pleas for assistance from previous cemetery secretaries. And as Luck-Would-Have-It, One-of-the-Knowledgeable-Ones just happened to be driving by. Divine intervention? Yeah, that's what I'm thinking too.
So I met him and told him my quandary. He stepped out of his truck. Took a long look. I explained that since there isn't any tombstone, the family wants to place one on the right site. But, here's my fix, where are the bodies … exactly?
So he stepped back to his truck and took out divining rods. Uh … oh … Then he paced up and down the area, and the rods moved as he stepped over two of the grave sites, but stayed still over the other two. Now, I was really in a fix. There were supposed to be three bodies. And I don't know who the two are and where the third is … or what might have happened.
Besides that, I don't believe in diving rods, so the whole thing was ridiculous anyway.
Apparently, my face must've shown some level of doubt.
He handed me the rods and told me to try. Bloody heck, I insisted that I don't have the power … but he just waved me on. So I held the durn things in my hands, letting them rest there, (making sure I'm not moving my hands) because I knew perfectly well I'm going to be condemned by both science and religion for this one.
I pace across the grass. Those blamed things moved every time I stepped over a grave and over the two grassy sites where I'm wondering who's on first. Or in graves numbered 4 and 5, as the case may be.
So there you have it. Ann Frailey's leap into the deep end of strange. I did let the family know that, as best I can tell, we can place a stone at the head of sites 4 and 5. Yes, I did tell her how I "know" someone is buried there. Or don't know. As the case may be. Funny, but she never responded back …
I can't blame her.
I don't know what to think about the matter. I'm perfectly well aware that scientists are laughing and any serious religious person has stepped a safe distance from the bolt of lightning that ought to be hitting me any time now.
All I do know is that three people are buried in unmarked graves … and someone hasn't forgotten them entirely.
Next time I'm out there, I'll probably stop by. Because the more I do this job, the more I appreciate grave sites. Not that I think anyone is there waiting for a chat. I know they have moved on.
But because once upon a time they were here. With us.
[tweet "Once upon a time they were here. With us."]
---
Copyright 2020 Ann K. Frailey
About the Author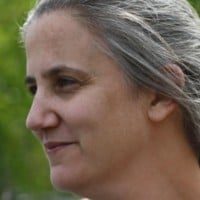 As a teacher with a degree in Elementary Education who has taught in big cities and small towns, Ann Frailey homeschooled all of her children. She manages her rural homestead with her kids and their numerous critters. She writes books and a Friday blog alternating between short stories and her My Road Goes Ever On series. Put Your Mind in a Better Place—Entertainment for Life: AKFrailey.com.