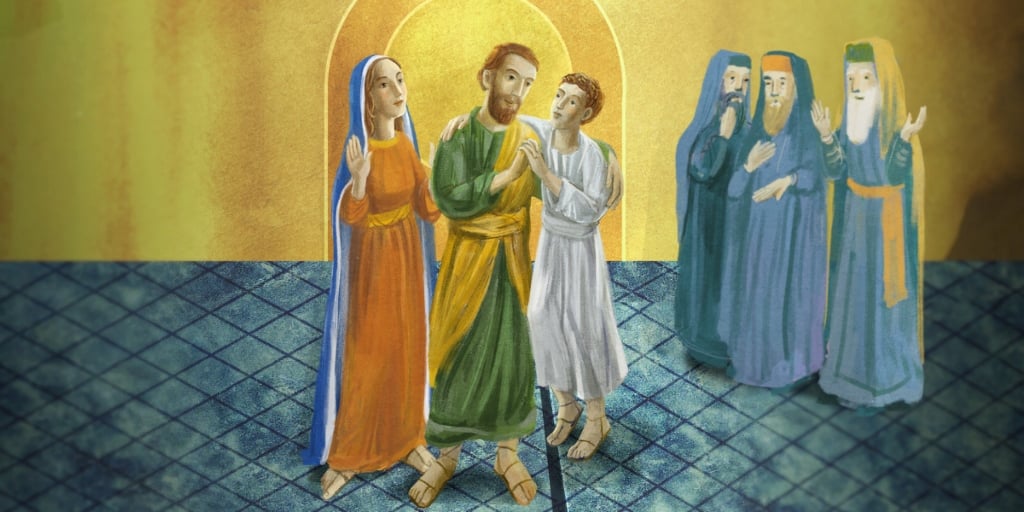 Lisa M. Hendey ponders how, through the Finding of the Child Jesus in the Temple, St. Joseph teaches us to commit to God's plans for our lives.
If you've lived in a family, it's likely that you've perhaps experienced the loss of a family member. I'm not speaking here of "loss" as in death, although most of us have known that ache. I'm speaking here about a moment when a family member — either a young child, a petulant teen, or a confused elder — has either intentionally or accidentally wandered beyond your supervision.
If you haven't experienced this, count your blessings. If you have, perhaps your family is like mine. We remember the story of the "loss" of one of our children, then a young toddler, who happened to accidentally jump onto a hotel elevator while under the supervision of his grandmother. We tell the story with laughs now, decades later, because it had a happy ending. A friendly stranger spotted our runner, ushered him safely to a responsible employee in the lobby, and then rode the elevator back up quickly to notify terrified Grandma that all was well. Grandma still doesn't laugh at the story all these years later, but we've often recounted it as a "sign" from God. We should have known then that our son would have an adventurous spirit.
I've often wondered how our Blessed Mother Mary and St. Joseph recounted the story of the finding of their son, Jesus, at the Temple in the years after it happened when Jesus was in His teens. This moment which we remember as the fifth Joyful Mystery of the Rosary was most certainly a terrifying experience for them. But unlike our loss, which lasted only a few moments, Luke's account in the second chapter of his gospel indicates that Mary and Joseph searched for three whole days before they finally found their son, Our Lord.
After three days they found him in the temple, sitting in the midst of the teachers, listening to them and asking them questions, and all who heard him were astounded at his understanding and his answers. (Luke 2:46,47)

This passage of the Bible offers us a tantalizing peek into the "hidden years" of the Holy Family's lives, those moments after their escape into Egypt and before Jesus' public ministry that are only left to our spiritual imaginations. In the Bible we read that when Mary questioned Jesus about His choices, expressing the great anxiety she and Joseph felt, Jesus responded with what almost feels like a reproach when he said, "Why were you looking for me? Did you not know that I must be in my Father's house?" But Jesus then went with them to Nazareth, where Luke tells us that He was "obedient" to Mary and Joseph.
When we contemplate this particular Mystery, it's easy to pause and see it from Jesus' perspective: as the Son of God, Jesus certainly was cognizant of what he was choosing to do. We might also ponder the joy Mary must have felt: a mother, reunited with her son but confused by such a bold, independent choice.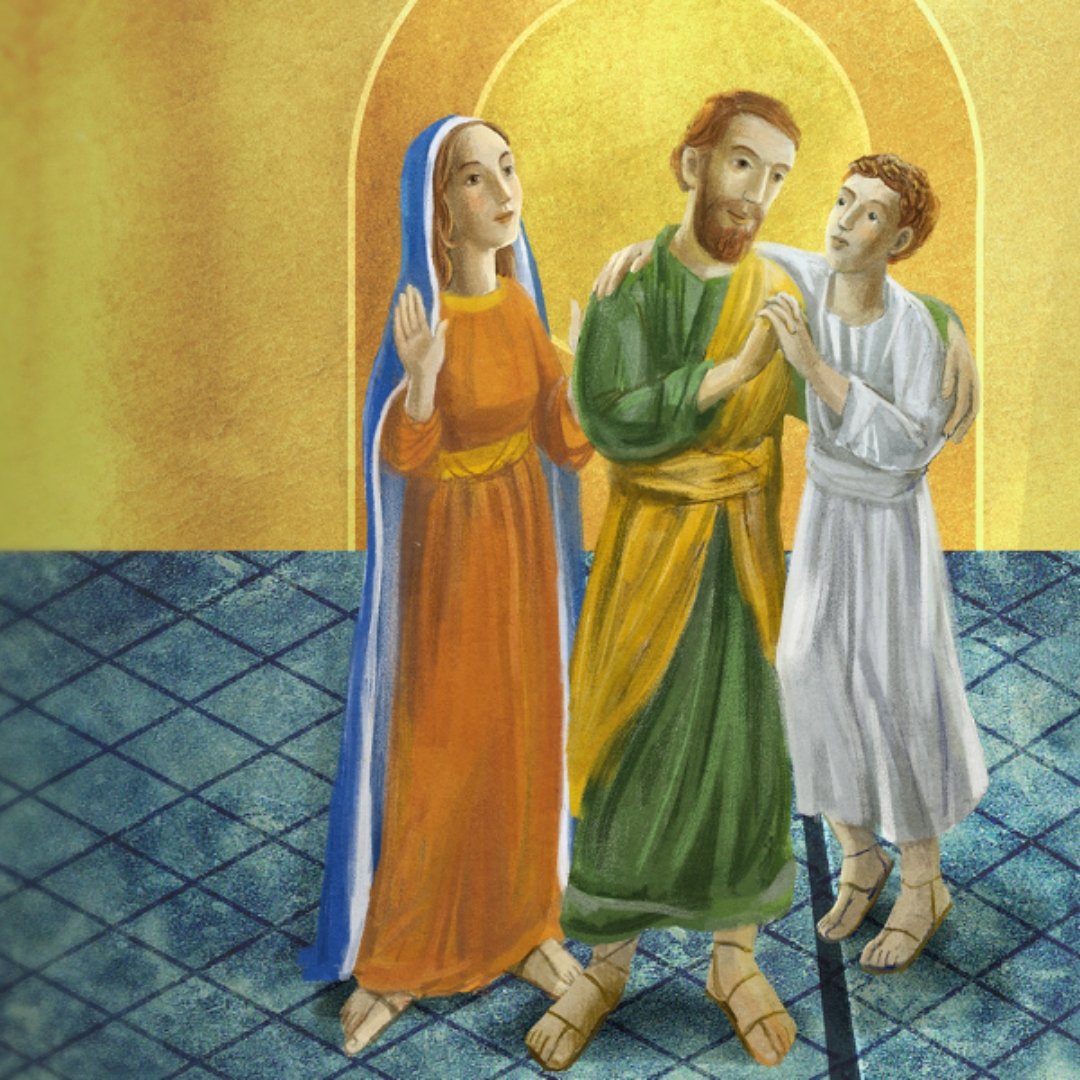 But let's pause for a moment to consider how St. Joseph must have felt. Wordless here, as he was through the totality of scriptural accounts, he must have seen this "finding" as yet another step along the unknown path God had placed him on when he assented to God's will for his life. Understanding through the message of an angel the role he would play in Our Lord's upbringing, Joseph too was quietly following God's plan as he'd always done. He too was doing his Father's work.
In a reflection on the Fifth Joyful Mystery of the Gospel, Venerable Patrick Peyton called St. Joseph the "silent prophet of the Sorrowful mysteries" and "a very human person." When I pray this particular mystery through the eyes of St. Joseph, inviting him into my time with Jesus, I imagine the feelings he must have had that day:
Joy at the finding of his beloved loved one

Perplexity at the mysterious charge he had been given by God to shepherd Jesus into faithful maturity

Renewal of his own commitment to live God's, his Heavenly Father's, will for his own vocation with greater care and zeal

We tell stories such as this remarkably complex and joyful memory that the Holy Family lived first hand because to do so is a part of the "work" Our Father has given us. Praying this Joyful decade and recalling St. Joseph's stalwart, faithful living out of this "work" inspires us along our own paths. Those paths, as divergent as they are for each of us, involve remembering these stories and sharing them lovingly with others.
I have been the lost child, sometimes wandering away from my Heavenly Father's supervision and care. I have been the relieved parent, thanking God for reuniting me with the child who slipped from my sight and from God's will. With St. Joseph as my companion, I am reminded that it's all a part of the journey God has set before me. Remembering the "lost" moments, rejoicing at the "found" celebrations is a part of that path, part of the "work" my Father has given me. With St. Joseph's example and accompaniment, I do not walk the path alone.
Click to tweet:
With St. Joseph as my companion, I am reminded that it's all a part of the journey God has set before me. #catholicmom
This article is part of the "Through the Eyes of Saint Joseph" series for the Month of the Rosary.
Pope Francis offered the faithful his Apostolic Letter, Patris Corde (With a Father's Heart.) to enlighten us during this special year of Saint Joseph.
This October, the Month of the Rosary, "Go to Joseph." Grow in the faith with your family. "Be about the Father's business." (see Luke 2:49)
Joseph is our inspiration throughout the month of October, we will be reflecting, praying, and encountering The Mysteries of the Rosary through the eyes of St. Joseph.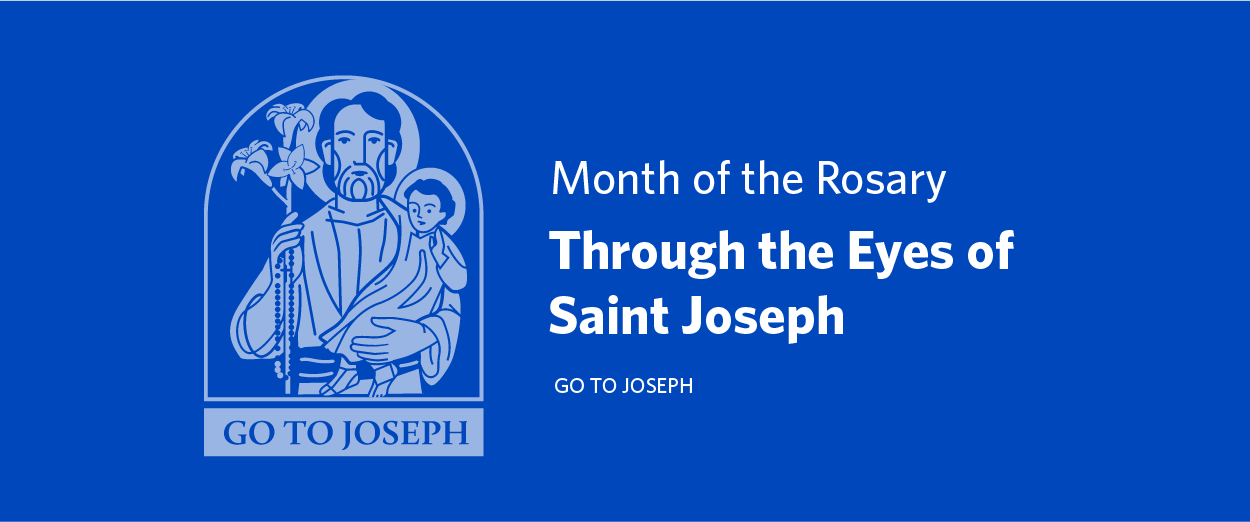 ---
Copyright 2021 Lisa M. Hendey
Images copyright 2021 Holy Cross Family Ministries, all rights reserved.
About the Author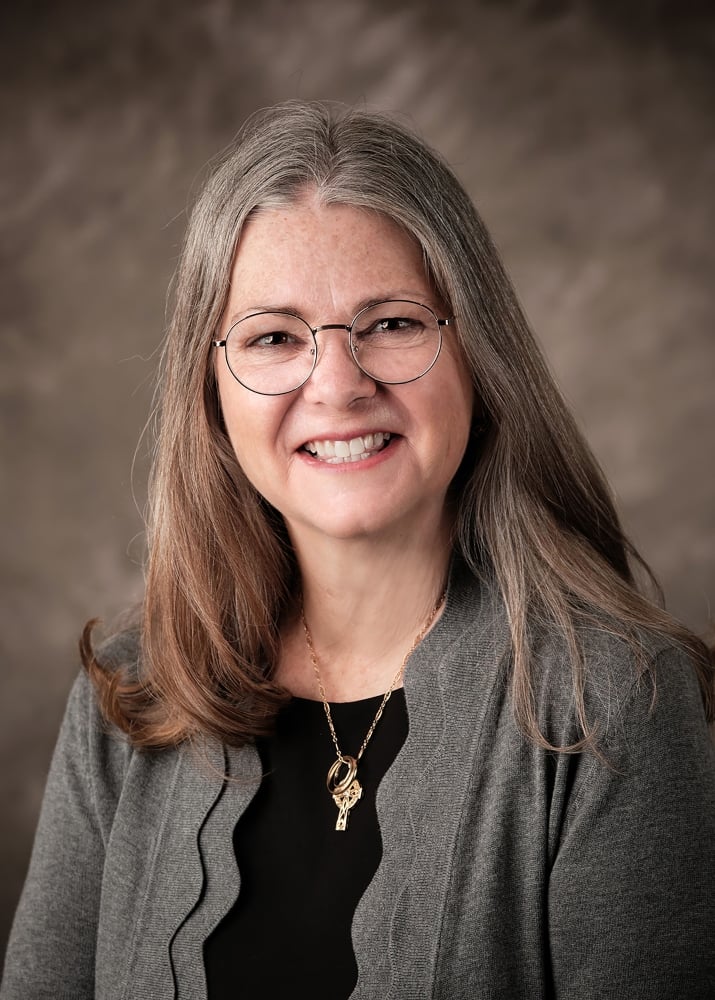 Lisa M. Hendey is the founder of CatholicMom.com, a bestselling author and an international speaker. A frequent radio and television guest, Hendey travels internationally giving workshops on faith, family, and communications. Visit Lisa at LisaHendey.com or on social media @LisaHendey for information on her speaking schedule or to invite her to visit your group, parish, school or organization. Visit Lisa's author page on Amazon.com.