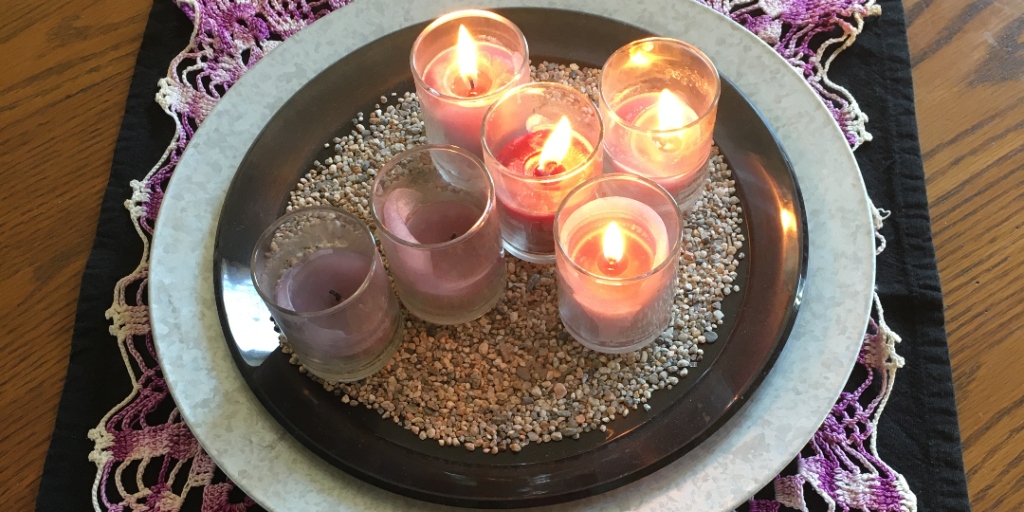 Kathryn Pasker Ineck reflects on preparing and decorating for Lents past, and how to make this year less stressful and more fruitful.
We don't typically have a lot of snow in our little corner of the world, but our yearly inversion trapped a snowfall in its icy grip, which left the roads clear but our yards snowy. I always love seeing the snow partly because I still think snow is magical, and mostly because it guarantees to keep the mud away and off my floors. This week, the inversion cleared out, the temperatures rose, and the daffodils started peeking green shoots out of the earth, teasing us with the taste of spring, a season that is still well over a month away. As a result—horror of horrors—the ground is damp and mud is appearing. Sandwiched between Christmas and Easter, this is a time of in-between, of waiting, and that pause can feel dreary. Enter Lent. Lent offers a time to while away the weeks before Easter, and the accompanying renewal of the earth with the arrival of Spring.
The festive decorations have been packed away, along with the paper snowflakes and Saint Valentine's hearts. It's too early for Easter eggs, crosses, and all the pastel gorgeousness, but a change of pace helps us enter into Lent and really prepares our hearts and minds for the Resurrection. In an effort to liven up an otherwise bland time, I am a Lenten junkie and a sucker for prayer aids, decorations, and printables. Every Lent, I pull out all my materials, carefully packed away for the year as I decorate and plan with every intention of renewed family prayer time, read-alouds, and object lessons … and there they sit until I pack it all away once again.
This year, I have a new plan. I will decorate as usual, but not have any elaborate expectations for adding all of the extras to our day: I plan to let things evolve and really just do what organically works. I bought some purple cloth napkins a couple of years ago, and like to use them to cover end tables, countertops, piano back, and our home altar. We use black placemats at the kitchen table and for the table centerpiece, I pour a small amount of sand and small gravel into a charger plate and arrange five purple candles and one pink candle on it in the shape of a cross.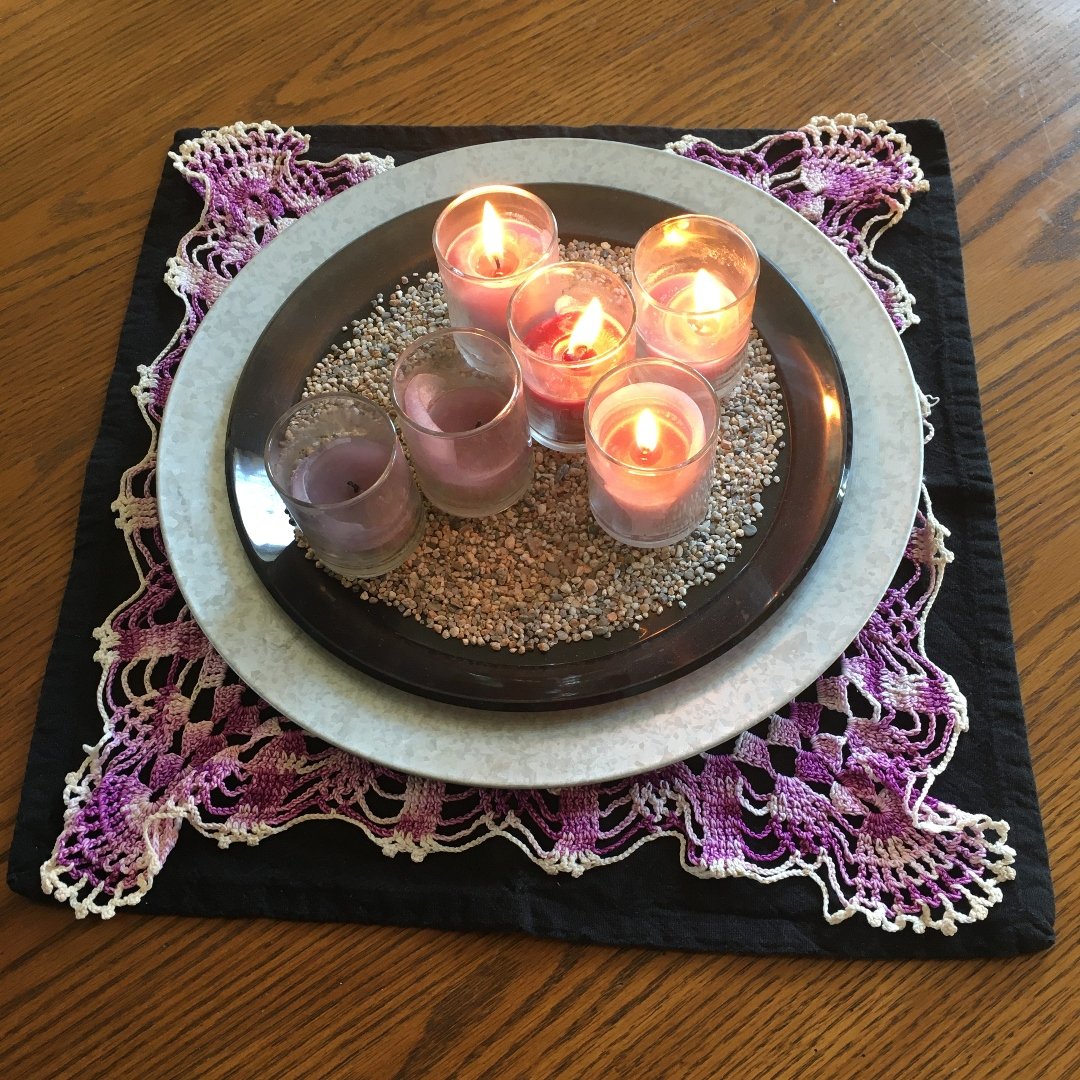 Purple, black, and grey hand towels adorn the kitchen, and a lot of the statues placed throughout the house will be moved to an out-of-the-way corner shelf. I will place all of the Lenten books I've purchased over the years into a basket displayed in the living room, and put a few of them on the coffee table to tempt bored teens, changing them week to week.
Another basket will have Examinations of Conscience, Stations of the Cross booklets, and sacrifice beads, as well as other prayer aids. The kids are already planning this year's stained-glass design they plan to paint on our large picture window using painters tape and washable paint for their Holy Saturday tradition.
Click to tweet:
The familiar materials and decorations we see from year to year allow our family to enter into the season and prepare our hearts for the joy of the Easter Season. #catholicmom
We do, however, plan to add a family prayer each Friday. Meatless Fridays are impossible for three of our kids even though they would prefer to observe it: aside from their non-protein allergies, they are allergic to beans, peas, nuts, fish, dairy, and even eggs. While sunbutter and jelly on wheat-free bread is great for one meal, it's not really wise to offer it to them for all of their meals each Friday. Since we cannot observe the law of abstinence as a family, they have requested that we add a family devotion that day in order to create unity in our Lenten journey.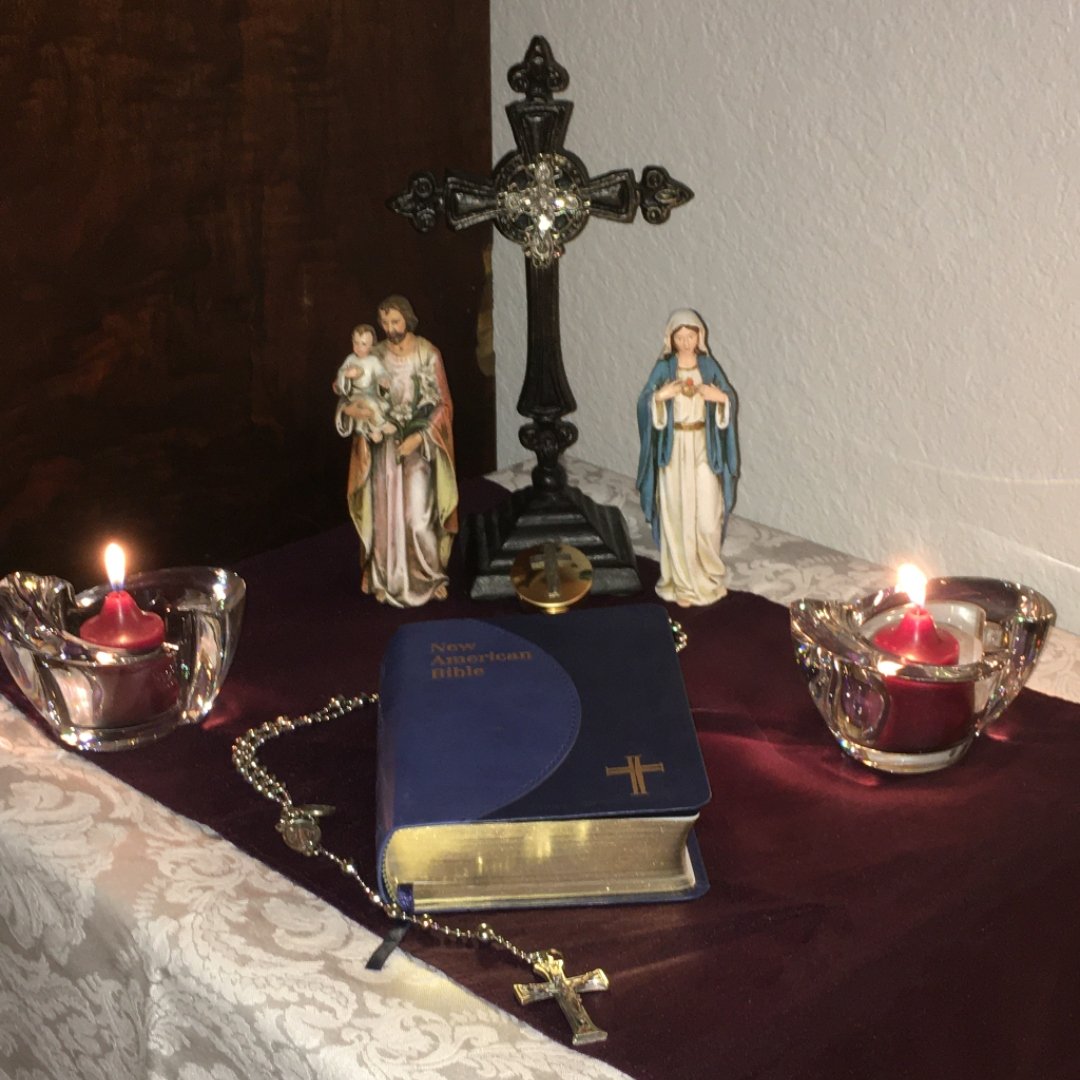 Instead of feeling guilty for not quite being able to follow through on all of my hopes and dreams for a gloriously educational Lent, I finally realize that all those books and decorations and prayer aids don't represent failures but mean that our home offers a rich supply of materials for the kids—and my husband and I!—to peruse as they are so moved in order to develop a prayer life individual to their needs. The familiar materials and decorations we see from year to year allow our whole family to enter into the season and prepare our hearts for the wild joy of the Easter Season.
---
Copyright 2022 Kathryn Pasker Ineck
Images copyright 2022 Kathryn Pasker Ineck, all rights reserved.
About the Author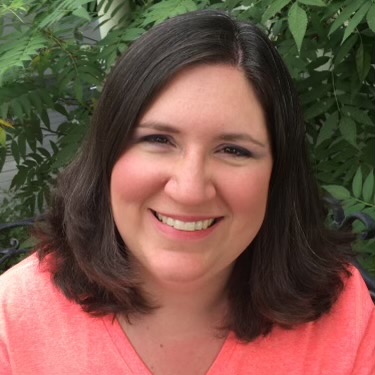 Married for over two decades to her best friend, and mom of four tweens and teens, life is never boring for Kathryn. She pursues the heart of God--led by His gentle Mother--and relies on the Divine Mercy Chaplet, a desire for chocolate, and an insatiable thirst for reading into the wee hours of the morning. She writes to maintain her sanity at Kathryn Pasker Ineck.