Flávia Ghelardi writes in English and Portuguese about taking a step of courage and confidence in God's care for us.
Flávia Ghelardi writes from Brazil in English and Portuguese. Jump to the Portuguese version of this post.
I have already been told that the expression "do not be afraid" is written 365 times in the Bible, once for each day of the year, reinforcing the message that we must trust in the goodness and mercy of God, trust in his Divine Providence that takes care of each one of us like the precious pupil of his eyes.
Fear is part of our animal nature, our instinct for self-preservation. We are afraid when we perceive some kind of threat to our physical or emotional integrity. Whoever is afraid is in a state of alertness and concern, his attention is focused on that element that is causing the fear, this being the immediate priority in his life, leaving other things aside.
However, as Christians, we are invited to take a step out of fear, a step of courage, a step of faith and confidence that there is Someone who is permanently caring for each one of us, as his favorite occupation. Whoever manages to have this supernatural vision of the events of life, experiences a feeling of peace and tranquility and faces all challenges with courage and the certainty that "everything works for the good of those who love God" (Rm 8:28).
This does not mean that, by magic, worries and fears disappear. People who know they are loved and cared for by God may at first feel a certain fear and insecurity, but soon this feeling is replaced by the confidence that if God the Father is allowing this situation in their lives, it is because it is necessary for their salvation, for their eternal happiness.
In order to reach this attitude of unrestricted confidence in Divine Providence, we need to start seeing, in our life history, everything that the Good God has done and continues to do to lead us to Him. We need to literally stop and contemplate. Take a few minutes in your day and ask yourself: how did God take care of me today?
The doctrine of the Church teaches us that God, because He loves us, wants to communicate daily with us, whether through nature, the people we meet, the simple events of daily life and even the great events in the history of the world. When we include this meditation time in our daily routine, little by little we begin to feel (and not only know) that we are very loved and thus, we are also able to begin to repay that love.
In this way, when we are surprised by an event that trembles us, such as the loss of a loved one, an economic problem, an illness, a pandemic that forces us to change the way of living the simplest things like leaving home, we manage to have the tranquility of those who know that it is your Father who is in control of everything, that in the middle of the storm, it is your Father who is at the helm of the boat of your life, leading you to the safe haven.
To feel this way, truly loved and cared for by the Father, is an extraordinary grace, but it is available to each of us. We need to ask for it daily and do our part, our 1%, which is this meditation of daily life, this look at our life looking for where and when God is talking to us, "because everyone who asks receives; who seeks finds; and whoever knocks, the door will be opened " (Matthew 7:8).
Take a few minutes in your day and ask yourself: how did God take care of me today? #catholicmom
---
NÃO TENHA MEDO!
Já me falaram que a expressão "não tenha medo" está escrita 365 vezes na Bíblia, uma para cada dia do ano, reforçando a mensagem que devemos confiar na bondade e misericórdia de Deus, confiar em sua Divina Providência que cuida de cada um de nós como a preciosa pupila de seus olhos.
O medo faz parte de nossa natureza animal, do nosso instinto de autopreservação. Sentimos medo quando percebemos algum tipo de ameaça à nossa integridade física ou emocional. Quem sente medo está em um estado de alerta e preocupação, sua atenção está focada naquele elemento que está causando o medo, sendo essa a prioridade imediata em sua vida, deixando as outras coisas de lado.
Porém, como cristãos, somos convidados a dar um passo para fora do medo, um passo de coragem, um passo de fé e confiança de que existe Alguém que permanentemente está cuidado de cada um de nós, como sua ocupação predileta. Quem consegue ter essa visão sobrenatural dos acontecimentos da vida, experimenta uma sensação de paz e de tranquilidade e encara todos os desafios com coragem e na segurança de que "tudo concorre para o bem daqueles que amam a Deus" (Rm 8,28).
Isso não significa que, num passe de mágica, as preocupações e receios desaparecem. As pessoas que sabem que são amadas e cuidadas por Deus, num primeiro momento podem até sentir um certo medo e insegurança, mas logo esse sentimento é substituído pela confiança de que, se Deus Pai está permitindo essa situação em suas vidas, é porque ela é necessária para a sua salvação, para sua felicidade eterna.
Para podemos chegar a essa atitude de confiança irrestrita na Divina Providência precisamos começar a enxergar, em nossa história de vida, tudo o que o Bom Deus já fez e continua fazendo para nos conduzir a Ele. Precisamos literalmente parar e contemplar. Tirar alguns minutos por dia e nos perguntar: como Deus cuidou de mim hoje?
A doutrina da Igreja nos ensina que Deus, porque nos ama, quer se comunicar diariamente conosco, seja através da natureza, das pessoas que encontramos, dos acontecimentos simples do dia a dia e até dos grandes acontecimentos da história do mundo. Quando incluímos em nossa rotina diária esse tempo de meditação, aos poucos começamos a sentir (e não só saber) que somos muito amados e assim, conseguimos também começar a retribuir esse amor.
Desta forma, quando somos surpreendidos com algum acontecimento que nos estremece, como a perda de um ente querido, um problema econômico, uma doença, uma pandemia que nos força a mudar a forma de viver as coisas mais simples como sair de casa, conseguimos ter a tranquilidade de quem sabe que é seu Pai quem está no controle de tudo, que no meio da tempestade, é seu Pai quem está no leme do barquinho da sua vida, te conduzindo para o porto seguro.
Sentir-se assim, verdadeiramente amado e cuidado pelo Pai, é uma graça extraordinária, mas que está à disposição de cada um de nós. Precisamos pedi-la diariamente e fazer a nossa parte, o nosso 1%, que é essa meditação da vida diária, esse olhar para a nossa vida procurando onde e quando Deus está falando conosco, "pois todo aquele que pede, recebe; quem procura, acha; e a quem bate, a porta será aberta." (Mt 7,8)
---
Copyright 2020 Flávia Ghelardi
Image: Casia Charlie (2019), Pexels
About the Author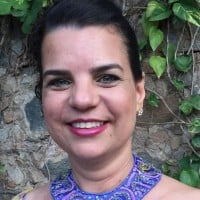 Flávia Ghelardi is the mom of four, a former lawyer already "promoted" to full time mom. Flávia published her first book FORTALECENDO SUA FAMÍLIA and is a member of Schoenstatt´s Apostolic Movement. Flávia loves to speak about motherhood and the important role of women, as desired by God, for our society. She blogs at www.fortalecendosuafamilia.blogspot.com.