Merridith Frediani shares an excerpt from her new book, Draw Close to Jesus: A Woman's Guide to Eucharistic Adoration.
So, I wrote a book.
I hope you read it.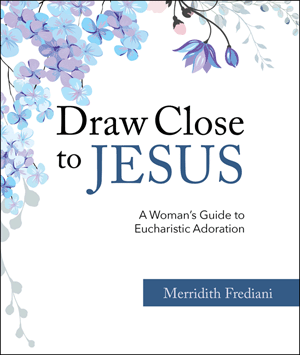 Not because I want to make money. I'm not opposed to making money -- I do have three kids in college right now -- but that's not why I want you to read it. I want you to read it because I want more people to pray in front of the Blessed Sacrament, the Real Presence of Jesus Christ. It's life changing.
Here's an example:
A few years ago, a monkey wrench was thrown into my carefully laid plans about how my life was going to play out. I like plans. I enjoy having things to look forward to but I also am not hugely spontaneous. I may not enact those plans until it's nearly go time, but I do like to have them. So, after my kids got a little older and I began to think about a career again, I thought I'd landed where I would stay.
I don't like the adage that God will laugh when we tell Him our plans because I don't believe our Heavenly Father ever laughs at our expense, but I do think that if we are serious when we tell Him we are willing to follow His plan for our life that He will act, and that's when our particular plans may fall apart. I also believe God can take a crummy situation and turn it into something amazing and beautiful.
Perhaps at the time I was in fact doing His will, but this fallen world intervened and I found myself unemployed. It was a time of heartache and sadness and tears. When school started up and I found myself home alone a lot, I started visiting Jesus. I was blessed to receive the keys to the chapel at the Newman Center near my home so I could pray with Jesus anytime I wanted. I also went to Adoration and Mass several times a week.
And that's how this book was born. I spent a year going to Mass and adoration often and writing a lot. God guided me to new opportunities and ultimately I was connected with an editor at Our Sunday Visitor who had an idea for a guide to Eucharistic Adoration for women.
While I was praying in Adoration, Jesus did a lot in my heart, and now I can look back at that challenging time and be grateful for it. What started out as a loss became a beautiful opportunity to let Jesus teach me how much He loves me and how to love Him better. And I want others to have that experience of His gentle and life-giving love.
Adoration can be daunting. It's hard to imagine stepping out of our whirlwind world and entering into the silence where God whispers. Draw Close to Jesus can help. I've included sections on how to do Adoration as well as how to go deeper, how to manage stumbling blocks, and what fruits come from a regular practice of Adoration. My prayer is that women will read this book while in Adoration and it will help them grow closer to our Lord.
Click to tweet:
Adoration can be daunting. It's hard to imagine stepping out of our whirlwind world and entering into the silence where God whispers. The book can help. #catholicmom
Here's an excerpt to give you a taste:
In God's Eyes

Fear not, for I have redeemed you;
I have called you by name, you are mine. (Isaiah 43:1)

There's a paradox in the interior life. I struggle to reconcile the reality that I can do nothing, that I am nothing without
Jesus. I am selfish and judgmental, quick and shortsighted. My list of flaws is lengthy, and I must approach Jesus as a child. Yet I am a beloved daughter of God. He formed my inner parts. He knitted me in my mother's womb. I am "wonderfully made" (Ps 139 [NABRE]). According to the prophet Isaiah, I was called by name and I am God's. I belong to him. Despite my shortcomings, I am his. How do I reconcile these things in my head?

What I see in myself each day is a woman who falls. I know the words not said and the uncharitable thoughts. I know when I choose the things of the world over Jesus; when I skip daily Mass or adoration so that I can do something more "fun"; when I continue sharing the gossip while the voice in my head hollers "Stop!" I know these things, and they make me feel unworthy of the love Jesus offers.

Yet God responds, "I have called you by name; you are mine. … You are precious in my eyes, and honored, and I love you" (Is 43:1, 4). God tells me this, and because he is not a God of tricks, nor is he a lying God, I must believe him. This God who made the flower petals with colors that bleed together; this God whose infinite creativity built a world composed of waterfalls and sunrises, mountaintops, crashing seas, and puppies; this God who is wholly responsible for only beauty — this same God made me. I am more than a lucky collision of cells. I am created intentionally by a God who only creates good.

The sin in my life is my fault, but it doesn't change God's vast love for me. Because of his love and desire for me, he calls
me to him. I go to adoration to be in his presence. I acknowledge where I fall short, and I rely on the one whose love has no edges. Sitting silently with him, I begin to believe that he made me as his daughter. I truly am his.

I surrender to him all that I am — beautiful and ugly — because he told me I am precious in his eyes. I ask him to help me believe this.

To do: Ask Jesus to give you the grace to believe that you are precious in his eyes, honored, and loved.

To go deeper: Pray with Isaiah 43:1–5. What word or phrase speaks to you? Spend time reflecting on it.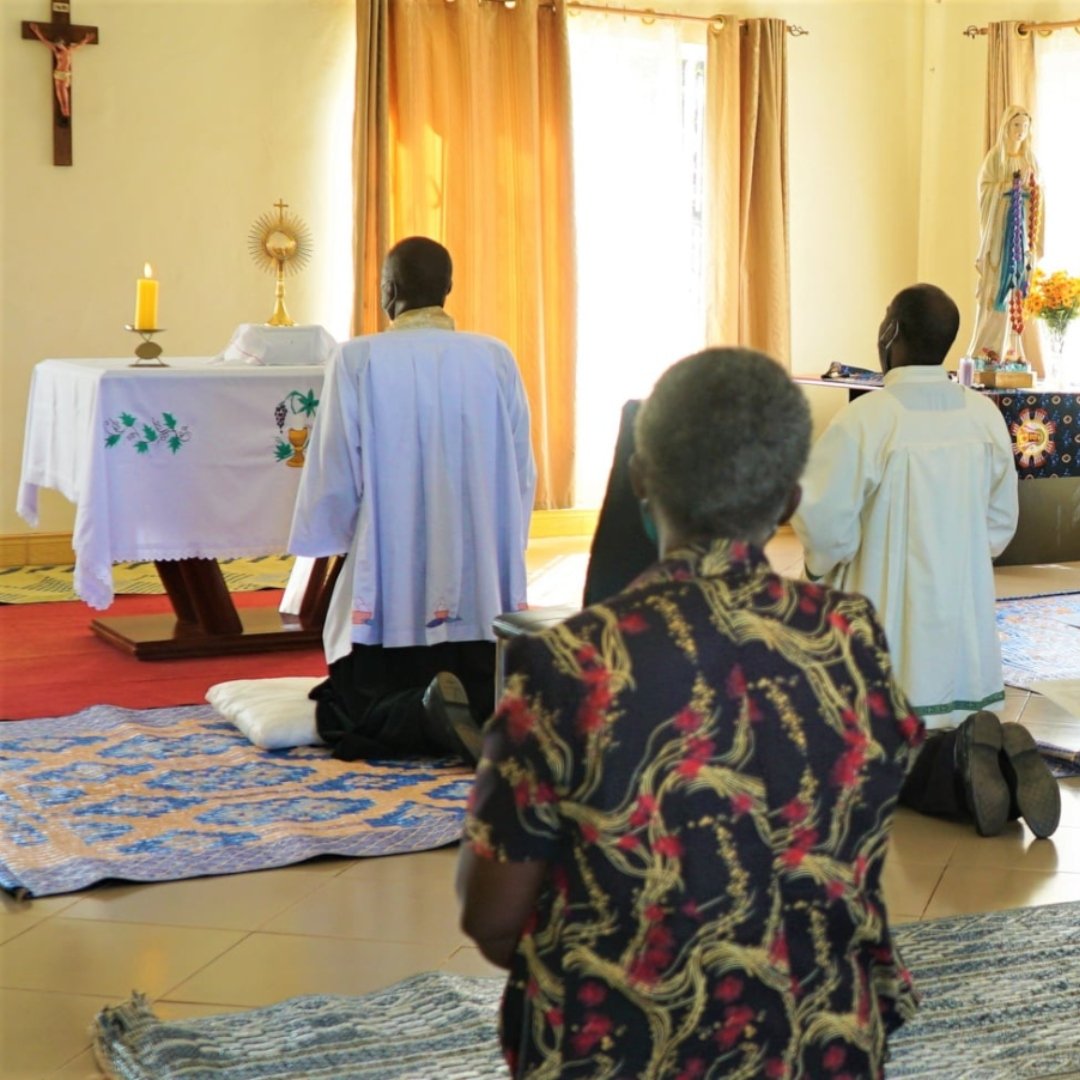 If you're interested in this book, you can find it at OSV or Amazon. If you decide to read it, I'd love to hear what you think. Know of my prayers.
---
Copyright 2021 Merridith Frediani
Image copyright 2021 Holy Cross Family Ministries, all rights reserved.
Excerpt from Draw Close to Jesus is shared here with the kind permission of the publisher, Our Sunday Visitor.
About the Author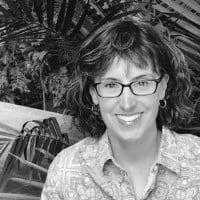 Merridith Frediani loves words and is delighted by good sentences. She also loves Lake Michigan, dahlias, the first sip of hot coffee in the morning, millennials, and playing Sheepshead with her husband and three kids. Merridith writes for Catholic Mom, Diocesan.com, and her local Catholic Herald. Her first book, Draw Close to Jesus: A Woman's Guide to Adoration, is available at Our Sunday Visitor and Amazon. You can read more at MerridithFrediani.com.