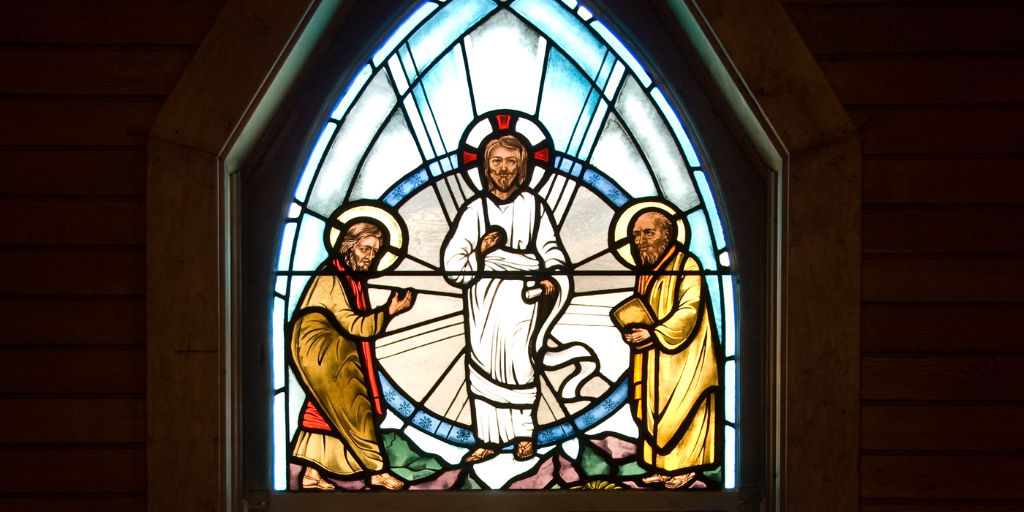 Colleen Mallette contemplates what the Transfiguration would have meant to the disciples who witnessed it.
---
The Gospel reading on August 6 tells the story of the Transfiguration of Jesus in front of three of his disciples: Peter, James and John. This amazing event is retold by all four of the Gospel writers and in Peter's second letter, even though it wasn't witnessed by all of those men—and they might not have heard about it that same day since Jesus told the three not to talk about it until after His Resurrection. It's probable that on one of the several visits the glorified Jesus made to the disciples after He rose from the dead, they all recounted the event and their feelings about it.
We all know the story of how Jesus led the three apostles up the mountain and was transfigured before their very eyes to be gloriously white; His face was even altered. Then Moses and Elijah appeared and talked with Jesus. Then His Father spoke from the clouds, saying "This is my beloved Son, with whom I am well pleased; listen to him." (Matthew 17:5)
What an incredible thing for those three men to see. They had travelled all around their area for several years with Jesus, ate, slept, talked, laughed, and got to know Jesusand one another really well by then. They had seen Him heal so many people, both physically and spiritually. They had seen Jesus miraculously multiply food, walk on water, calm a storm, and preach with such wisdom and compassion.
We have to believe that there was something just in the presence of Jesus that caused these men to drop their careers, families, and livelihoods to suddenly follow Him wherever He went. Then seeing all of the miracles in person had to convince them that Jesus was definitely special and powerful. Yet even the learned, educated religious men didn't understand what to make of Jesus because no one knew what to expect of the Messiah they longed for.
Before Jesus was Transfigured, He asked His disciples "Who do you say that I am?" They weren't entirely sure, and even when Peter said, "You are the Messiagh, the Son of the living God," Jesus tells him that only by the grace of God did he know that (Matthew 16:15-17). They still were a little uncertain what to make of this amazing, powerful man they had grown to adore and admire.
So what does Jesus do? He takes the three disciples away and gives them a glimpse of heaven and His true glory. He lets them see Him in His glorified body as a preview of His Resurrected body and our own glorified bodies in heaven. Can you imagine seeing all of this?!
Jesus lets them see what heaven is like as He carries on a conversation with two dead, but key forerunners in the story of salvation who pointed the way to Jesus' coming. Again, He gives them a glimpse of who we will see in heaven and what it will be like.
Then, to top it all off, God the Father adds to the glory of the experience by talking to them and verifying the divinity of Jesus and commanding them to listen to whatever He says.
At this point we would think these three special men should have no doubt as to who Jesus really is. Peter says:
"We had been eyewitnesses of his majesty. We ourselves heard this voice come from heaven while we were with him on the holy mountain." (2 Peter 1:16b, 18)
Click to tweet:
Imagine being an eyewitness to the glorified Jesus and be grateful for this glimpse of the holiness of heaven. #catholicmom
How they kept that vision to themselves I don't know—but at least they could discuss it with one another. They probably still didn't understand Jesus' true mission and means of accomplishing it, or even what "rising from the dead meant" (Mark 9:10), even though Jesus had predicted His death and Resurrection several times to them. But in the time between this event and Jesus' coming to visit them after His Resurrection, these disciples had a greater appreciation for what Jesus said and did through a lens of His divinity. We can imagine them clinging to every word with much more attention and desire for meaning behind them all. They certainly understood every miracle much better as coming from the limitless power of God.
Jesus probably knew these men needed this insight in order to have the strength and hope to endure His Passion. This vision of heaven also would have given them the courage to preach and grow the community of believers after Jesus ascended too, just as we pray the Rosary and seek the fruit of this mystery of a desire for holiness both here on earth and in heaven. The next time you pray this mystery imagine being an eyewitness to this glorified Jesus and be grateful for this glimpse of the holiness of heaven.
As you hear this Gospel being proclaimed tomorrow, may it fill you with the courage and hope of your eternal salvation and the need for everyone to know how they can have that too.
---
Copyright 2022 Colleen Mallette
Images: Canva
About the Author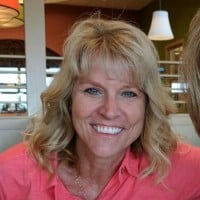 Colleen lives in Ohio and is the proud mother of three young adults. She loves being a full-time stay-at-home mom and a part-time bookkeeper for her husband. She likes to read, write, scrapbook, and volunteer, and is excited to use her talents to share God's love and the hope of His promises through CatholicMom.com. Colleen is co-author of "In God's Hands, Miracles in the Lives of Moms" and blogs at Colleen's Contemplations.