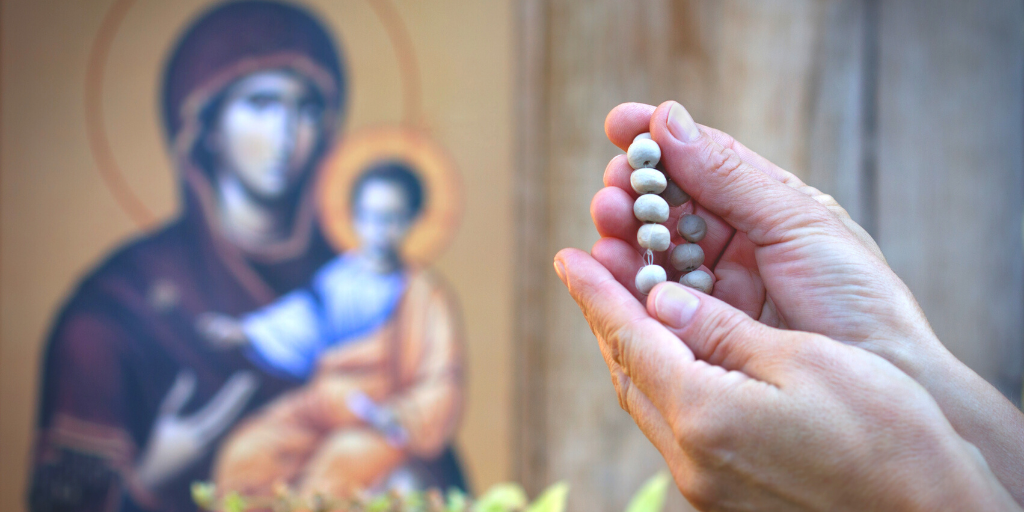 Podcast: Deanna Bartalini interviews Catholic Mom contributor Maria V. Gallagher about her new book.
---
Maria Gallagher has written Joyful Encounters with Mary: A Woman's Guide to Living the Mysteries of the Rosary, an excellent way to learn more about the Joyful Mysteries of the Rosary, virtues, and the saints while living out your faith every day!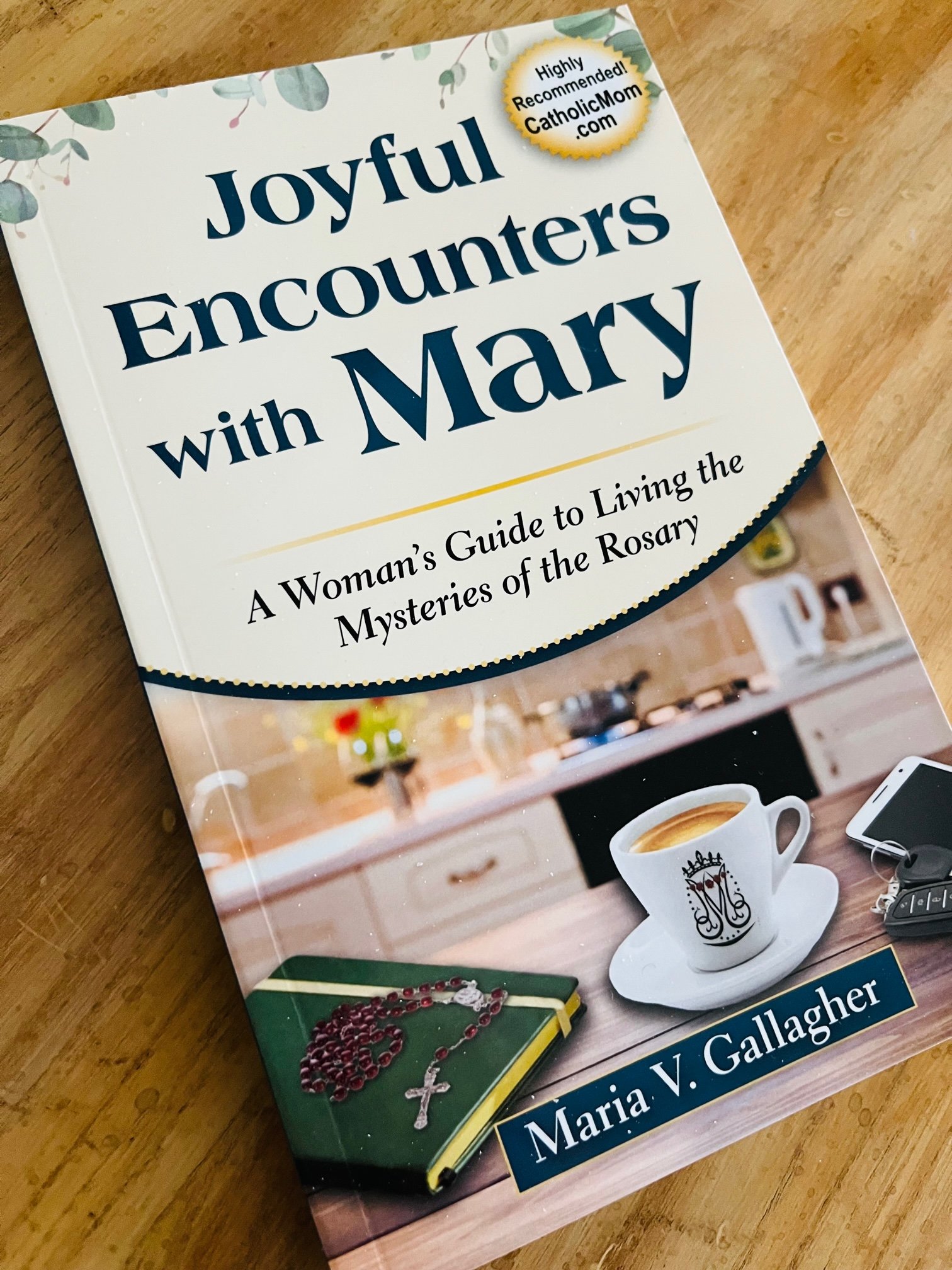 Why a book about Mary?
Maria has been blessed with many role models who helped her in her faith adventure, modeling the love and care of Mary for her. Maria also reminds us that Mary leads us to Jesus and is always there for us – listening, helping, and untying the knots in our lives. We both like the Undoer of Knots Novena.
5 Joyful Mysteries
The five Joyful Mysteries are the Annunciation, the Visitation, the Nativity, the Presentation and the Finding of Jesus in the Temple. Each mystery is discussed in light of Mary, a virtue, a saint, and how Maria has seen this mystery in her life. The chapters also have questions to reflect on how your faith is present in your life. I could see this being used in a small group very easily.
Maria's writing style is down-to-earth; it feels like having a chat with a friend telling you about her day and how Mary has been present. I loved reading about her childhood and family, nodding in agreement or laughing out loud more than once.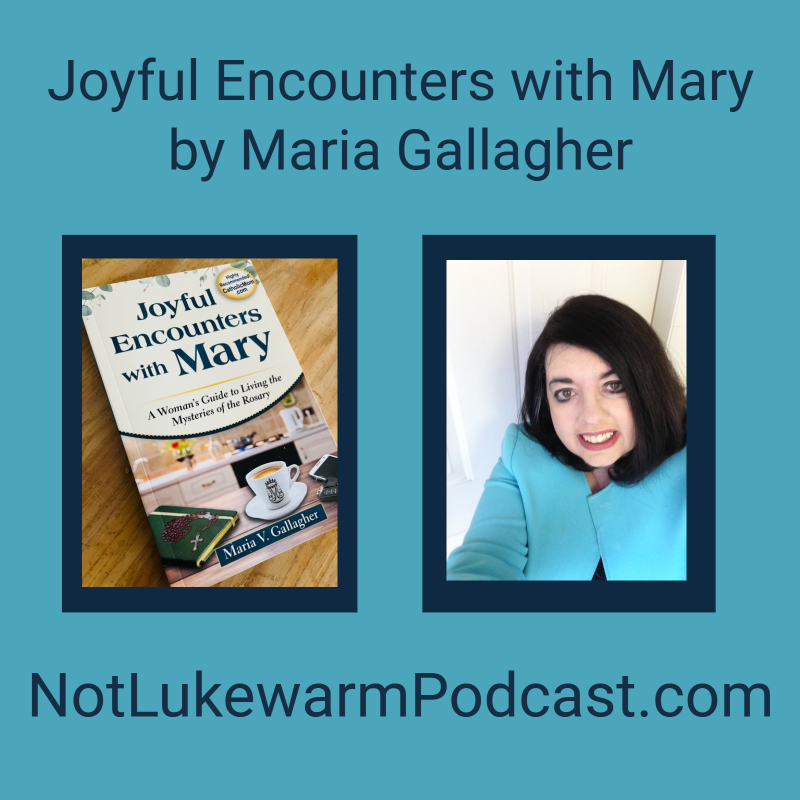 As much as there is joy in the book—after all, Maria is writing about the joyful mysteries—the hard truths of life are in there as well.
What was it like to struggle with the desire for a child? How did ministering to women who have had an abortion connect with Mary? One of my favorite chapters of the book is chapter 5. Here, Maria talks about the connections we have as women to other women, whether we have walked the same path or not. This quote explains it well:
"Mary Moments" are precious because they help to strengthen our connections not only with other women on earth, but with Mother Mary in heaven. They fill us with joy because we know we are helping other women achieve their potential. The ability to serve is a phenomenal gift, and research in the area of positive psychology indicates it can even help alleviate a case of "the blues." In giving of ourselves to others, we solidify our own sense of self-worth. We can imagine the Blessed Mother smiling above us as we pursue Mary Moments here below.
The book is published by the Marian Servants and is on the Marian Servants online bookstore or on Amazon. And if you'd like to hear Maria and I talk about her book, you can listen to this episode of the Not Lukewarm podcast.
---
Copyright 2022 Deanna Bartalini
Images: (top) Canva; (bottom) copyright 2022 Deanna Bartalini, all rights reserved.
About the Author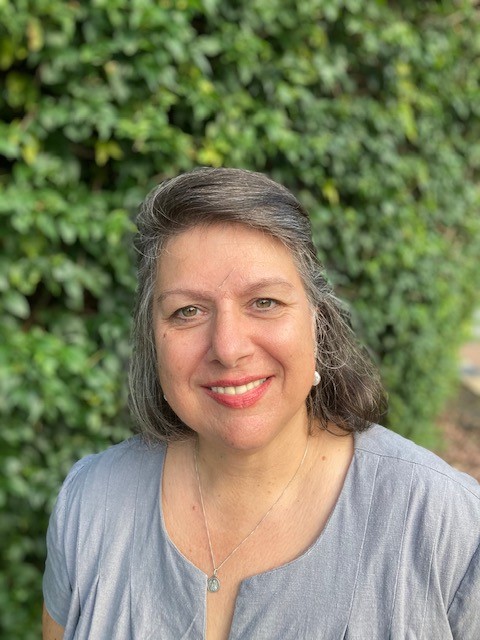 Deanna G. Bartalini, M.Ed.; M.P.A., is a certified spiritual director, writer, speaker and content creator. She is the founder of the LiveNotLukewarm.com online community, a place to inform, engage and inspire your Catholic faith through live, interactive faith studies. Her weekly Not Lukewarm Podcast gives you tips and tools to live out your faith in your daily life.