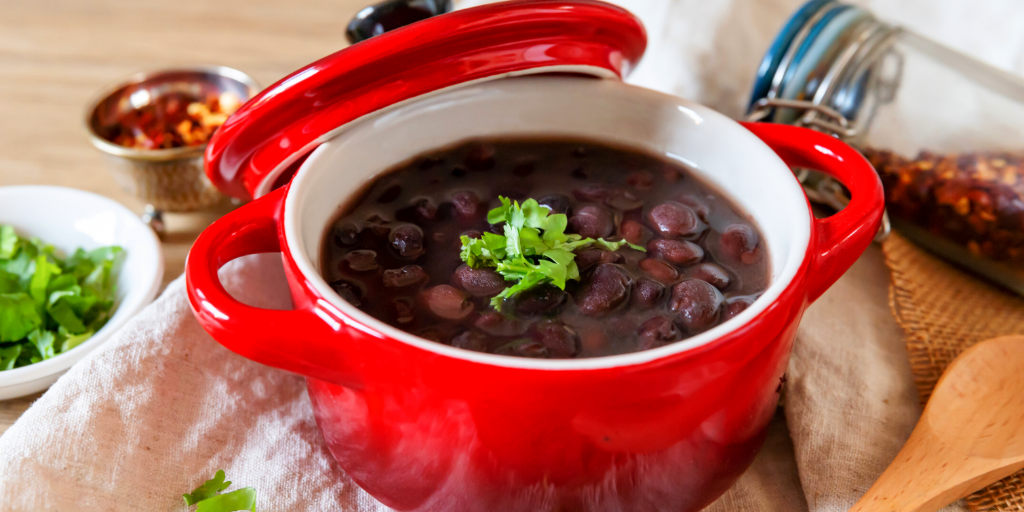 Maria Morera Johnson shares a recipe for a simple, hearty meatless meal that reminds her of her childhood.
---
I learned to cook from my maternal grandmother, who braised everything in an enormous aluminum pot, and my mother, who never saw a cut of beef she couldn't improve in a pressure cooker. When I got married and started setting up my own kitchen, I couldn't imagine cooking for two with an enormous bathtub of an aluminum pot, and the old-fashioned pressure cooker with the whistling steam release terrified me. I settled on a cast-iron Dutch oven that worked beautifully for braising and could cook fast without realizing my fears of a pressure cooker blowing up.
Almost forty years later, it's still my go-to pot when I want to make a savory meal that reminds me of my childhood. It seems like the older I get, the more I want to revisit those old recipes and share them with my growing family. One of my favorite dishes, black beans and rice, is hearty enough for a cold night, but versatile enough to serve on a warm summer day.
Everyone I know has a recipe for black bean soup, claiming it as the authentic version. Some recipes call for bacon fat or salt pork, but my recipe is completely meatless, and I claim it as an authentic Cuban dish. Read 'til the end to discover the super secret ingredient that lends it a delicious note of umami. Your kitchen will smell delicious, and your tastebuds will be delighted.
Black Bean Soup
Ingredients:
2 cups of dried black beans (you can cheat and get canned)
1 large green bell pepper, diced small
1 medium yellow onion, diced small
3 cloves of garlic, minced
2 tablespoons of olive oil
2 tablespoons of tomato paste
1 splash of dry white cooking wine
1 teaspoon of cumin
2 teaspoons of oregano
2 bay leaves
Salt to taste
Directions:
The night before, wash dried beans carefully, removing any pebbles that might have their way into the bag. Place in a deep pot and cover the beans with water. Add a quarter of the green bell pepper in a big rough cut. Cover pot and soak overnight. [Canned black beans can be substituted for this step, especially if there is no time to soak overnight. Pro tip: Unsoaked dry beans don't have to be soaked overnight, but the cooking time will be longer.]
Drain beans and discard the piece of bell pepper. Add fresh water to cover the beans completely. Add salt and bring to a rolling boil, uncovered. In a saucepan, make a sofrito: add the olive oil to the hot pan. Add green bell pepper and yellow onion. Cook until soft and add the garlic. Stir and add tomato paste and a splash of wine. Stir well.
Add a ladle-full of the beans and water to the sofrito. Mash beans and water together with the ingredients in the pan and add to the boiling pot of beans. Lower heat to medium; add cumin, oregano, and bay leaves. Cover and simmer for at least an hour to soften beans or until soup thickens to taste.
Right before serving, add a tablespoon of white vinegar. (You found the secret ingredient!)
Serve with white rice and crusty bread. Enjoy!
Click to tweet:
For #MeatlessFriday cook up a hearty black bean soup. #catholicmom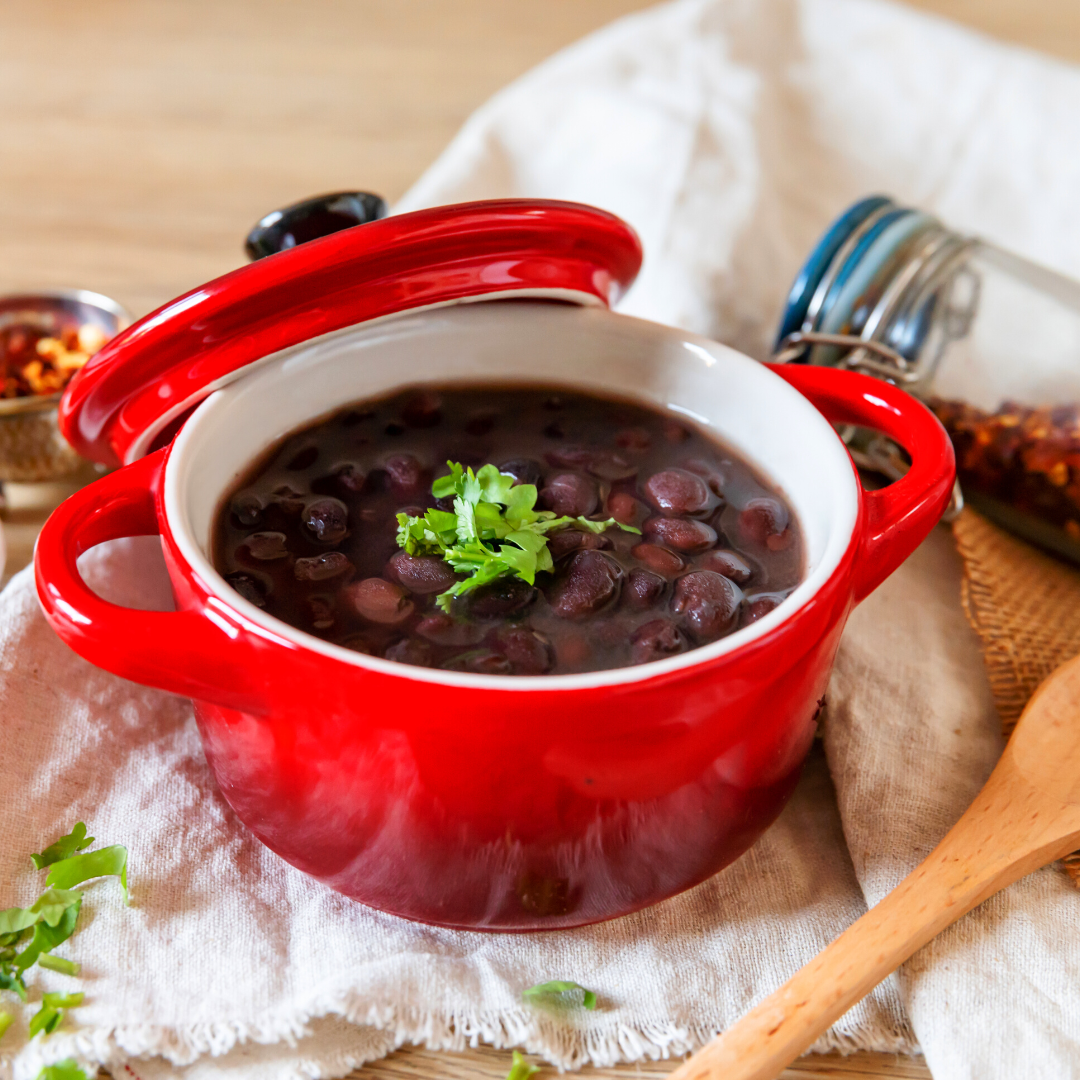 ---
Copyright 2023 Maria Morera Johnson
Images: Canva
About the Author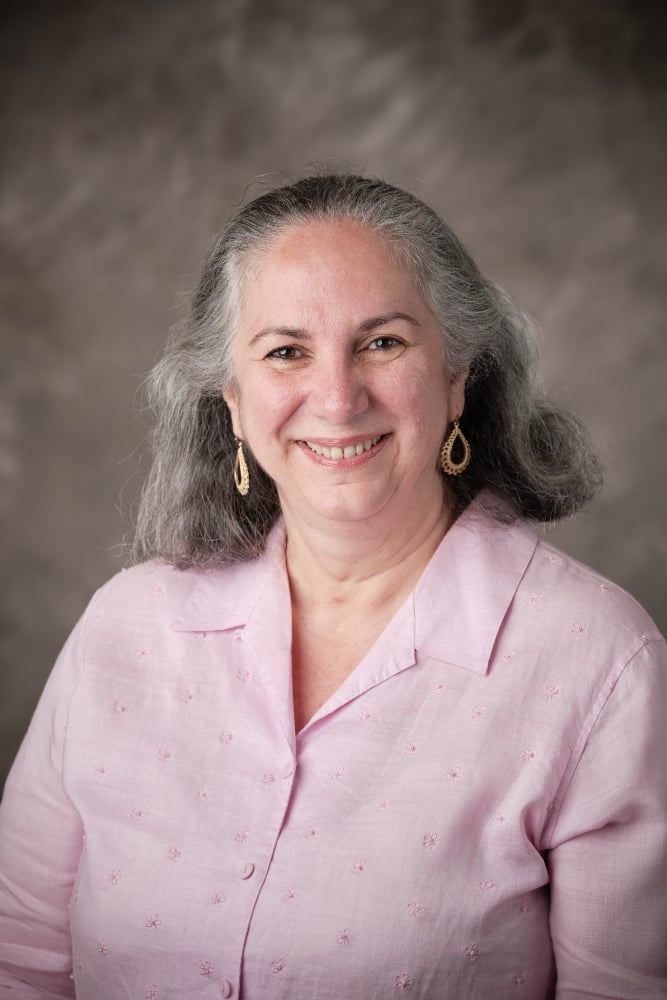 Maria Morera Johnson, author of My Badass Book of Saints, Super Girls and Halo, and Our Lady of Charity: How a Cuban Devotion to Mary Helped Me Grow in Faith and Love writes about all the things that she loves. A cradle Catholic, she struggles with living in the world but not being of it, and blogs about those successes and failures, too.