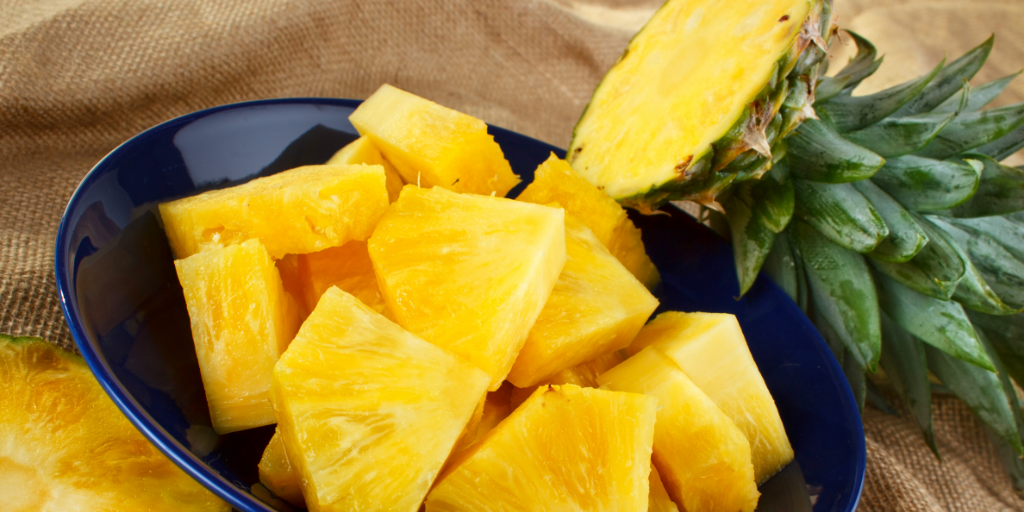 Karen Ullo shares a versatile recipe featuring whole fish, plus fresh fruits and vegetables. Download the printable recipe card!
---
I love citrus fruits—they're delicious by themselves and immensely versatile in cooking. A traditional fish with lemon preparation is only the tip of the iceberg when it comes to combining citrus with the sea. Just about any citrus fruit can make a delicious seafood marinade, either alone or in combination.
A citrus slaw may seem unorthodox, but cabbage is also a very versatile food capable of mixing with a wide variety of flavors, and it adds crunch to the fruit. Take the plunge! It's delicious.
In order to use the juice of a fresh pineapple, you will need to cut it using a pineapple corer, which removes the flesh in rings and leaves a hollow pineapple filled with juice.
Pineapple and Blood Orange Trout with Slaw
For the fish:
1 whole rainbow trout per person, gutted (They're frequently sold this way at the fish counter.)
Juice of one pineapple
Juice and zest of one blood orange
Salt to taste
A small dash of cinnamon
Crushed red pepper to taste
Preheat oven to 400 and spray a baking pan with cooking spray. Lay the fish inside. Mix the two juices and pour a small amount into the cavity of each fish, then pour the rest into the pan. Season the cavity of each fish with orange zest, salt, pepper, and just a touch of cinnamon.
Bake about 20 minutes until the fish flakes easily.
For the slaw:
1 fresh pineapple, diced (Reserve the juice for the fish preparation.)
3 blood oranges, peeled and diced
4 oz. (½ bag) pre-shredded coleslaw without dressing
¼ cup diced cilantro (or mint or basil, if you prefer)
Optional: ½ cucumber, diced
Juice of 1 lime
~ 2 tbs. mirin or honey
Dash of cinnamon
Dash of salt
Combine the fruits and vegetables in a large salad bowl. Mix lime juice with mirin, cinnamon, and salt, then pour over the slaw and toss.
Enjoy!
Click to tweet:
Free printable recipe for #MeatlessFriday: Pineapple and Blood Orange Trout with citrus slaw. #CatholicMom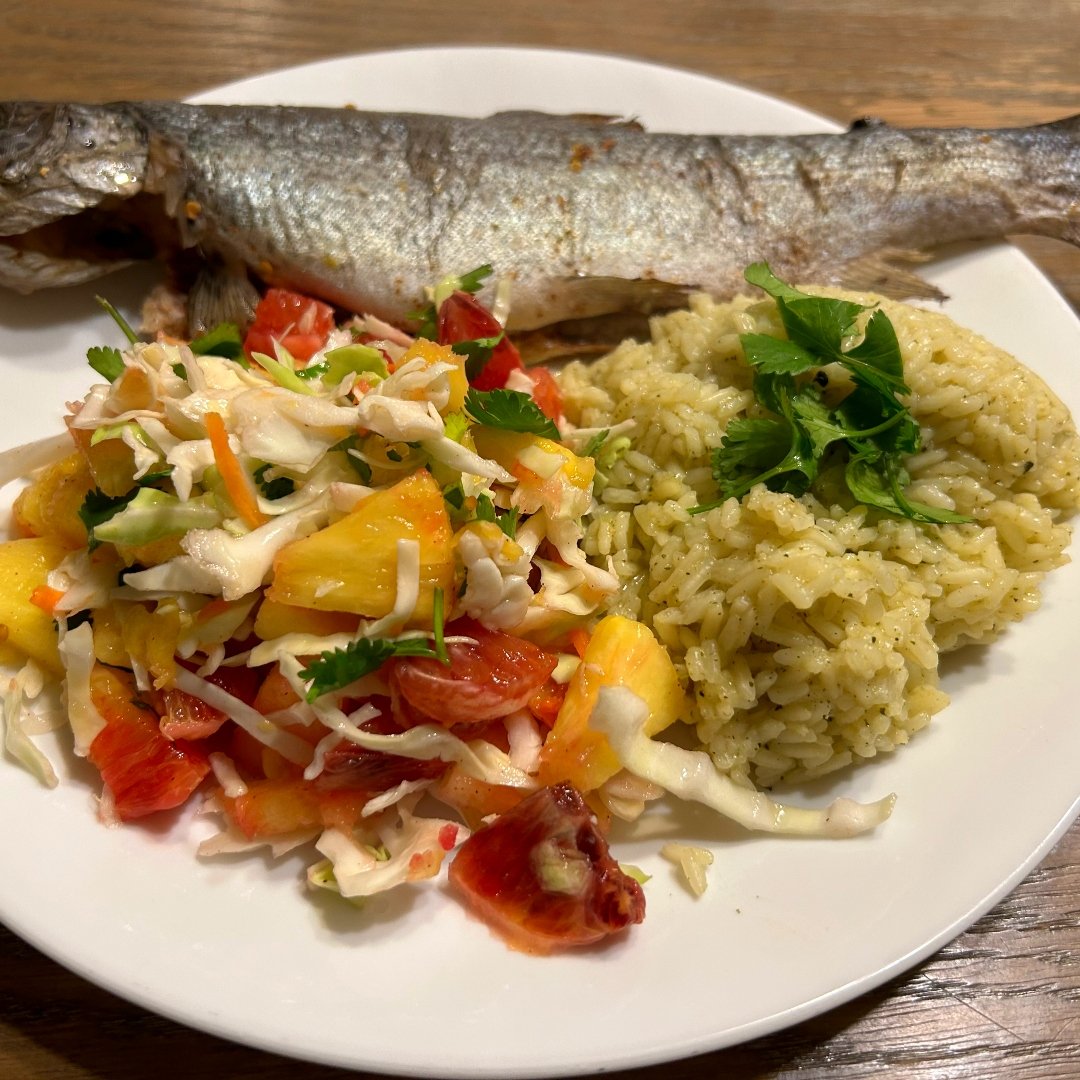 ---
Copyright 2023 Karen Ullo
Images: (top) Canva; (bottom) copyright 2023 Karen Ullo, all rights reserved.
About the Author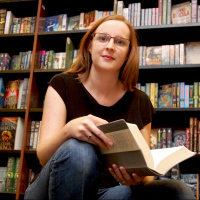 Karen Ullo is the author of two award-winning novels, Jennifer the Damned and Cinder Allia. She is one of the founding editors of Chrism Press, which is dedicated to publishing Catholic and Orthodox fiction, and the former managing editor of the Catholic literary journal Dappled Things. She's also a wife and mother of two. Find out more at KarenUllo.com.