Cassandra Spellman reviews a set of saint cards which have helped her family grow closer to our friends in heaven.
---
In this month of November, when we've recently celebrated the Feast of All Saints, it's encouraging to spend some time learning about our friends in heaven. There are numerous excellent saint books for children, but sometimes it's refreshing to try a new format. Our Heavenly Friends flash cards, published by Herald, are a helpful resource for Catholic families.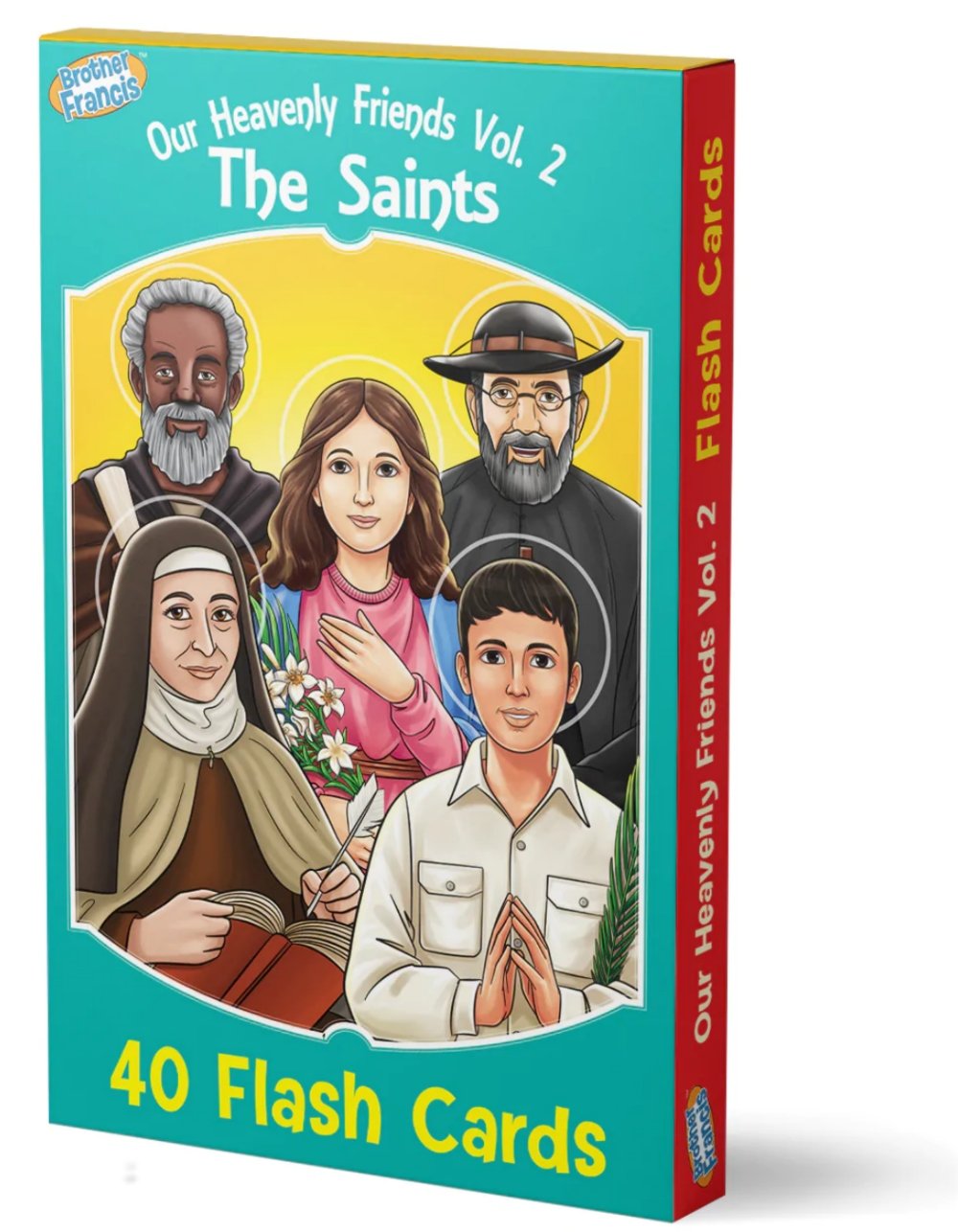 I appreciate the flash card format because sometimes the act of opening a book can feel daunting or involved. Something about pulling out a card feels quite simple to me; it's just not as much of a commitment! As a mother of five, I also appreciate being able to hand out a small pile of cards to each child. No one needs to argue about who gets to look at it first: there are ample cards for everyone! My third-grader loves it when his teacher uses saint cards in the classroom. She turns it into a game by asking one student to blindly draw a saint card, which they'll hear about during snack. So flash cards are a very versatile method of teaching.
The flash cards are attractively presented: at 8.5 X 5.5 inches, they are larger than an index card, but still comfortable for little hands to hold. They are UV coated, too, which makes them more durable if they're passed around from child to child. The pictures of the saints on the front of the card are bright, inviting, and very approachable. My 5-year-old who can't read yet enjoys studying the images.
Each set contains forty cards. I was impressed by the nice variety of saints within the pack. Volume 2 includes biblical saints (such as Saint Mark and Saint Mary Magdalene); saints from the early Church, medieval times, and modern times; saints both well-known as well as more obscure. The description of the saint on the back of the card is both informative and very accurate. My husband, who recently finished reading a three-volume biography of Saint Josemaría Escrivá, attests that the saint card does a fantastic job summarizing and highlighting the events and themes of the saint's life.
I will say, however, that we found a handful of peculiarities. The first is the description of Saint Elizabeth of Hungary. My 11-year-old daughter picked that saint card right away because she wanted to hear the story of the miracle of the roses (it's one of her favorites!). Strangely, the description didn't include that well-known miracle. Similarly, the card of Saint Peter mentions that this saint is frequently depicted holding keys. My kids flipped the card over to find the keys in the
picture on the front, but there were none. So we noticed some little omissions like this that would have enhanced the cards, but certainly would not prohibit us from using and enjoying them.
If you are seeking to grow closer to the saints, Our Heavenly Friends flash cards are fun and engaging. Bring them out during dinner or maybe have each child pick one before bedtime! These stories of valor, sanctity, sacrifice, and charity will spur us on as we strive to run the race as well as these heavenly friends.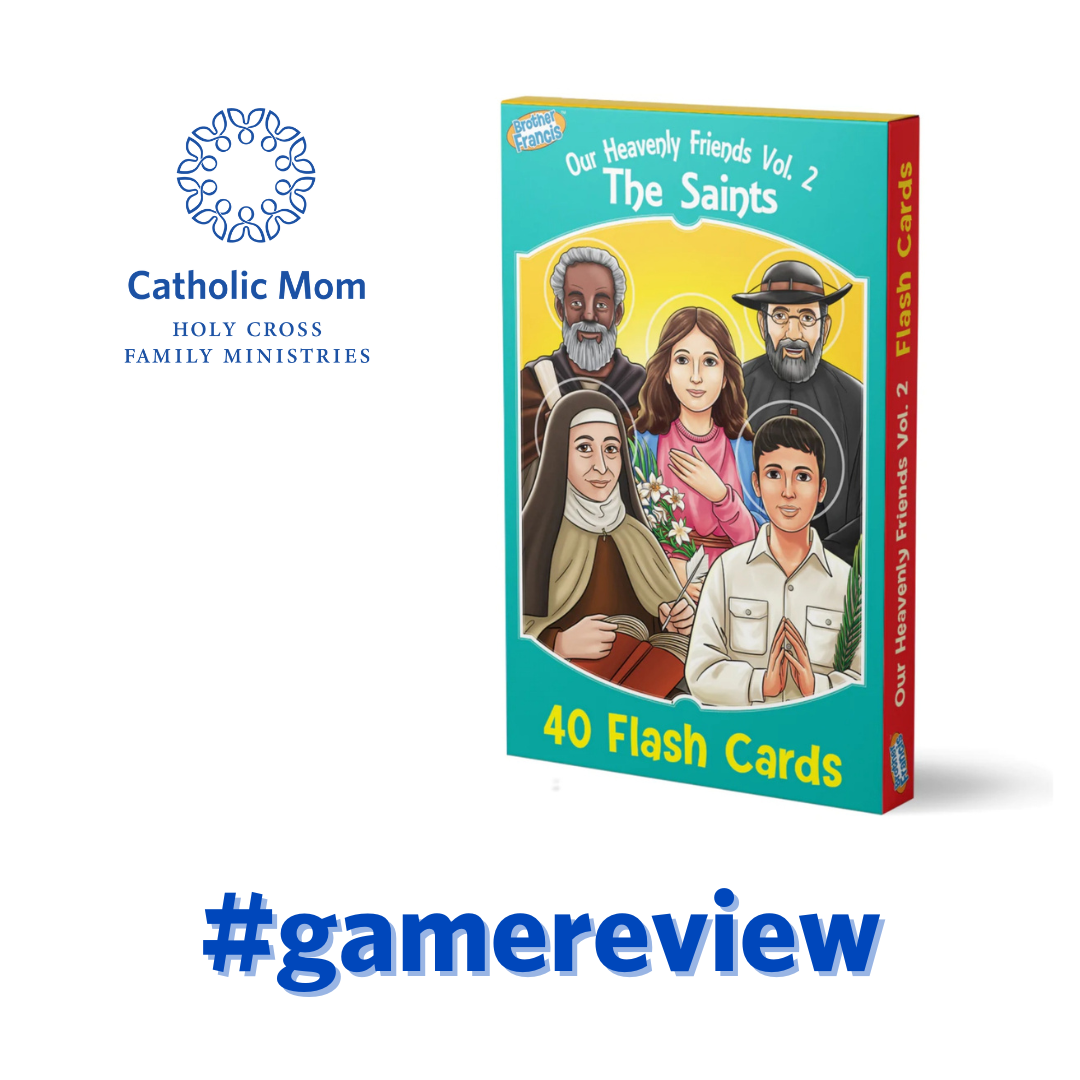 ---
Copyright 2022 Cassandra Spellman
Images: Canva
About the Author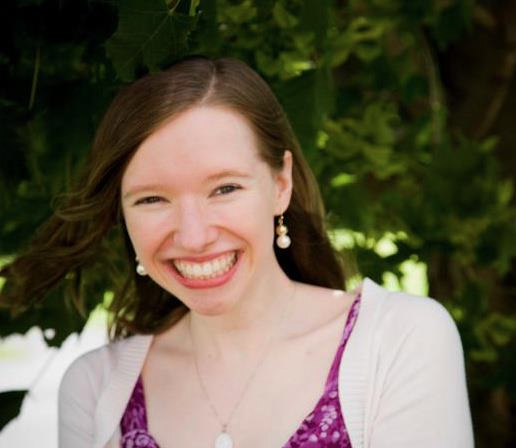 Cassandra Spellman is grateful to God for the gift of her Catholic faith and her vocation as wife and mother. She and her husband wrote The Shadows of Freedom series, a Christian dystopian trilogy. They blog about faith, marriage, philosophy, and literature at SpellmanBooks.com.