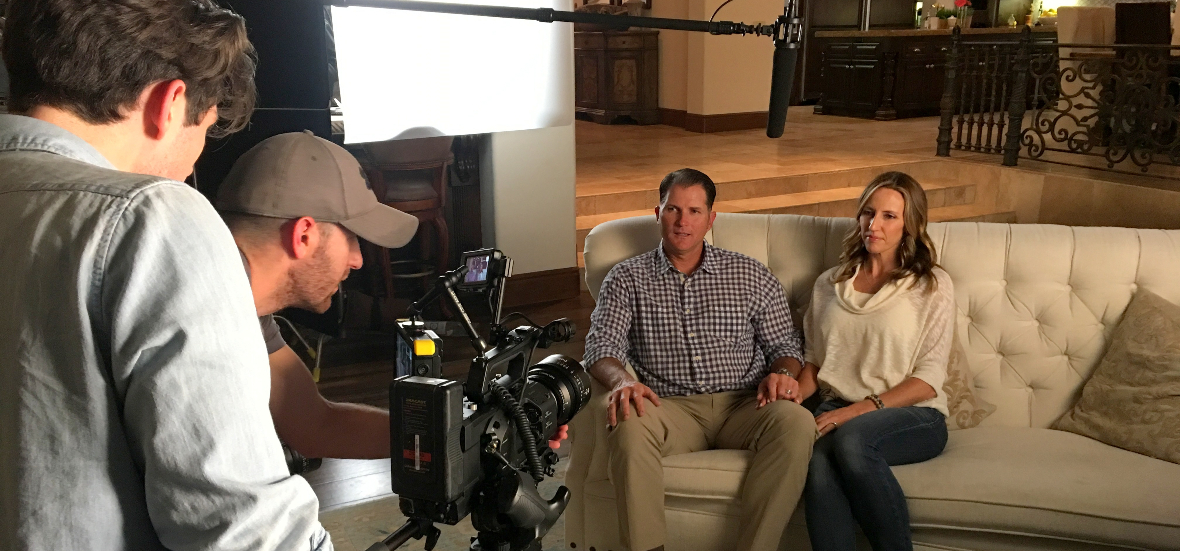 Kansas City Royals Hall of Famer Mike Sweeney faced many sports challenges, but the trials of life ultimately drove him and his family to prayer.
In PRAY: THE STORY OF PATRICK PEYTON, hitting theaters on Oct. 9, former Major League Baseball star Mike Sweeney reveals how renewing his prayer life, especially the family Rosary, helped to save his marriage and unite his family.
Who Is Mike Sweeney?
Five-time MLB All-Star Sweeney, 47, a devout Catholic, spent most of his 16-year career with the Kansas City Royals -- he's in the team's hall of fame -- and also played for the Oakland Athletics, Seattle Mariners and Philadelphia Phillies.
But as with many professional athletes, when he entered retirement, the sudden shift in lifestyle brought new opportunities and new problems -- especially in his marriage to wife Shara.
The Spiritual Challenges of Retirement From Sports
To an athlete used to charging forward and achieving through positive action, it was hard to slow down and pay attention to other things.
In the film, Sweeney talks about the moment he and Shara -- parents to three sons and three daughters -- knew they needed God's help to stay together.
But the foundation of faith Sweeney built began much earlier.
In portions of the interview Sweeney recorded for PRAY, that don't appear in the film, he recalls growing up in an Irish Catholic household. But it wasn't until he was 17 that he met a FOCUS (Fellowship of Catholic University Students) missionary on a retreat, who challenged him on his relationship with Jesus -- a conversation that sparked a transformation.
Sweeney recalled:
And I realized that I really didn't have a relationship with Jesus. I checked off all the boxes. Went to Mass every Sunday, said my prayers, was a good boy, but I really didn't have a true friendship with Jesus.
And that night at St. Margaret Mary Church in Chino, California, before the Blessed Sacrament and adoration, there was some beautiful music being played.
And I hit my knees. I said, "Lord I want to have a friendship with you, like I want to know you like I know my best friend."
And He said something to me, He said, "Mike, do you realize that if you were the only person on Earth, that Jesus would have died on that Cross so that you can go to Heaven?" And that night it went from this God thing, to this relationship in my heart.
Today, the Sweeney family unites in prayer, centered on the Rosary. Sweeney said:
The highlight of our night, usually, is when after dinner, we get to sit around the dinner table and pray the Rosary together as a family. But, all that comes back to our friendship with Jesus, and it certainly is the pinnacle of our life.
The Man Behind
PRAY: THE STORY OF PATRICK PEYTON
PRAY recounts the remarkable life of Father Patrick Peyton, a humble man born in County Mayo, Ireland, who came to America seeking his fortune and instead found his way back to a childhood urge to become a priest.
Inspired by the devotion of his parents, especially his father, as they prayed together in a small cottage in Ireland, Peyton devoted his life to promoting family prayer, especially the Rosary.
He took his mission to Hollywood in the '40s. Over the decades that followed, until his death in 1992, he enlisted top Hollywood stars in radio dramas and TV specials, and took his message of family unity and peace through prayer around the world in rallies, drawing hundreds of thousands to millions of people.
Sweeney on His True Purpose
In Sweeney's life, it was his own father who inspired him, beginning when he was just a premature infant lying in an incubator, with only a 50/50 chance to live. Mike Sweeney Sr., who had given up his own baseball career to support his family, brought in a priest to baptize the baby. Then he went outside and began to pray for a miracle, desperate not to lose his son and namesake.
Obviously, he didn't.
Recalls Sweeney:
And I knew, from hearing the stories, that I wasn't put on this Earth just to fit in, I was put on this Earth to stand out and to share the greatness of God.
But, going back to my father, that image of him sitting on the street corner, crying out to God, a big 6-foot-4, 220-pound athlete weeping, crying, pleading, begging to God for his son, it meant, and it means the world to me.
The other thing I saw was, my father was the spiritual leader of our home.
One other thing Sweeney shares with Father Peyton is a great love for Mary, the Mother of God. It's often been said that the Rosary -- with its Mysteries devoted to moments from the Gospels, and its prayers -- is a walk through the life of Christ, through the perspective of His mother.
Says Sweeney:
We have a mother that, if we hold her hand, will lead us right to her Son, will lead us right to Heaven. And praying the Rosary is like the backbone of our family. It gives us a meaning, it gives us depth, it gives us a foundation, it gives us roots.
Ultimately, faith and prayer taught Sweeney -- and now he teaches his children -- that even glory on the baseball diamond can't compare to life's true purpose.
Said Sweeney:
I tell my boys all the time, "You don't ever have to get a base hit the rest of your life. You don't ever have to play baseball, or validate, you don't have to perform like I felt I had to perform to be validated."
I said, "Our job is to be saints. Our job is to be holy. Our job is to be Catholic lights in this world so others may see the good that we do and glorify our Father in Heaven. Our job is to be radical. Our job is to have a friendship with Jesus that is so beautiful that it impacts every part of our lives."
To see our children embrace their faith, it makes me feel like I'm doing a good job as a father, and Shara's doing a great job as a mother.
Today, Sweeney is involved with Catholic Athletes for Christ, runs Catholic baseball camps, and is a sought-after speaker. But what ultimately supports him and his family isn't about fame or riches or position, and it costs nothing but time.
Our job is to be Catholic lights in this world so others may see the good we do and glorify our Father in Heaven. #catholicmom #praythefilm
How to Connect With
PRAY: THE STORY OF PATRICK PEYTON
As Father Peyton always said, "The family that prays together stays together."
To learn more about PRAY: THE STORY OF PATRICK PEYTON and how Venerable Patrick Peyton's crusade for prayer can change your life and the lives of those you love -- and for updates on how to see the film -- visit PrayTheFilm.com. For more resources on family prayer, visit PrayTogetherNow.com.
You can also follow PRAY at our social-media pages on Facebook and Instagram.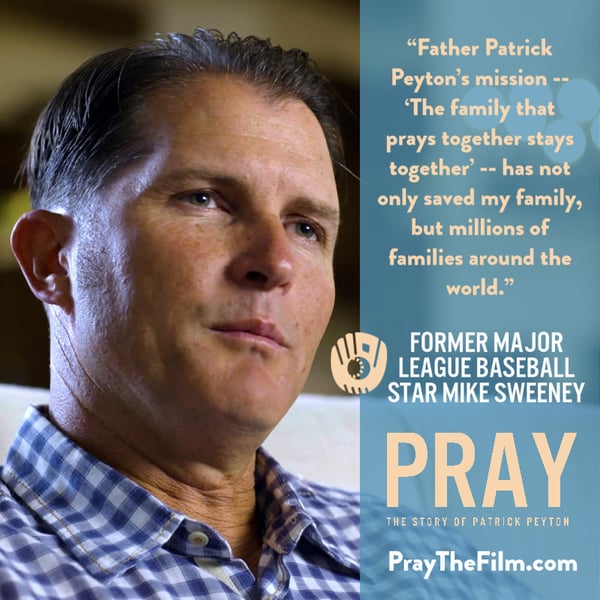 ---
Copyright 2020 Family Theater Productions
Images courtesy of PRAY/Family Theater Productions. All rights reserved. Used with permission.
This article was originally published on the Family Theater Productions blog.
About the Author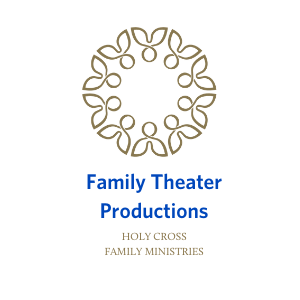 Founded by Venerable Patrick Peyton in 1947, and based on Sunset Boulevard in Hollywood, California, Family Theater Production creates family-suitable and faith-friendly media for film, television and digital.