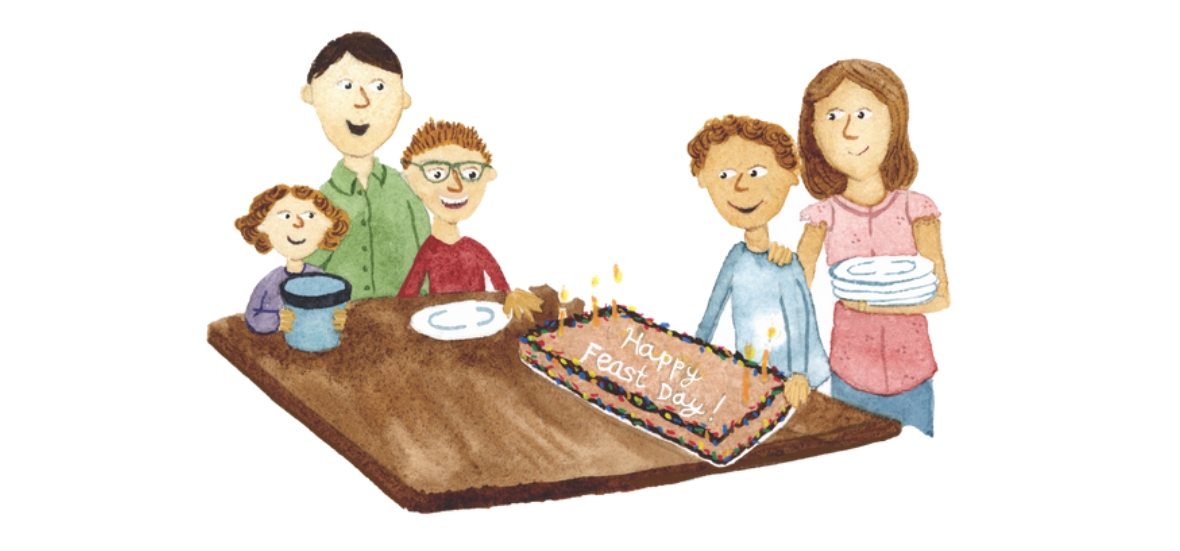 Carolyn Astfalk explains why Lisa Hendey's new picture book is worth reading (and re-reading) with your children.
If I were to pick a single book I'd like my children to read, re-read, digest, and absorb, it would be Lisa M. Hendey's I'm a Saint in the Making. This deceptively simple picture book pre-empts existential crises and imbues children's lives with purpose and meaning. No lie.
You, me, every one of us is unique, irreplaceable, and created for a specific purpose. The first words of I'm a Saint in the Making, "God has a mission for me," immediately reminded me of St. John Henry Newman's words, which I had taped to the back of my bedroom door in college, when I had little intuition as to where I was being called and what my life would look like. "God has created me to do Him some definite service; He has committed some work to me which He has not committed to another."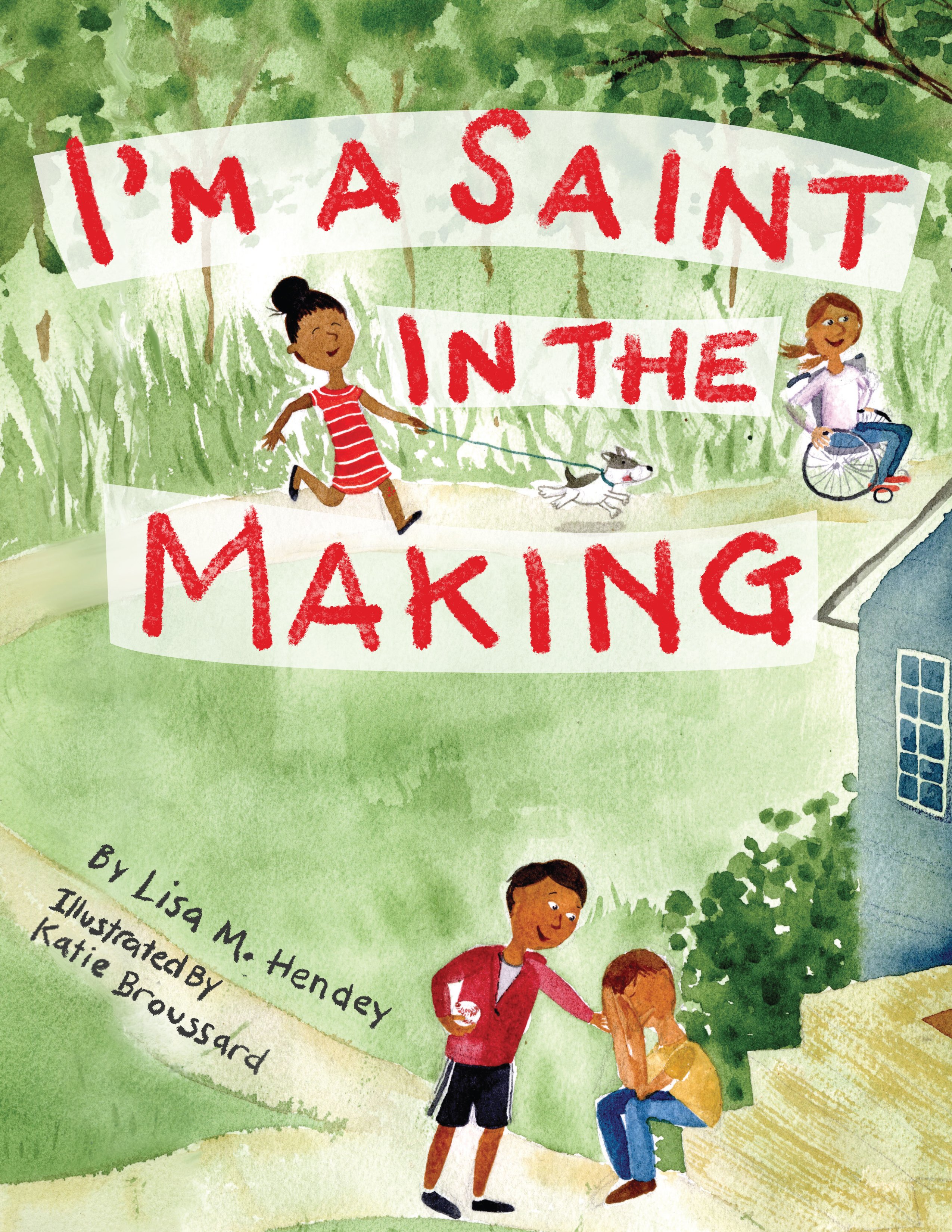 Having established that we have a purpose, the book, in simple and relatable terms, sets out how to accomplish that purpose which, while unique, has the same end goal for all of us: sainthood. The illustrations by Katie Broussard model this idea perfectly, not showing diversity in age, gender, race, or ability for diversity's sake but to demonstrate our unity of purpose.
I present saints to my children as role models, but I realized in reading this little book that those saint stories don't always provide an easily applicable practice to model, particularly when those stories concern saints who lived centuries ago.
These practical ideas from I'm a Saint in the Making struck me most:
Anyone can be a role model, regardless of age. How true! How often my children have demonstrated simplicity, trust, and unconditional love to me. I should thank them for modeling that behavior.
Caring for my body is less about me and more about fulfilling my purpose in service to others. Outside of my immediate duties to my family, I don't think I'd ever fully considered that responsibility in quite that way.
Our generosity to others should involve voluntary sacrifice, not merely a redistribution of our surplus. I needed that reminder.
We regularly thank God for His provision, but how often have I encouraged my children to thank their earthly father for his provision? Not often enough.
CLICK TO TWEET
This picture book helps not only me but my children better achieve our God-given purpose with every re-telling. #catholicmom
The illustrations are worth studying in addition to the words of I'm a Saint in the Making. While there is no particular mention of celebrating children's feast days (though it is included in the note to teachers, parents and caregivers), one of the illustrations includes a family whose hungry eyes are ready to devour a big feast day cake!
We mark our children's feast days with a special dessert, often a cake. I perhaps don't cultivate those saintly relationships quite as often as I should, but I've personally developed a relationship with those saints, calling on each of them to intercede for my children every night as part of my prayers before falling asleep. I think they're happy to offer special intercession to children who share their name.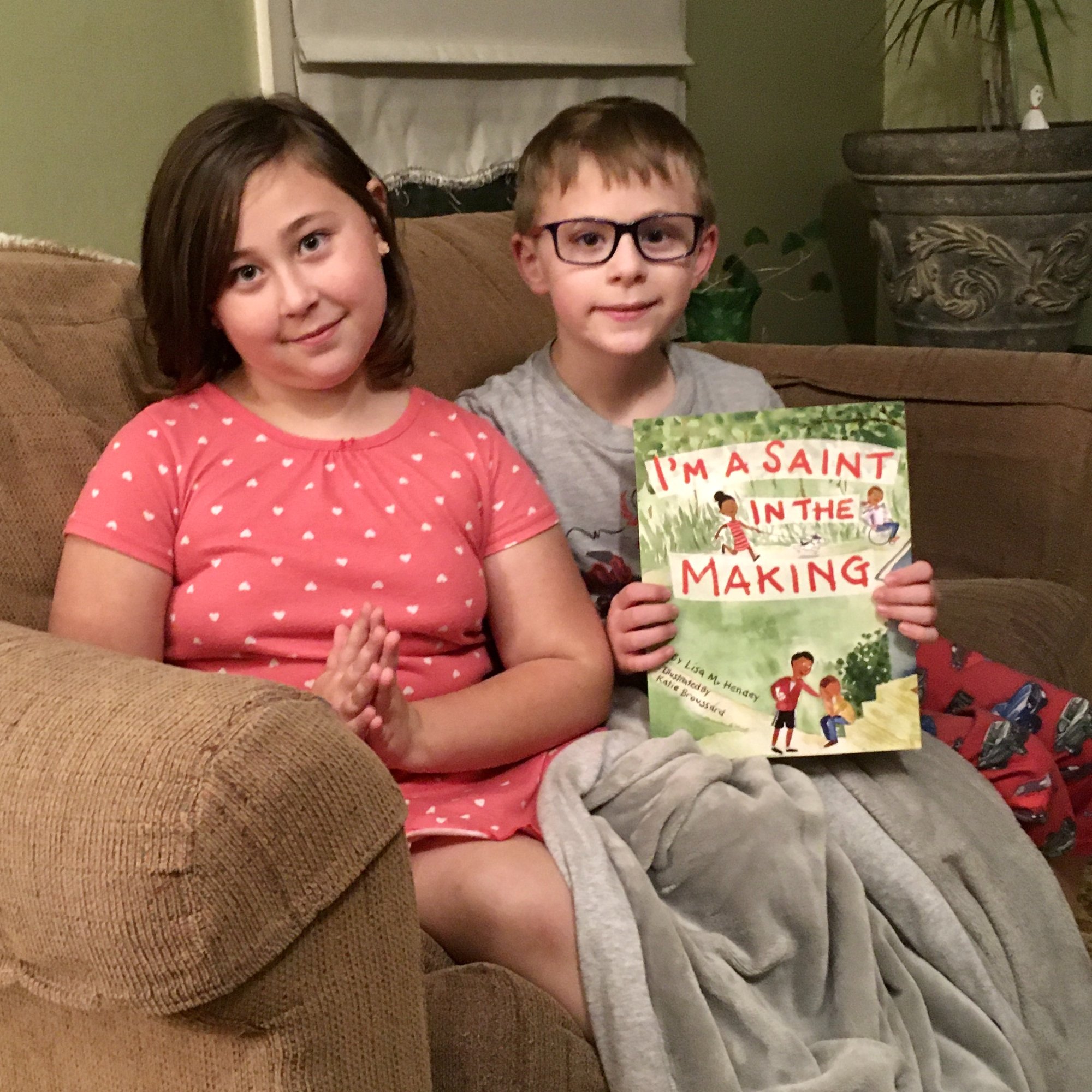 I've committed some children's books mostly to memory. There are some I enjoy time after time. Others, I'd prefer to confine to the back of the bookshelf. I'm a Saint in the Making is the best kind of children's book — the kind that I not only don't mind re-reading, but helps not only me but my children better achieve our God-given purpose with every re-telling.
---
Copyright 2020 Carolyn Astfalk
Images (top to bottom): illustration from I'm a Saint in the Making, by Katie Broussard, used with permission of Paraclete Press; copyright 2020 Carolyn Astfalk, all rights reserved.
This article contains Amazon affiliate links; your purchases through these links benefit the author.
About the Author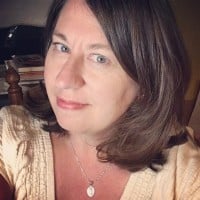 Carolyn Astfalk is a wife, mother of four young children, and a writer. Her contemporary Catholic romances are available at Amazon.com. She is a member of the Catholic Writers Guild, a Catholic Teen Books author, and blogs at My Scribbler's Heart. Visit CarolynAstfalk.com.