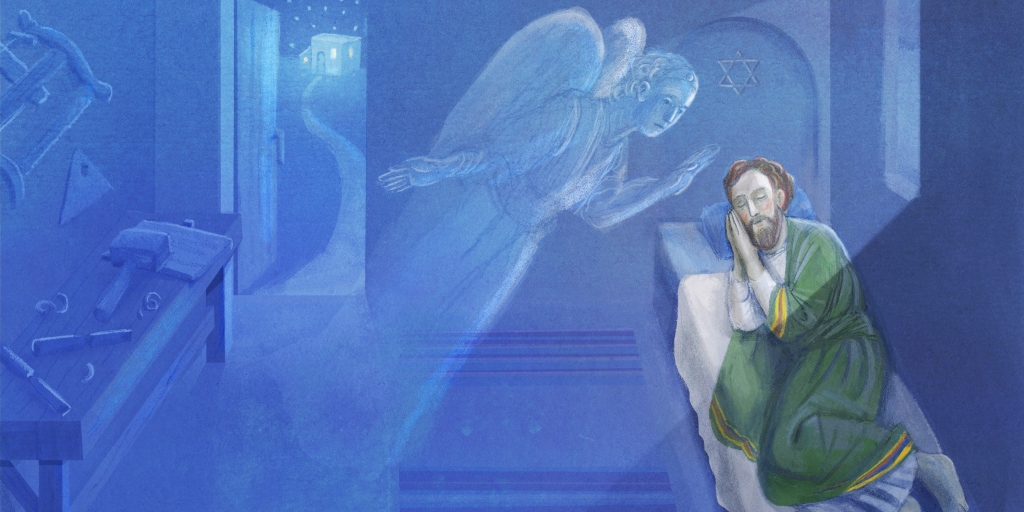 Danielle Bean ponders how, through the Annunciation, St. Joseph teaches us how to respond in times of crisis.
Have you ever felt abandoned and betrayed by someone you thought you knew? Or have you ever faced a crisis situation in your marriage, family, or workplace, a situation in which you were not sure what to do? Whenever we face a personal crisis, we can look to St. Joseph and his quiet, steadfast example for direction. Through his actions surrounding the Annunciation, St. Joseph teaches us how, in the face of a crisis, we should think, trust, and act.
St. Joseph Thinks
At the Annunciation, when the Blessed Virgin Mary was visited by the angel Gabriel and asked to become the Mother of God, they were the only two in the room. St. Joseph, who would be very personally affected by this turn of events, was not there to hear the heavenly explanation for Mary's unusual circumstances. Scripture does not tell us exactly how St. Joseph came to know that Mary was expecting a child. Perhaps Mary told him herself, or maybe others had begun to gossip about it, but without knowing how it came to be, St. Joseph must have felt confused, disillusioned, and betrayed. He thought he knew Mary as a loyal and virtuous young woman, but now it must have seemed he did not really know her at all.
St. Joseph's first response to his personal moment of disillusionment and discouragement is a thoughtful one. Another man might have become enraged upon hearing this news, but St. Joseph thinks first. He considers his distressing circumstances quietly, and then determines what he thinks is the most righteous thing to do.
"When ... Mary was betrothed to Joseph, but before they lived together, she was found with child through the Holy Spirit. Joseph her husband, since he was a righteous man, yet unwilling to expose her to shame, decided to divorce her quietly." (Matthew 1:18-19)
St. Joseph Trusts
We may not often think about it, but St. Joseph had an "annunciation" of his own, when an angel spoke to him in a dream and told him that Mary came to be pregnant "through the Holy Spirit." Before receiving this message in his dream. St. Joseph had plenty of time to suffer anxiety as he considered his situation, but his gentle and quiet response illustrates his trust in God.

When things don't go our way, when we face a difficult situation and must make a hard decision, we might become terribly anxious or get angry at the fact that God is not acting according to our own plans, but St. Joseph shows us a better way. Joseph's way is one of trusting in the goodness of God and believing that God's plan, even when we don't completely understand it and it does not match our own plan, is always what is best for us and those we love.
"Behold, the angel of the Lord appeared to him in a dream and said, 'Joseph, son of David, do not be afraid to take Mary your wife into your home. For it is through the holy Spirit that this child has been conceived in her. She will bear a son and you are to name Him Jesus, because He will save His people from their sins.'" (Matthew 1:20-21)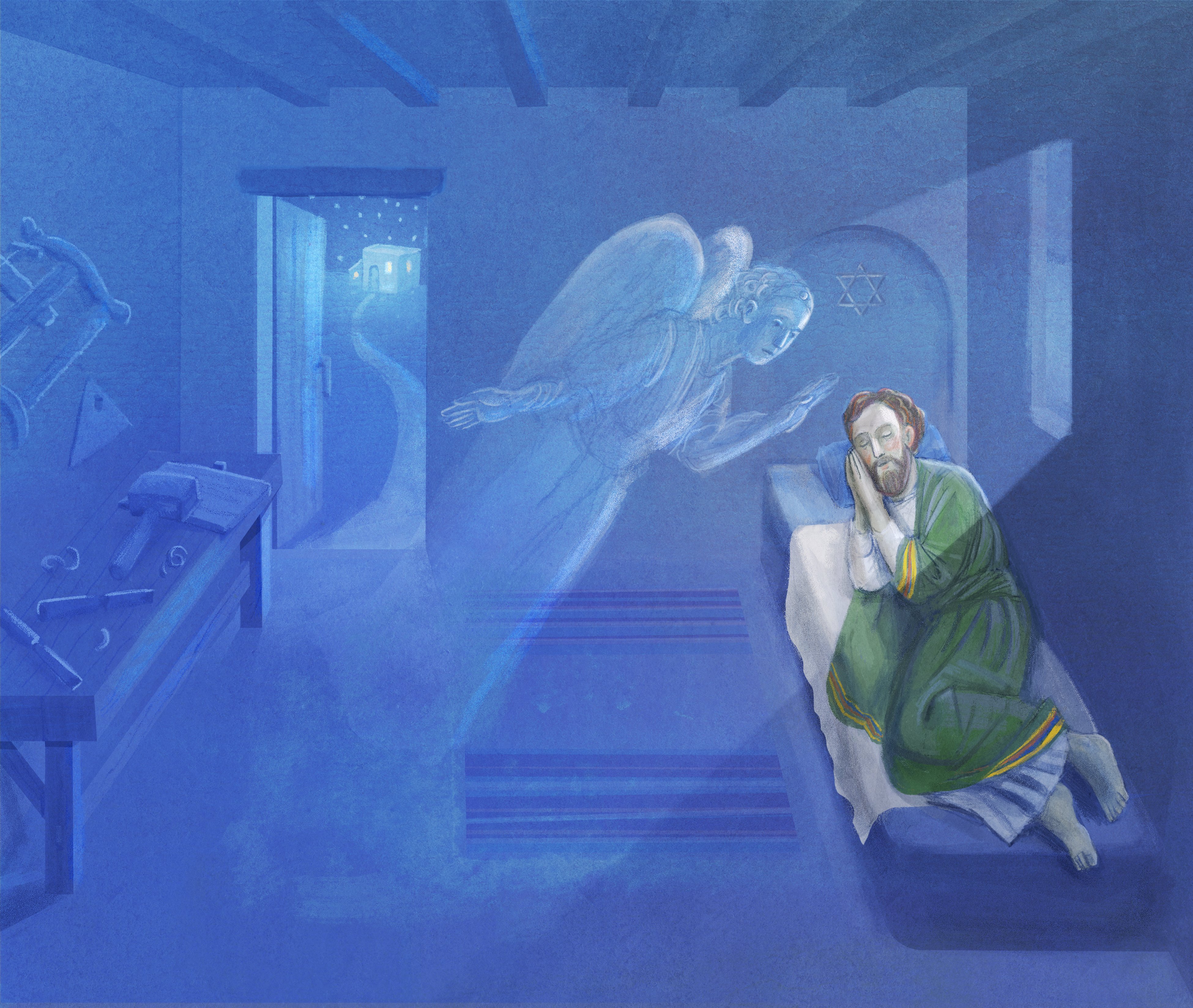 St. Joseph Acts
Finally, St. Joseph's response to the message from the angel in his dream teaches us the importance of taking action when we know what God is asking us to do. It might have been reasonable for St. Joseph to receive this life-changing news in his dream and then spend a few days pondering the meaning of the message, discerning what all of it really means.
But St. Joseph changes his own plan for God's plan immediately. He went to sleep that night with the intention of divorcing Mary quietly, but he woke up after his dream fully prepared to take her as his wife and raise the Child as his own.
"When Joseph awoke, he did as the angel of the Lord had commanded him and took his wife into his home." (Matthew 1:24)
Especially in the face of making a big personal decision, it can be easy to get "analysis paralysis" where we might overthink things so much that we might get confused about what God is calling us to do. Here, after receiving his own "annunciation," St. Joseph sets a powerful example of taking immediate and decisive action when hearing God's call. He probably still had many questions, and he for sure did not yet fully understand all that God was calling him to, but St. Joseph said yes right away. St. Joseph's "yes" in the face of uncertainty is an inspiring act of immediate obedience to the will of God.
We never see St. Joseph quoted in the Gospels, and yet his quiet example speaks powerfully to us today. When we find ourselves disillusioned, confused, or in crisis, we can strive to follow St. Joseph's example as we think things through carefully, trust in the goodness of God, and take decisive action — doing it all for the greater glory of God.
Click to tweet:
Whenever we face a personal crisis, we can look to St. Joseph and his quiet, steadfast example for direction. #catholicmom
This article is part of the "Through the Eyes of Saint Joseph" series for the Month of the Rosary.
Pope Francis offered the faithful his Apostolic Letter, Patris Corde (With a Father's Heart.) to enlighten us during this special year of Saint Joseph.
This October, the Month of the Rosary, "Go to Joseph." Grow in the faith with your family. "Be about the Father's business." (see Luke 2:49)
Joseph is our inspiration throughout the month of October, we will be reflecting, praying, and encountering The Mysteries of the Rosary through the eyes of St. Joseph.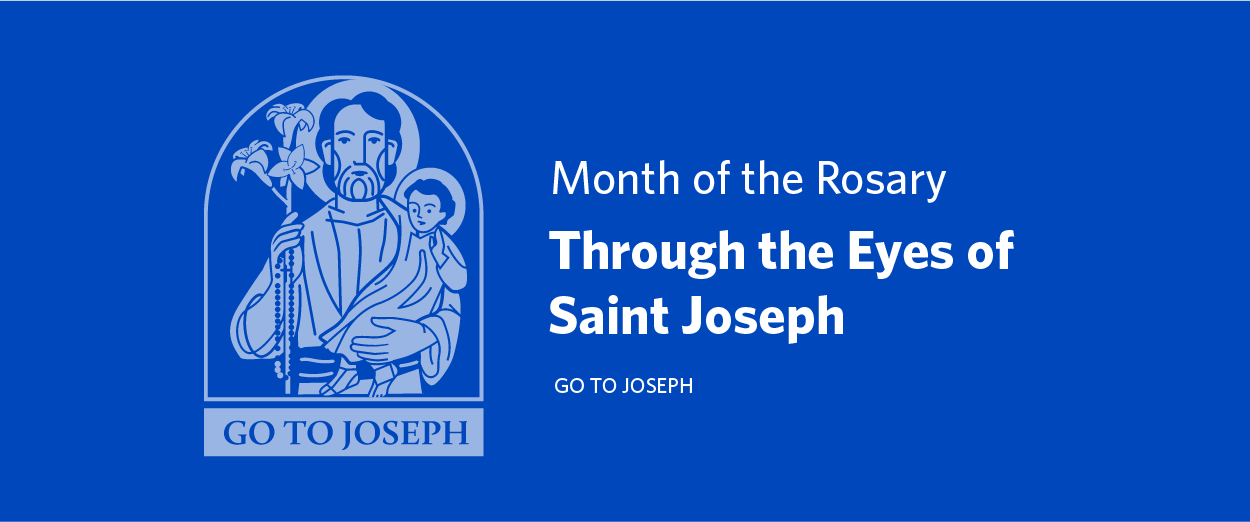 ---
Copyright 2021 Danielle Bean
Images copyright 2021 Holy Cross Family Ministries, all rights reserved.
About the Author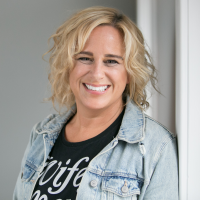 Danielle Bean is an author, speaker, podcaster, and brand manager at CatholicMom. She and her husband Dan have 8 children and live in New Hampshire.