Julie Vickery shares five ways Holy Communion nourishes the spiritual life and three efficacious aids that helps sustain our belief.
Because of the closeness of Good Friday, the institution of the Holy Eucharist is honored on the Thursday after Trinity Sunday. On this awesome feast day of Corpus Christi (Body of Christ), members of Christ's Mystical Body, the Church, give joyful praise to the Holy Eucharist — the Real Presence of the Body and Blood of our Savior, Jesus Christ.
Simply put, Eucharist (Holy Communion) is the Sacrament of Love that unites us to God and to each other. It is the great mystery of the Church: the source and summit of our faith, our life-giving Bread. We believe this because Scripture records two significant events in which Jesus — the way, the truth, and the life (John 14:6) and Traditions tells us this is so. The first event occurred when Jesus was teaching in a synagogue in Capernaum, where He plainly told His listeners: "I am the living bread that came down from heaven; whoever eats this bread will live forever; and the bread that I will give is my flesh for the life of the world" (John 6: 51).
The second event is the Last Supper. On this night of His betrayal: Jesus instituted the Sacrament of Holy Eucharist; taught His disciples (and us) the necessity of remaining united to Him; declared His love for us; commanded us to love our neighbor as He loves us (John 15: 1-17). If this seems like a lot to expect amidst the difficulties of life, have no fear. Holy Communion — our life-giving Bread—provides us with an abundance of blessings to sustain the union Jesus desires.
Here are five ways that Holy Communion helps us remain in the spiritual life that leads to Heaven:
Strengthens our faith that we may persevere through times of trial and tribulation
Enlightens our minds that we may see that God is the light that illuminates the spiritual life
Enflames an ardent love for the Blessed Trinity
Stirs a desire to do all for the glory of God, from which flows zeal, gratitude, and love neighbor
Brings the peace that Jesus promises to all remain in Him: "Do not let your hearts be troubled"; "Peace I leave with you; my peace I give you" (John 14:1; 27)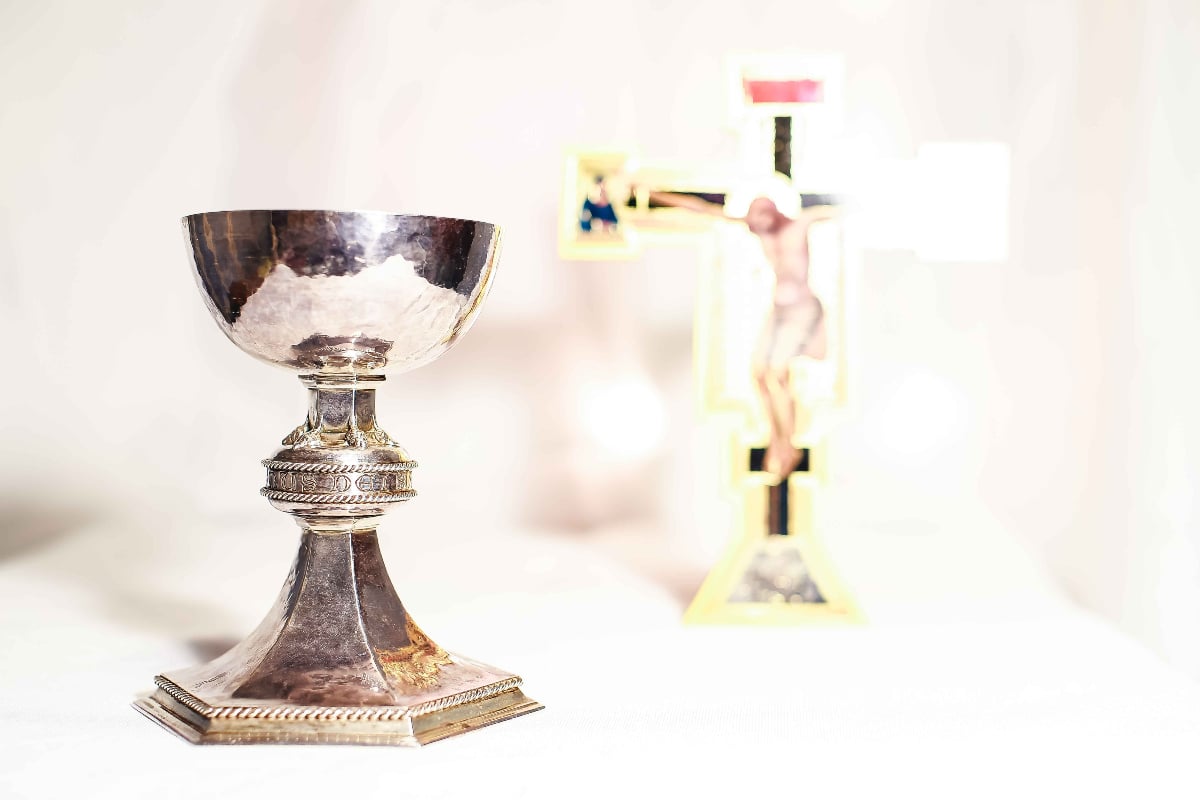 As well as these blessings, Jesus gives us aids that we can turn to when the Eucharist is unavailable or when our faith grows lukewarm, despite frequent Communions. Three efficacious helps are given below:
Prayer. Throughout the Gospels, Jesus teaches us how to pray. For example: He gave us the Our Father which we recite at every Mass. Spiritual leaders often recommend numerous recitations of the Lord's Prayer throughout the day as a way to persevere through daily challenges.
Mary, God's Mother, and ours. At the Cross, Jesus gave us His mother to take as our own spiritual mother. As our Mother and Model, Mary shows us how to love God, surrender ourselves to His will and, by this way, love our neighbor as Jesus commands. As our Mediatrix, our Mother intercedes for us in all our needs. Thus, devotion to Mary is a sure path to Jesus in the Eucharist.
Spiritual Communions. As many have recently discovered, when the Eucharist is not available, Spiritual Communion offers us a way to draw close to Christ while we reaffirm our belief in the Blessed Sacrament. Spiritual communions can be offered numerous times a day, everywhere and at any time.
Thou in Me
I in Thee
In Time and in Eternity
In Mary
Takeaway: What simple practice can I adopt today that will remind me of Jesus' love for me in the Eucharist?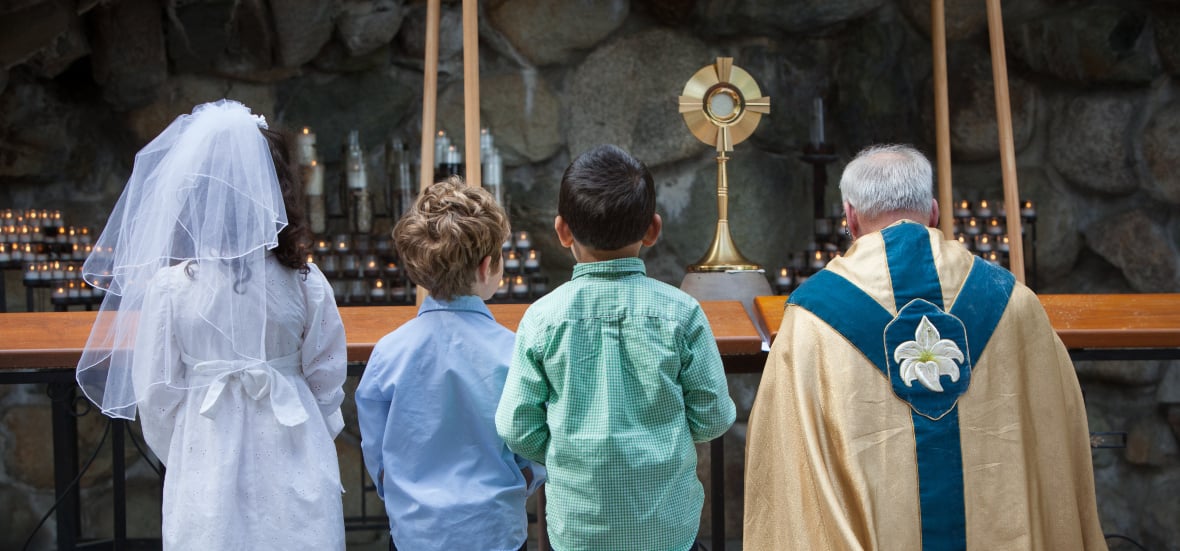 ---
Copyright 2020 Julie Vickery
Images:
Holy Cross Family Ministries (2015). All rights reserved.
James Coleman (2020), Unsplash


About the Author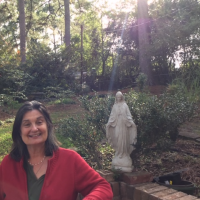 Julie Vickery is a wife and mother of two grown children. She has a Master of Arts degree in Sacred Theology and enjoys continuing her studies online. Other favorite pastimes include reading and writing nonfiction, gardening, walking and taking part in local and online inter-faith discussion groups.