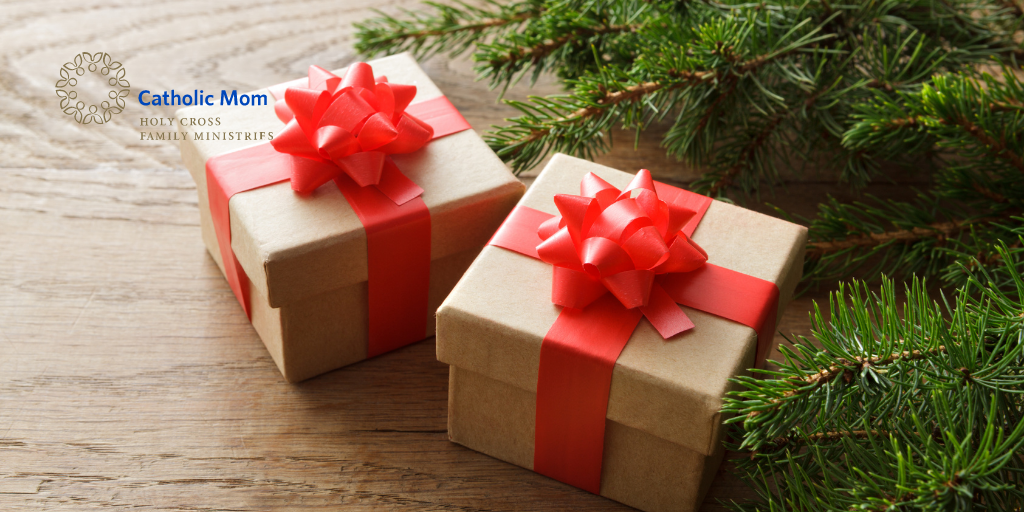 Complete your Christmas shopping with these creative gift ideas that focus on sharing God's love with your family and friends this season.
This year's Catholicmom.com Christmas Gift Guide is sure to help many a Catholic mom with her shopping!
You'll find a focus on small Catholic businesses with some familiar faces showcasing some new and creative ideas. This year's Gift Guide emphasizes evangelization within our own families and then out into the community.
Each product's entry includes a description provided by the shop owner, vendor, or creative; my Catholic Mom review; coupon codes (where available); ordering deadlines for Christmas delivery; and website and social media info for each shop.
What you won't find in this Gift Guide: books. That's because Catholic Mom contributors review books all year long. Check out our book recommendations on our Books page.
Catholic creatives and vendors listed in this Gift Guide and those from previous years can always be found in the Shop Catholic section of our Resources page.
Because of space considerations, we're only able to feature one product per vendor or creative, but there are so many more available! Check out their websites for additional gift ideas. We've also shared their social media links where available, so you can follow your favorites and find out about new products they offer.
The @CatholicMomCom 2021 Gift Guide: Complete your Christmas shopping with these creative gift ideas that focus on sharing God's love with your family and friends this season. #catholicmom
For the Smaller Souls: Planting Seeds
When I was a little girl and would pray to Jesus or ask for Mary's intercession, I would imagine their physical presence around me. I would imagine Mary playing with my hair when I prayed a Hail Mary, or that Jesus was holding my hand as I walked up the receive Holy Communion. This type of meditation has stayed with me all my life and it is something that I have tried to pass down to my children. A few months back, one of my boys fell down and scraped his knees. While I was tending to him and kissing his boo boos, he asked if that were something that his Mama Mary could do too? I told him absolutely and give him kisses on Mary's behalf but I couldn't stop thinking about his sweet request and that is the story about how the Mama Mary ice packs were born. We got the product sample in January and it has now become the first thing the kids ask for when they get an ouchie. They're filled with gel and glycerin and measure 7.5 inches by 4 inches.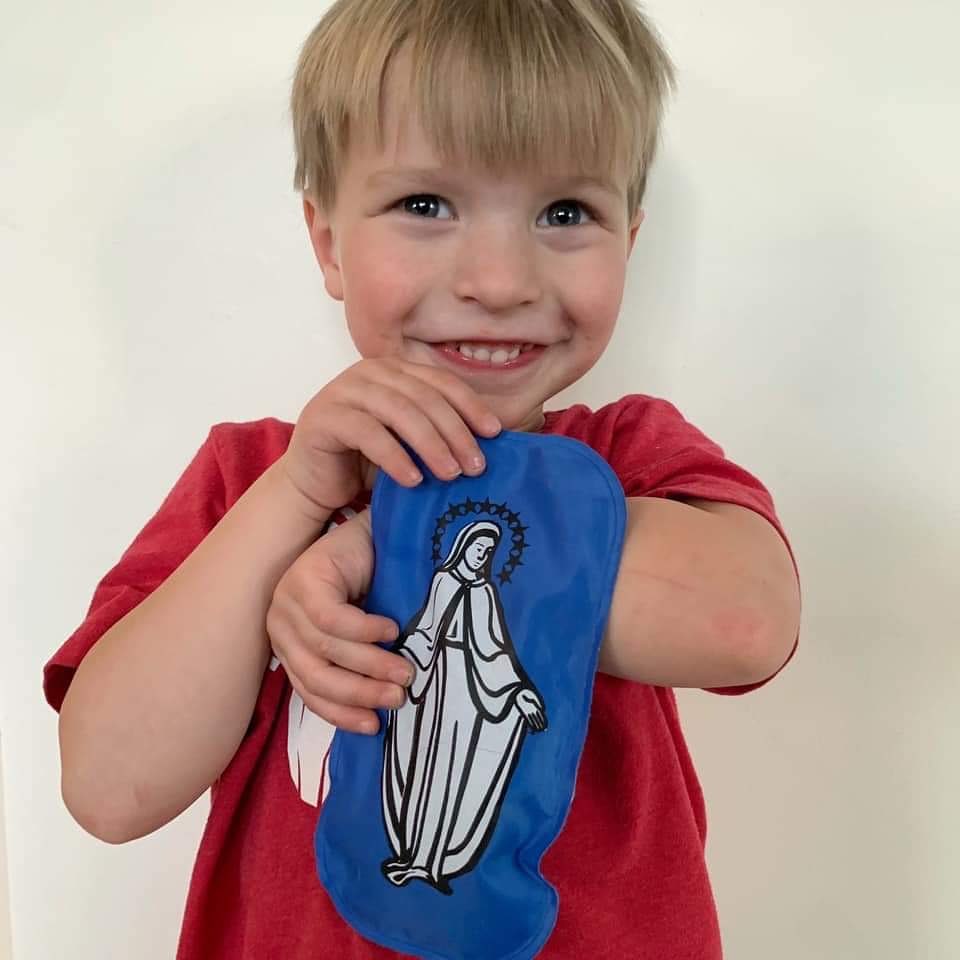 Catholic Mom Review: From old to young, my children have been grabbing this ice pack when fingers get bumped or heads get banged. With eight children flying around this house, it happens frequently. I love that it came with two packs! They are cold enough to help and not too cold to the touch for the kids. The material is soft and malleable. My older kids might do a double take with Mama Mary on the front, but they shake their head and smile at me. They know this Momma's got friends in high places!
Coupon Code: Check out their annual black Friday sale coming up (starting on Black Friday, November 26) Use coupon code JOYFUL
Ordering Deadline: All orders ship within 3 business days and ship via USPS First Class. We suggest purchasing by 2 weeks before you need the order delivered. We also offer free shipping for all orders of $75 or more!
Social Media:
Website: BrickHouseInTheCity.com
Instagram: @brickhouseinthecity
Facebook: @brickhouseinthecity
Soft and flowy bamboo/cotton muslin swaddle to wrap your precious babes in Mary's Mantle. What does it mean to be wrapped in Mary's Mantle? Jesus gave us the gift of His mother as He was dying on the cross when He said "Behold, your mother." Mary, as our spiritual mother, looks after us in a special, intimate way. As a mother comforts her baby, Mary gently comforts us. As a mother supports and nurtures her child, Mary guides and encourages us. As a mother protects her child from harm, Mary, through her intercession, defends us from evil. As a mother embraces her child, Mary covers us in her perfect love. As a mother lovingly swaddles her baby, Mary lovingly wraps us in her mantle and offers us courage and strength to unite ourselves more fully to Christ.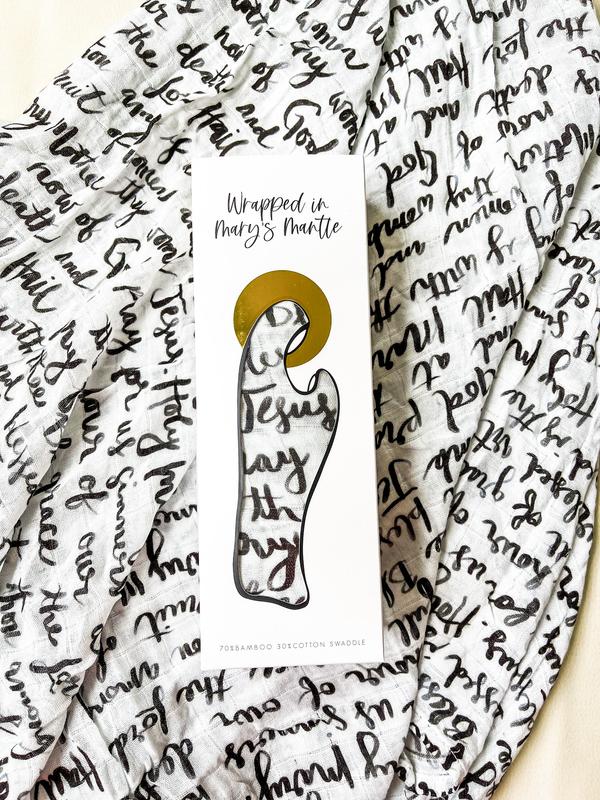 Catholic Mom Review: This blanket is divine. It is light enough to offer enough cover whether you're nursing and need a cover-up, and also thick enough that when swaddled the baby is literally wrapped in a prayer. The clean white fabric with crisp black lettering is both modern and attractive. This item is heirloom quality!
Ordering Deadline: First week of December, but it is recommended that customers shop earlier.
Social Media:
Website: TheLittleRoseShop.com
Instagram: @thelittleroseshop
Featuring beautiful and unique depictions of saints from around the world, this 4 in 1 activity puzzle made from non-toxic and eco-friendly materials provide hands-on learning to help teach your child their ABCs, develop their gross motor skills, and improve hand eye coordination and reasoning skills. This toy is sure to grow with your child as it demonstrates proper letter formation and presents concise saint facts, allowing your child to grow in faith while they play. Empower your child to know the saints as well as they know their ABCs with the Pray and Play ABC Puzzle.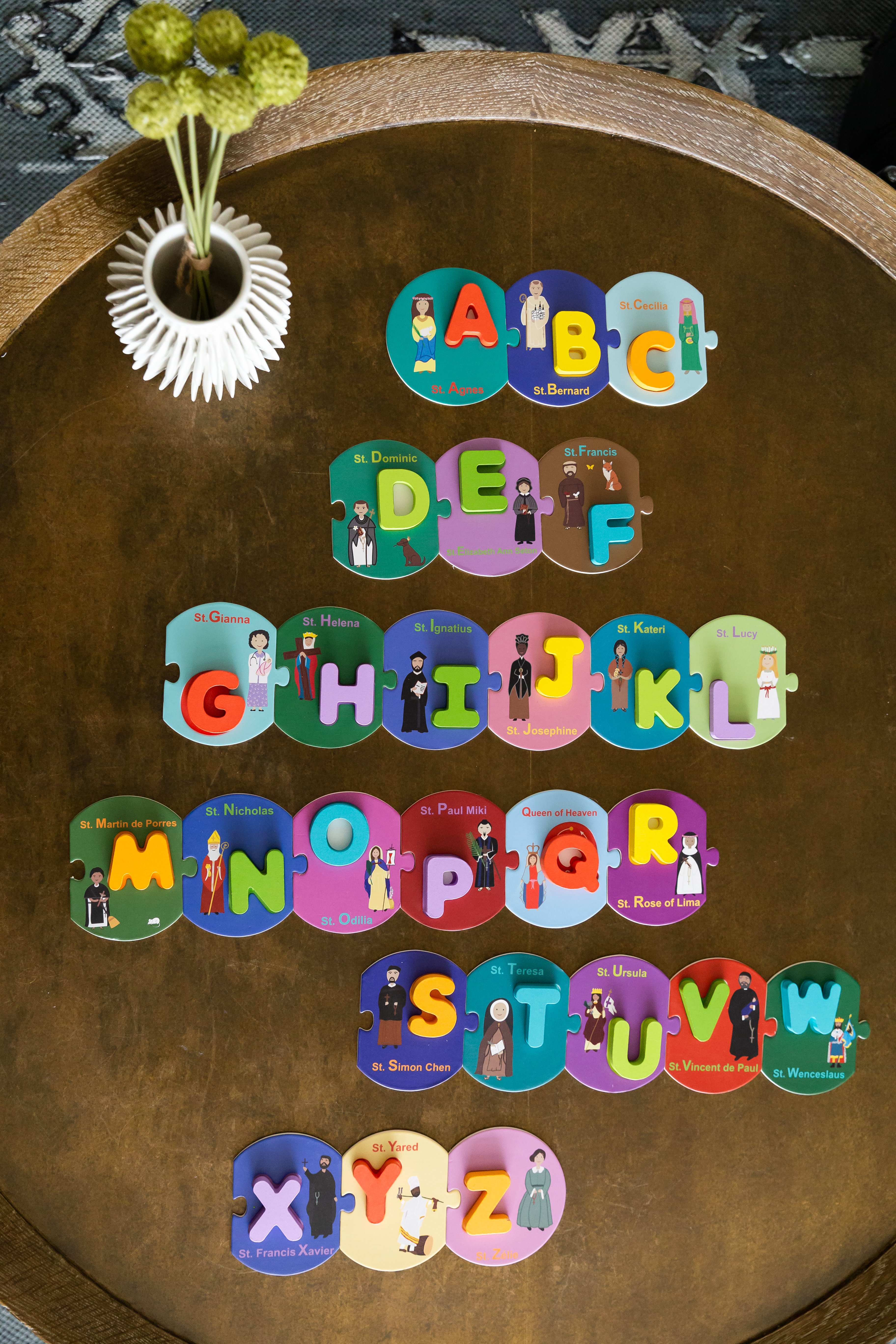 Catholic Mom Review: I love a toy that teaches. This puzzle opens dialogue about each saint in an approachable childlike way. The pieces are solid and bright. It is a great tool for our alphabet litany when kids cannot sleep. From Saint Ignatius to Saint Paul Miki, you and your little one will meet many new friends with this beautifully made toy.
Coupon Code: Use code catholicmom10 for 10% off through December 31, 2021
Ordering Deadline: Orders should be placed by December 13
Social Media:
Website: SaintlyHeart.com
Instagram: @saintly_heart
Facebook: @saintlyheartco
Chews Life offers rosaries for every age group. They have adorable silicone rosaries for babies and young children. Chews Life's mission is to equip all Catholics with rosaries for life. This beautiful silicone rosary is sure to bring joy to your home. This mint and gray teething toy is not only soothing for your little one but is also sure to help build wonder and love for the rosary. Watching your child hold this Silicone Rosary is like watching them hold the hand of Mary.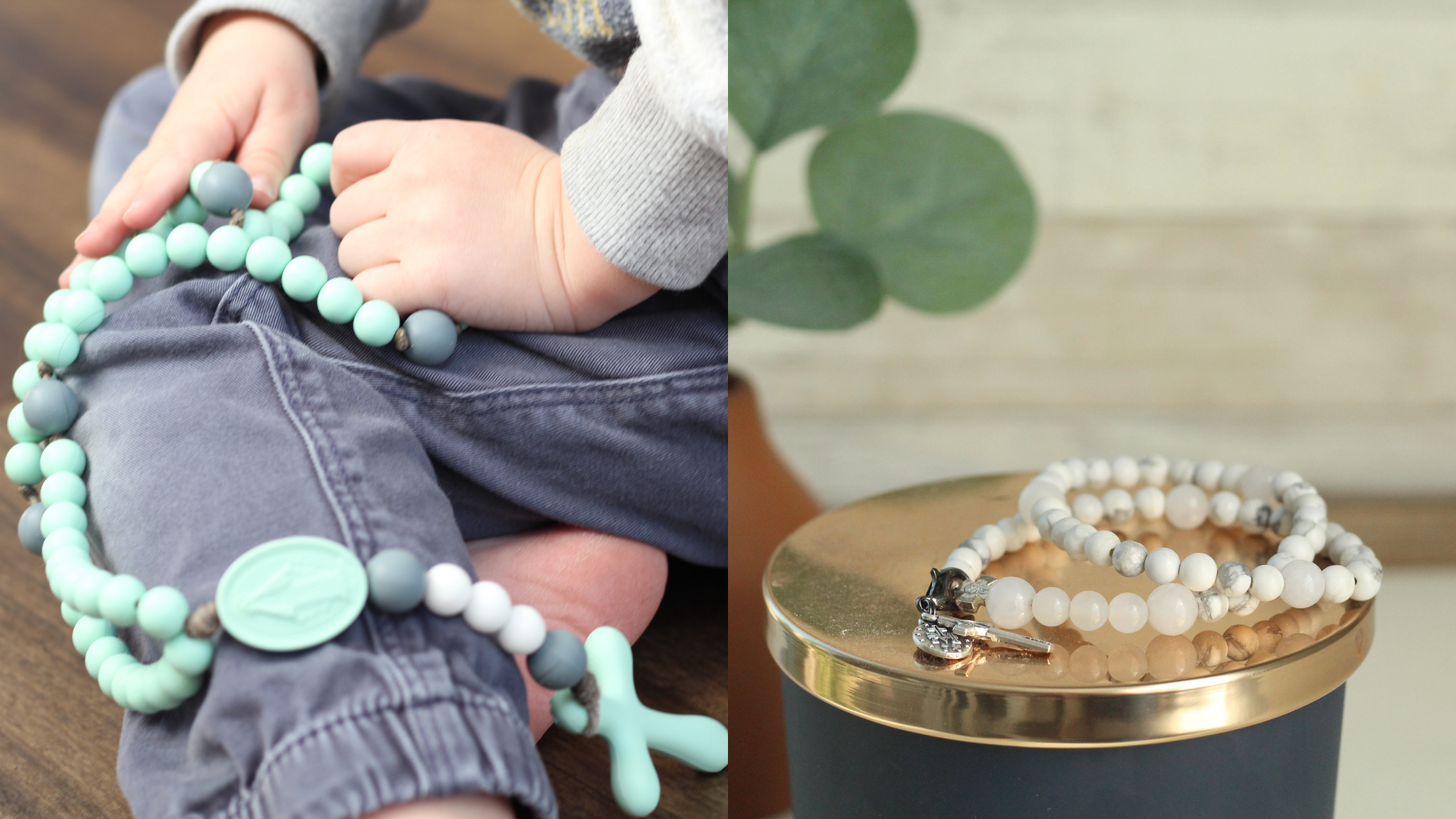 Catholic Mom Review: These rosaries are incredible. I love that they are so durable. The colors are appealing and attractive. You don't have to worry about choking because the beads are large and have a breakaway clasp. It is a great conversation piece for after Mass as well.
Coupon Code: Use code CATHOLICMOM10 for 10% discount through December 31, 2021
Ordering Deadline: We do not have a solid ordering deadline but SHOP EARLY.
Social Media:
Website: ChewsLife.com
Instagram: @chewslifeshop
Facebook: ChewsLifeShop
Gifts for the Growing child: Writing on their Hearts
Catholic Family Crate is a faith formation brand focused on delivering creative, high quality, and engaging materials for Catholic families to learn about their faith. They do this mainly through their monthly and seasonal subscription boxes that deliver faith-filled (faithful to the Magisterium) crates designed to make cultivating a strong family within the domestic church easy and streamlined. They take the overwhelm out of liturgical living and faith formation; deliver highly engaging and beautifully crafted catechesis tools that make growing in the faith doable in a busy, modern life; and help families establish themselves in the good, true, and beautiful.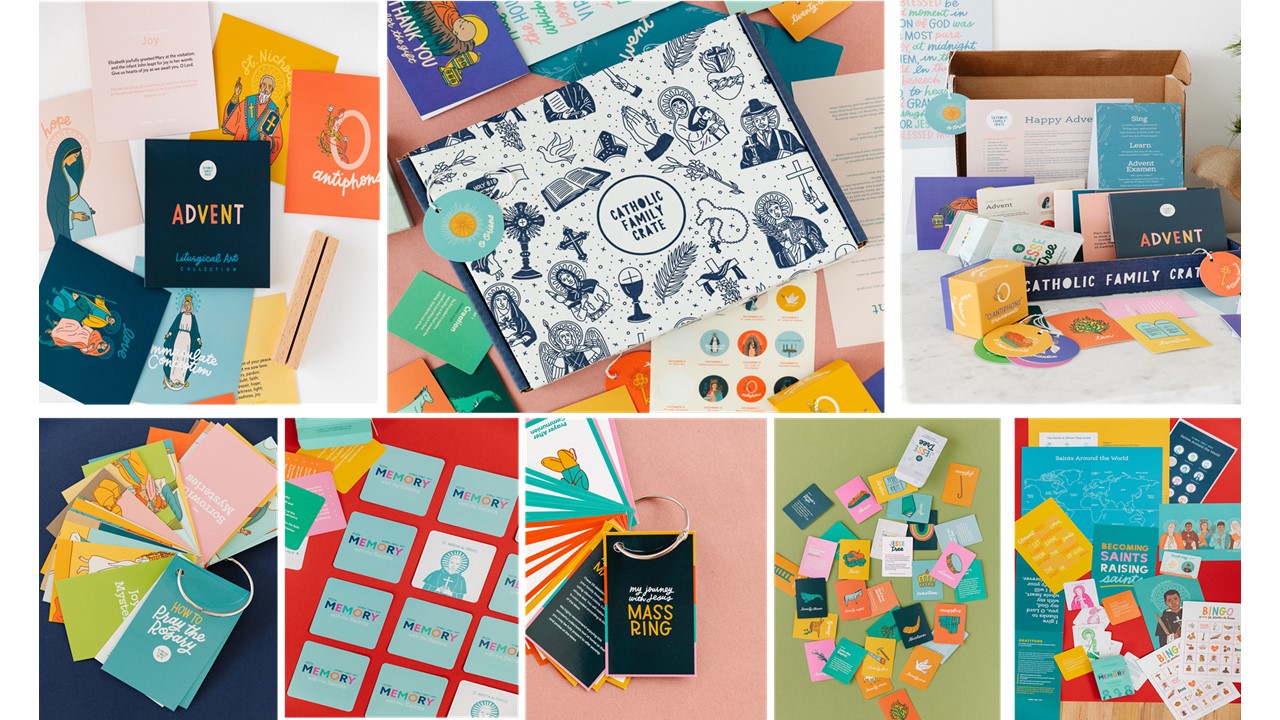 Catholic Mom Review: This subscription box is a great way for a family to keep the faith alive throughout each month or liturgical season. The crafts are light and fun. The conversation dives deep for all age levels. I love the tri-fold virtue card included. It sits upon our dining room table and is a frequent reminder in our discussions. The rosary key chain holder is a go-to tool for my elementary age children who enjoy keeping everyone on track and learning about each mystery during family prayer. This is a great gift to give a young growing family.
Coupon Code: Use coupon code CATHOLICMOM2021 for 20% off the first month of a subscription OR 20% off anything in the store.
Ordering Deadline: Suggested deadline for ordering for Christmas for shipment to destinations in the USA is December 15.
Social Media:
Website: CatholicFamilyCrate.com
Facebook: @CatholicFamilyCrate
Instagram: @catholicfamilycrate
Our Lady of Fatima and St Michael pencil pouches. Blessed Be God Boutiques' mission is to evangelize the glory of God by creating quality items that celebrate Catholic ideals using imagery and prayer. Products range from clothing, rosary pouches, drinkware, stickers and paper goods. There are items for each member of the family. Each product is aimed to give praise to Jesus and spread His word.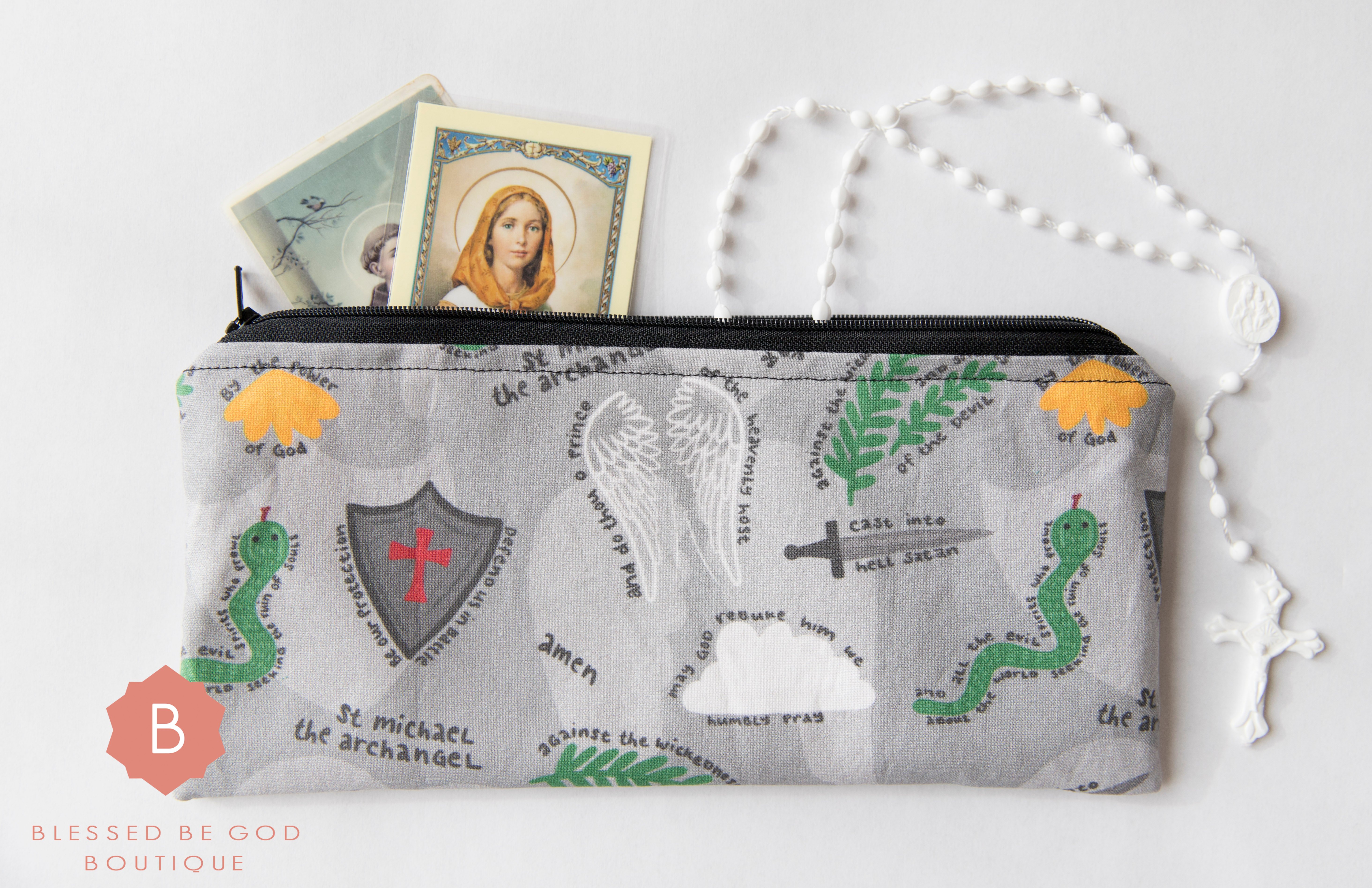 Catholic Mom Review: These pencil pouches are such fun ways to bring the faith alive for our children. Children are so visual and love a good story. These creative drawings invite conversation and what child does not have a need for storage? From colored pencils to coins, to trading cards, these are great holders for any young child.
Coupon Code: From November 26, 2021 to December 10, 2021, save 15% on orders over $50 with code CATHOLICMOM2021
Social Media:
Etsy: BlessedBeGodBoutique
Facebook: @blessedbegodboutique
Instagram: @blessedbegodboutique
All games are created with both families and churches in mind.
Fun and captivating
Great for bringing people together
Learn about the Bible as you play
Emoji Bible Stories Card Game is great entertainment for everyone! With 4 versatile gameplay options, even younger children and those new to the Bible can join in the fun!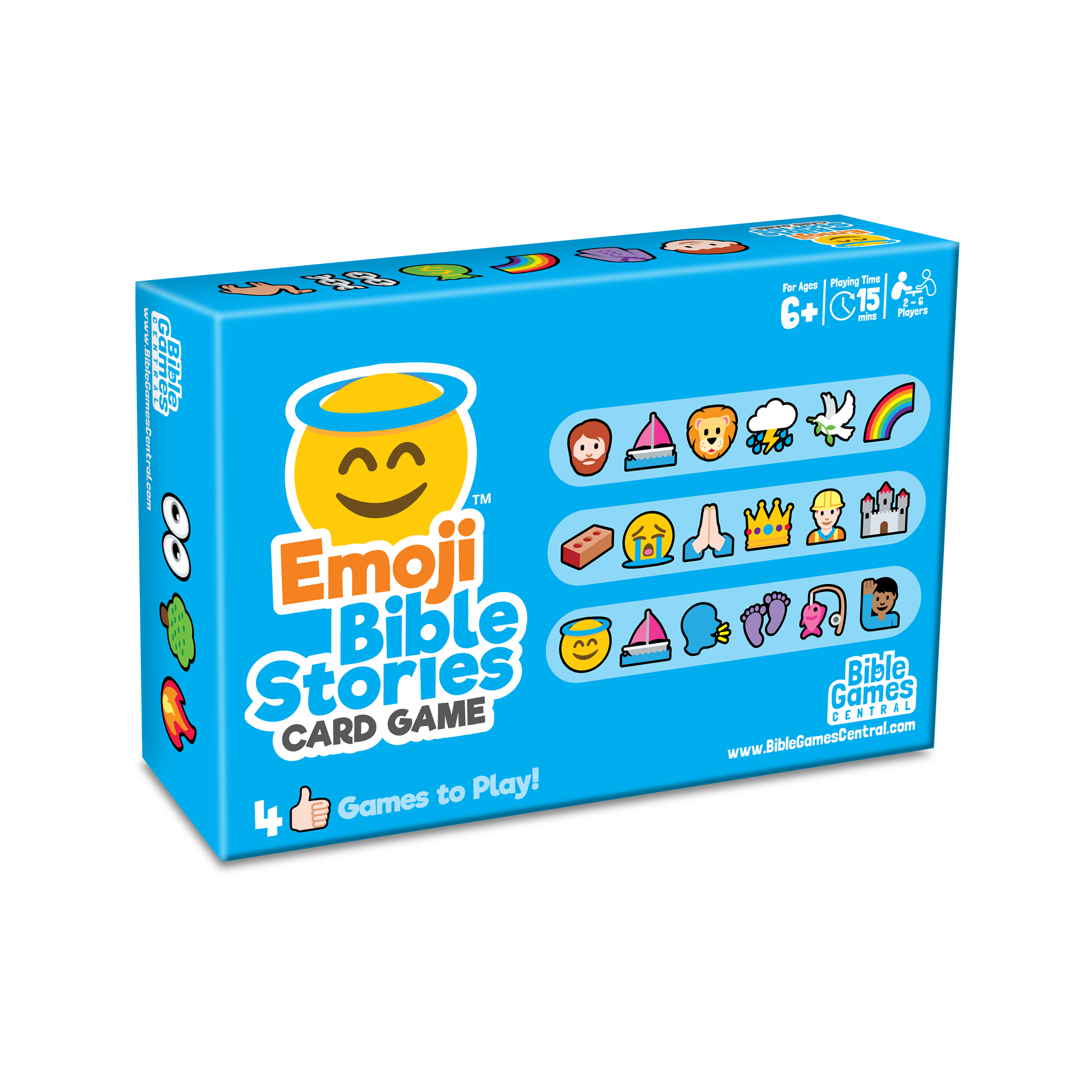 Catholic Mom Review: Our family enjoyed playing this game with our children. The cards made my children laugh and we even got competitive in our guessing of which story was being told. I like a good game where older and younger members of the family can play together. This would make a great gift for a niece, nephew or grandchild.
Coupon Code: Games20 (This gives a 20% storewide discount and expires on December 10, 2021.)
Ordering Deadline: December 10, 2021
SocialMedia:
Website: BibleGamesCentral.com
Instagram: @biblegamescentral
Facebook: @BibleGamesCentral
Gifts for Teens: "Speak the gospel: Every day: If necessary, use words" (attributed to St. Francis of Assisi)
Represent in a God Swagg classic in the grey JM Roses T-shirt. This go-to tee has an everyday construction with an illuminated cross on the front and glowing JM logo printed on the back.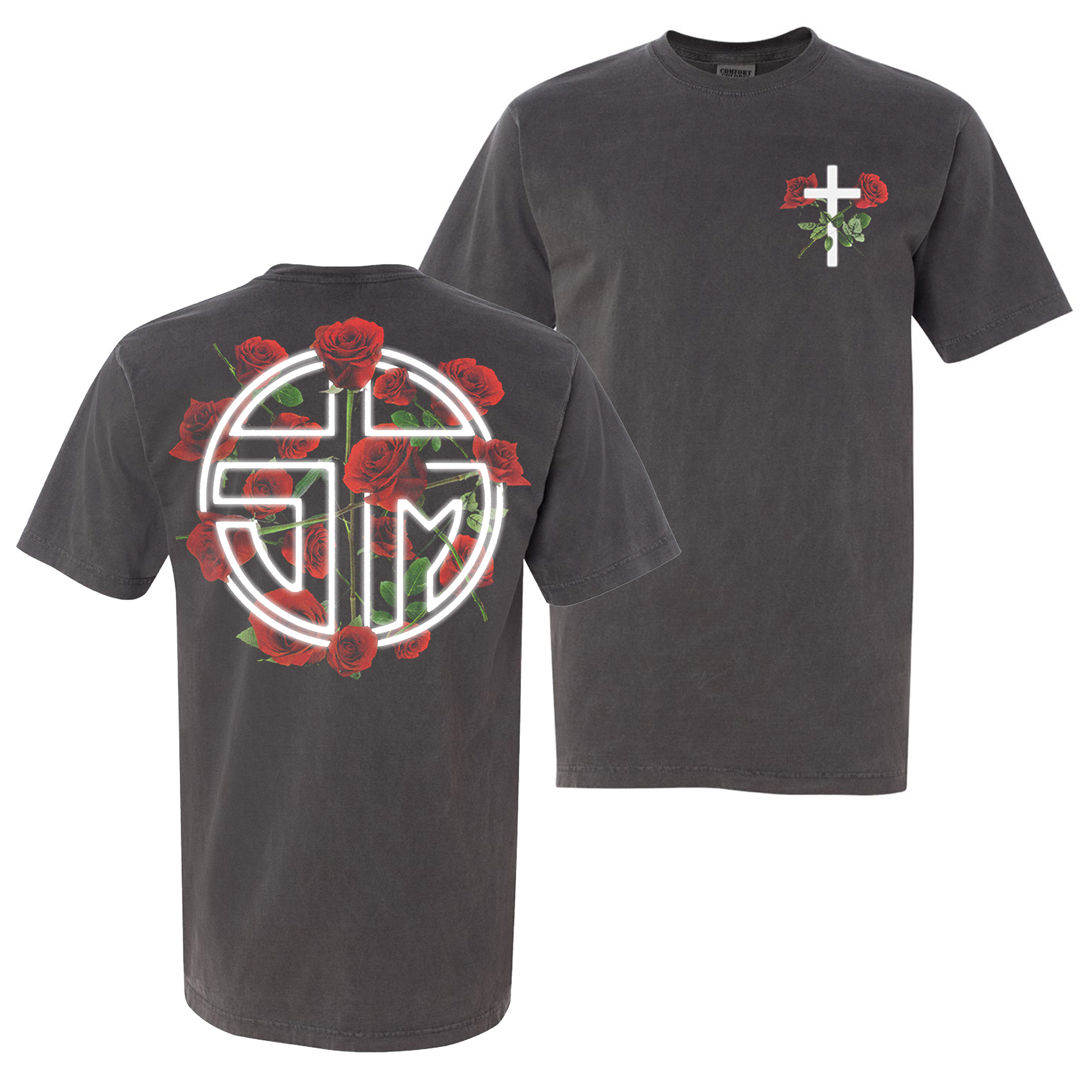 Catholic Mom Review: It takes courage to speak your faith. Sometimes wearing a cool t-shirt that represents what you believe is easier than speaking from the pulpit. God Swagg apparel is fresh, stylish and makes a statement, inviting others into a conversation.
Coupon Code: Use coupon code CATHOLICMOM to save 10% through November 30, 2021.
Ordering Deadline: December 15
Social Media:
Website: GodSwaggApparel.com
Instagram: @godswaggapparel
Facebook: @GodSwaggApparel
Saint Script is a sacred art brand that focuses on modern depictions of the saints, prayer cards, and other Catholic goods created to inspire prayer wherever you are.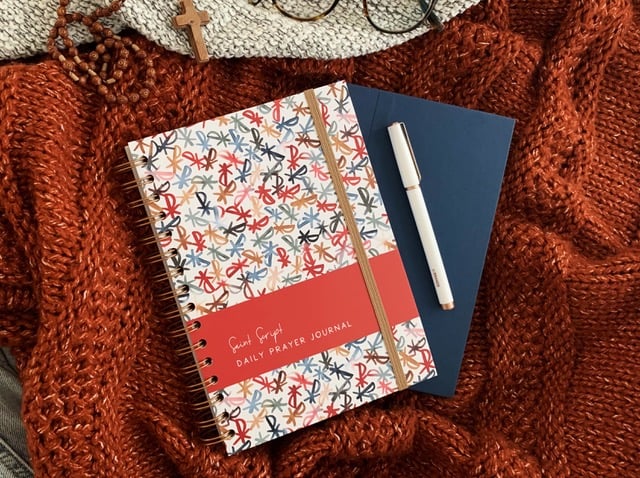 Catholic Mom Review: Saint Script journals are beautifully crafted. There is plenty of space for journaling but also structured lectio divina-style questions. The rosary guide would make a great addition to either the journal or a stocking.
Coupon Code: Use coupon code CATHOLICMOM for 15% off your entire purchase. Expires December 30, 2021.
Ordering Deadline: To guarantee Christmas delivery, order by December 15
Social Media
Website: SaintScriptShop.com
Instagram: @fearlessali
Facebook: @SaintScriptShop
Stella & Tide offers feminine, dainty Catholic jewelry handmade with love in the USA. Our curated selection includes elegant Catholic necklaces, bracelets, rings, chokers, and earrings crafted with high-quality gold filled, sterling silver, and rose gold filled metals. We stand behind the quality of our pieces with a 30-day warranty on every item in our shop (including extended coverage for holiday gifts). We're proud to source all of our materials from USA-based suppliers, and we offer 100% free shipping on all U.S. orders!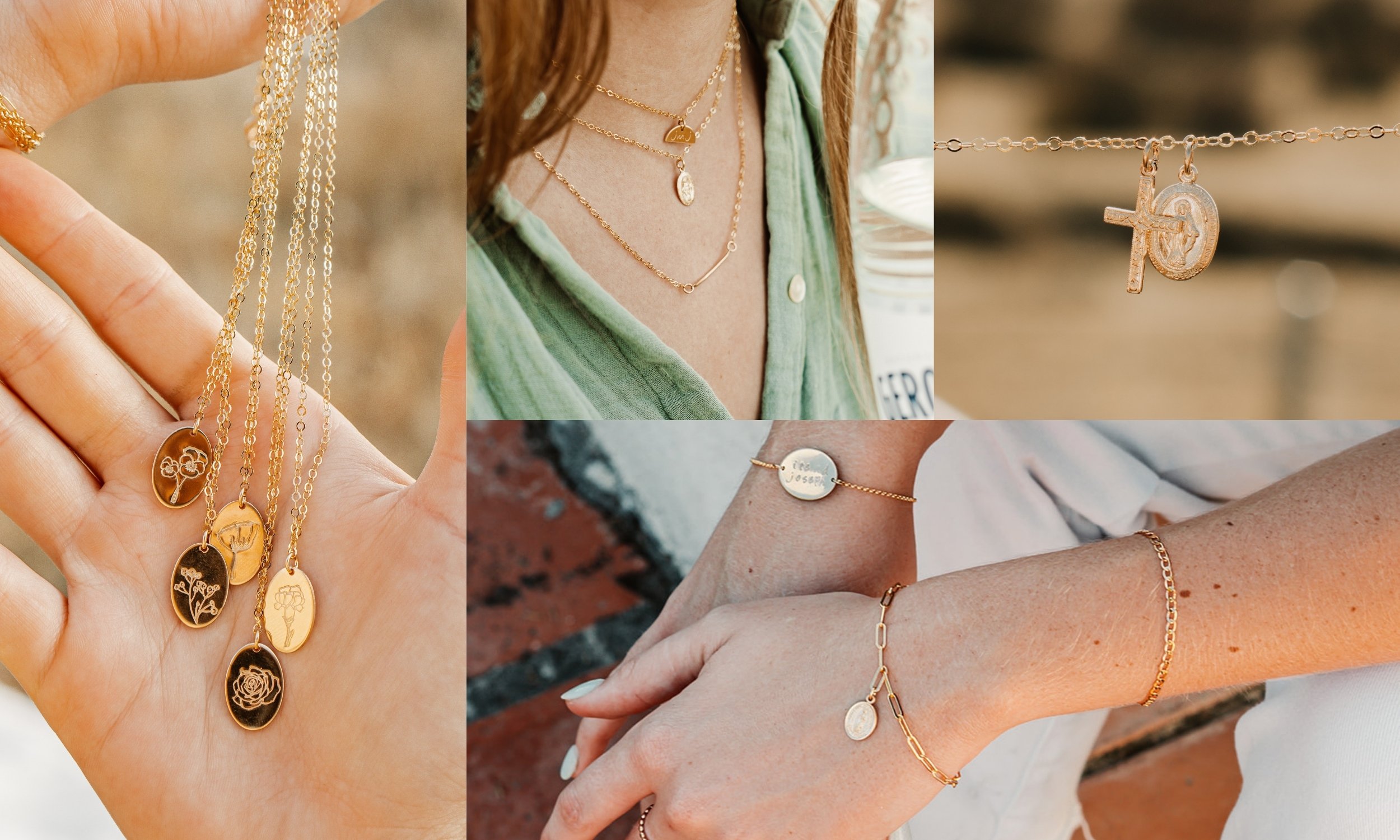 Catholic Mom Review: Every little girl longs for her first piece of real jewelry; something truly special. Stella and Tide combine dainty and beautiful with faith filled, making a beautiful way to share the sacred with our children. There is something very special about this dainty Sacred Heart necklace that speaks to the purity of Jesus. This will be a very special gift this Christmas.
Coupon Code: Get 10% off your first order with code CATHOLICMOM10 through December 31, 2021.
Ordering Deadline: The last day to order from our shop with guaranteed delivery by Christmas is November 15. Though we can't offer a guarantee beyond that date, we'll continue to create orders until December 10 and do our best to get them delivered in time for the holidays!
Social Media:
Website: StellaTide.com
Instagram: @stellatide
Facebook: @stellatide
Three homeschool mamas whose Catholic faith has brought us together! We enjoy bringing our faith and family life together in many of our hand made items which include hair accessories, bath and body goods, doll slings, baby items, jewelry, and home décor. Our newest offering is a growing line of gift boxes!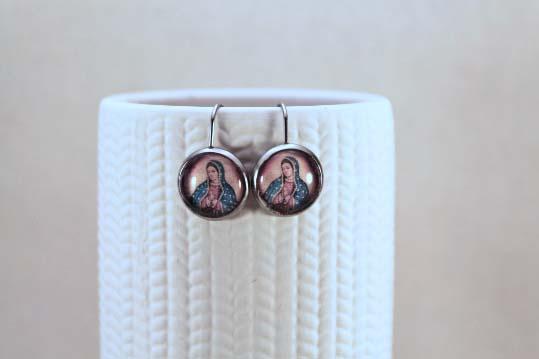 Catholic Mom Review: These earrings are beautifully made and a great way to represent Mama Mary on her Feast Day in December. As a teacher, I look for ways to witness my faith to my non-Catholic students, providing opportunities to bridge gaps and share more of my relationship with Jesus. These earrings have been a great conversation piece.
Ordering Deadline: Order by December 10 for Christmas
Social Media:
Etsy: Etsy.com/shop/joyfulmamajoyfulbaby
Website: JoyfulMamaJoyfulBaby.com
Facebook: @joyfulmamajoyfulbaby
Instagram: @joyfulmamajoyfulbaby
For the Home/Hospitality Gifts
When an army of Frederick II was about to assault Saint Clare's convent, she placed the Blessed Sacrament in a monstrance above the gate of the monastery facing the enemy and kneeling before it, prayed,
"Deliver not to beasts, O Lord, the souls of those who confess to you.'
A voice from the host replied, 'My protection will never fail you.'
A sudden panic seized the foreign army, which took to flight, and the Clare's convent was spared."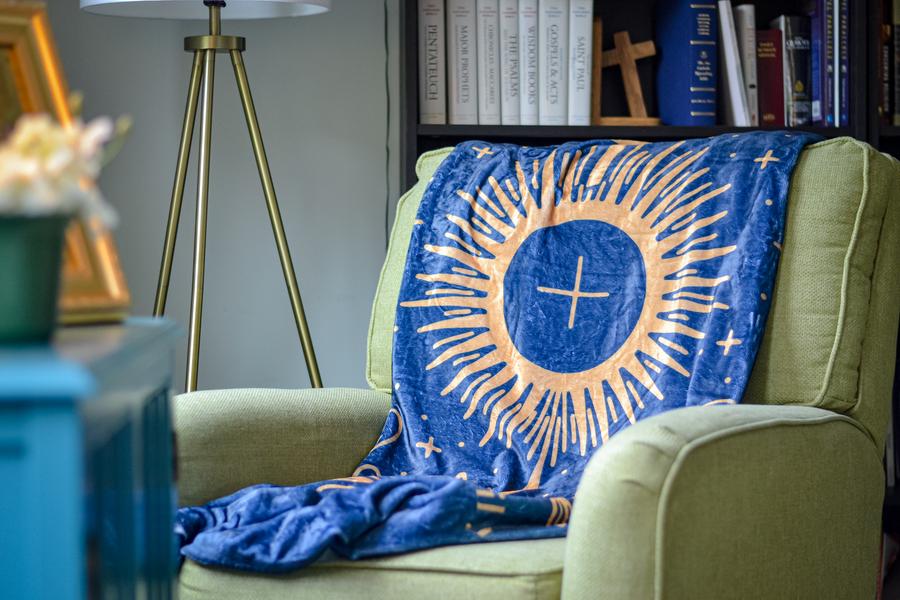 Catholic Mom Review: This blanket is perfect. It is light enough to not feel too burdensome but enough to keep you warm while snuggling on the couch or reading a book. It's color is deep and its fabric is oh so soft. It is a coveted blanket around my home, one this Mom has claimed for herself this season. I love the message of God's protection and the reminder it gives while being wrapped in this blanket will remind all of the Father's love.
Coupon Code: The biggest sale of the year is Black Friday-Cyber Monday, and new subscribers to the email list get 10% off and Free Shipping on orders over $75.
Ordering Deadline: December 9 for Christmas
Social Media:
Website: LittleWayDesign.co
Instagram: @littlewaydesignco
Facebook: @littlewaydesignco
This set features three 100% cotton tea towels which have been dyed indigo by hand in small batches and then bleach dyed with each of three Marian designs: Ave Maria, Miraculous Medal, and Mama Mary. All items in the shop feature unique designs that are hand drawn. All tea towels and napkins are hand dyed. Bleach dyeing removes the pigments present in the items' fabric, leaving behind a design that is permanent and unique.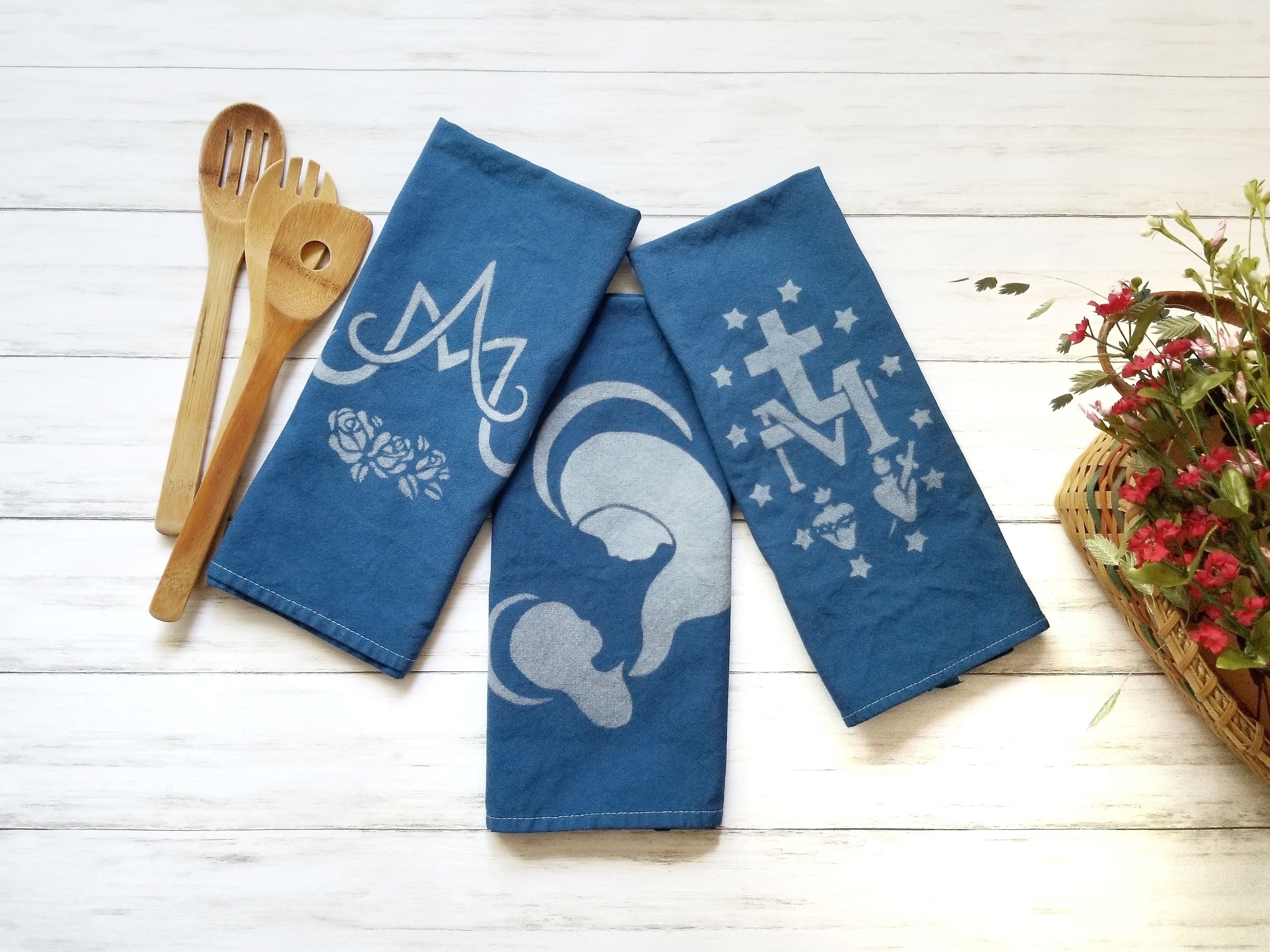 Catholic Mom Review: These towels are so durable! Not only do they bring mama Mary into my kitchen but they also are the most durable kitchen towels I have owned! These make a great gift for yourself, a teacher, or a hostess gift. Highly Recommend!
Coupon Code: Use coupon code CATHOLICMOM to get 10% off until the shop closes for Christmas
Ordering Deadline: All orders must be placed by Dec 1 for Christmas delivery. Shop may close earlier if needed due to demand, supply, and shipping delays.
Social Media:
Website: Pycnocline.etsy.com
Instagram: @Pycnocline
Facebook: @Pycnocline
House of Joppa offers a fresh new take on traditional Catholic home décor, jewelry, and gifts that outwardly show the beauty of our faith. Our pieces pair perfectly with a modern aesthetic while our jewelry adds a meaningful touch to any ensemble.
Saint Candles: HONOR THE SAINTS: Our faith makes visible so many invisible realities, and we hope our Catholic prayer candles will do the same for you. Through the power of fragrance, these uniquely inspired candles connect us to the saints in a real, concrete way. Add them to your home altar or prayer space to create the perfect atmosphere for prayer and reflection.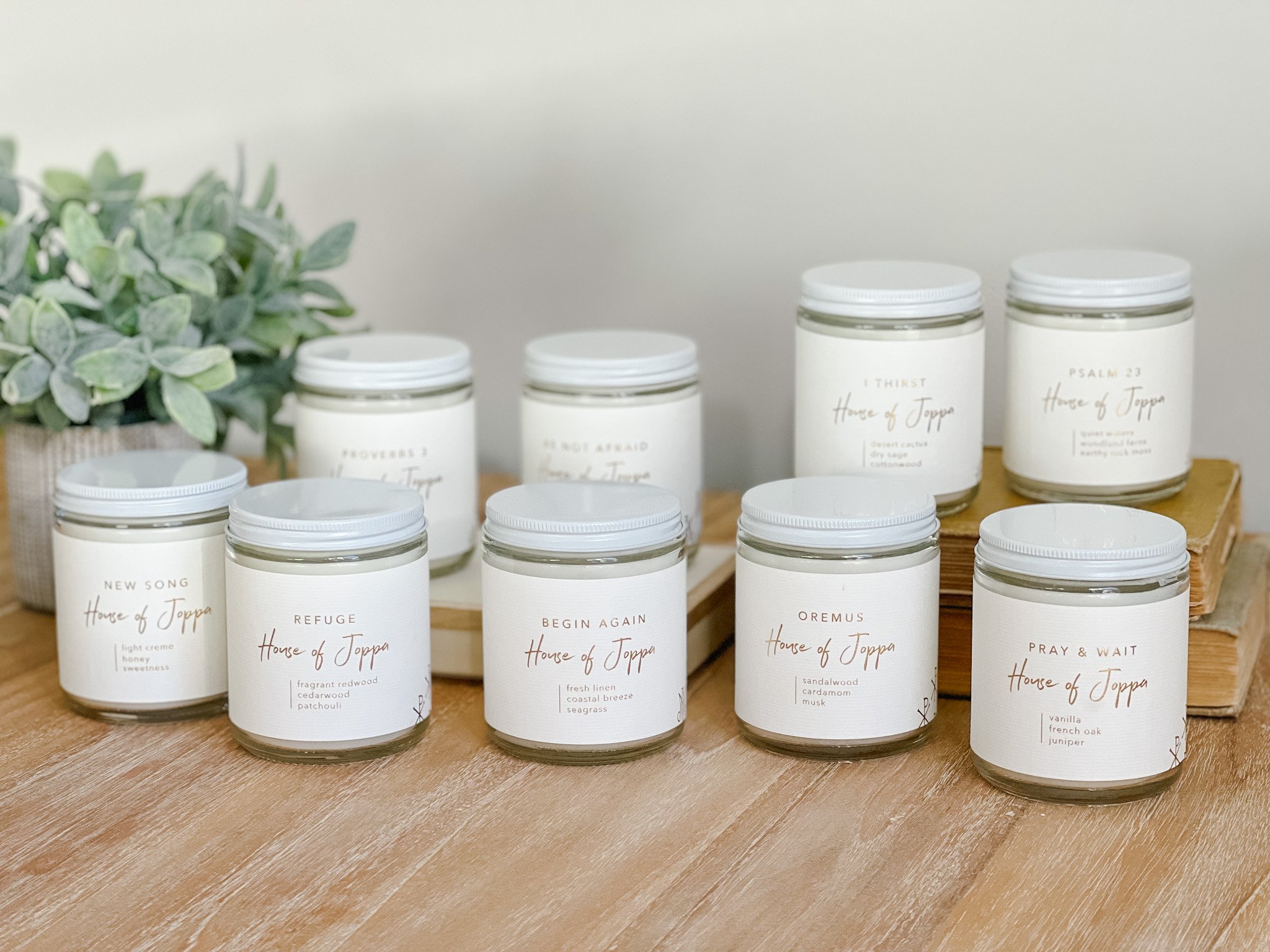 Catholic Mom Review: These candles are beautiful and pensive in design. They help you set the stage for prayer with a single wick. There is something sacred about the constancy of a flame in a candle and the smoke that lifts our prayers to heaven. Candles make a great part of a prayer routine and these candles have been thoughtfully crafted to help bring others into a relationship with the saints.
Ordering Deadline: Order by December 8 for arrival by Christmas.
Social Media:
Website: HouseOfJoppa.com
Facebook: @HouseOfJoppa
Instagram: @houseofjoppa/
This is the perfect way to keep your rosaries accessible and ready for family prayer. As Fr. Peyton reminds us, "The family that prays together, stays together." This rosary hanger is made of reclaimed pine. It is customized with your choice of wood finish and knob number/color. The text is made of high quality vinyl and will read "Hail Mary, Full of Grace." Each hanger is made to order based on your customization.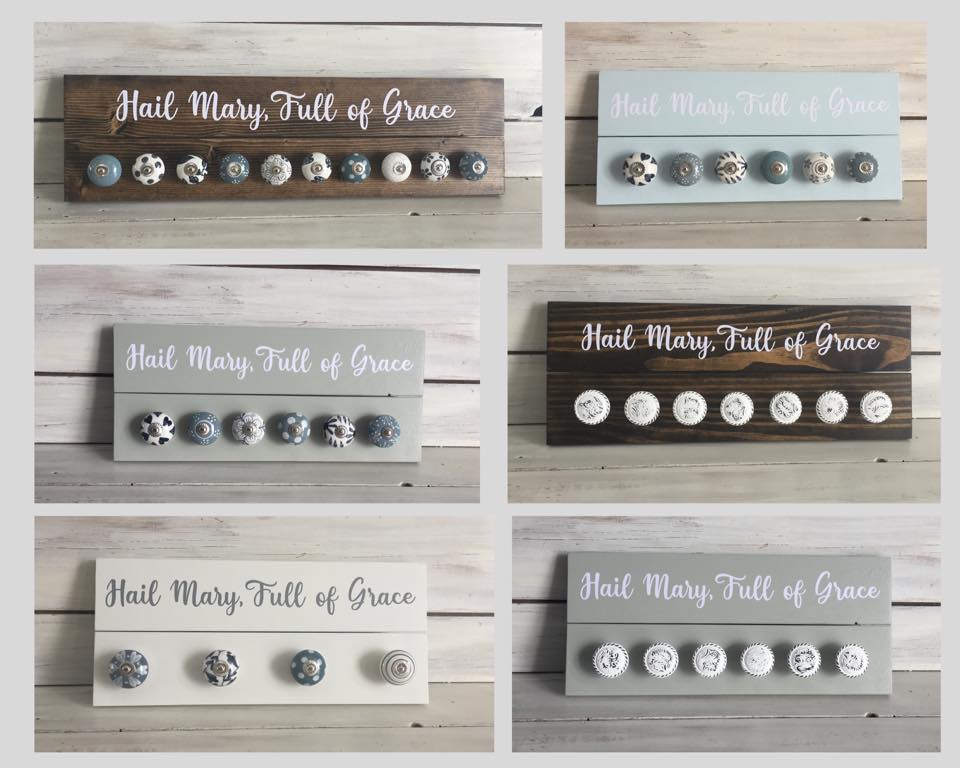 Catholic Mom Review: I love my rosary hanger that sits in my living room. It helps keep our rosaries organized and ready for family prayer. Having a rosary hanger also makes it a focal point of your room; inviting others to ask questions. It states that this family is a praying family.
Coupon Code: Use code CATHOLICMOM5 to save $5 off $25 or more. It will run November 15-November 30, 2021.
Social Media:
Website: Etsy.com/shop/RusticChristianDecor?coupon=CATHOLICMOM5
Etsy: RusticChristianDecor.etsy.com
Instagram: @rusticchristiandecor
Facebook: @RusticChristianDecor
Don't you love imagery of the Holy Family that is relatable and dare I say ... adorable? Call on the Holy Family to help you navigate the ever-changing waters of the world. Hang these prints in your home and be reminded to place your trust in Heaven, rather than the world.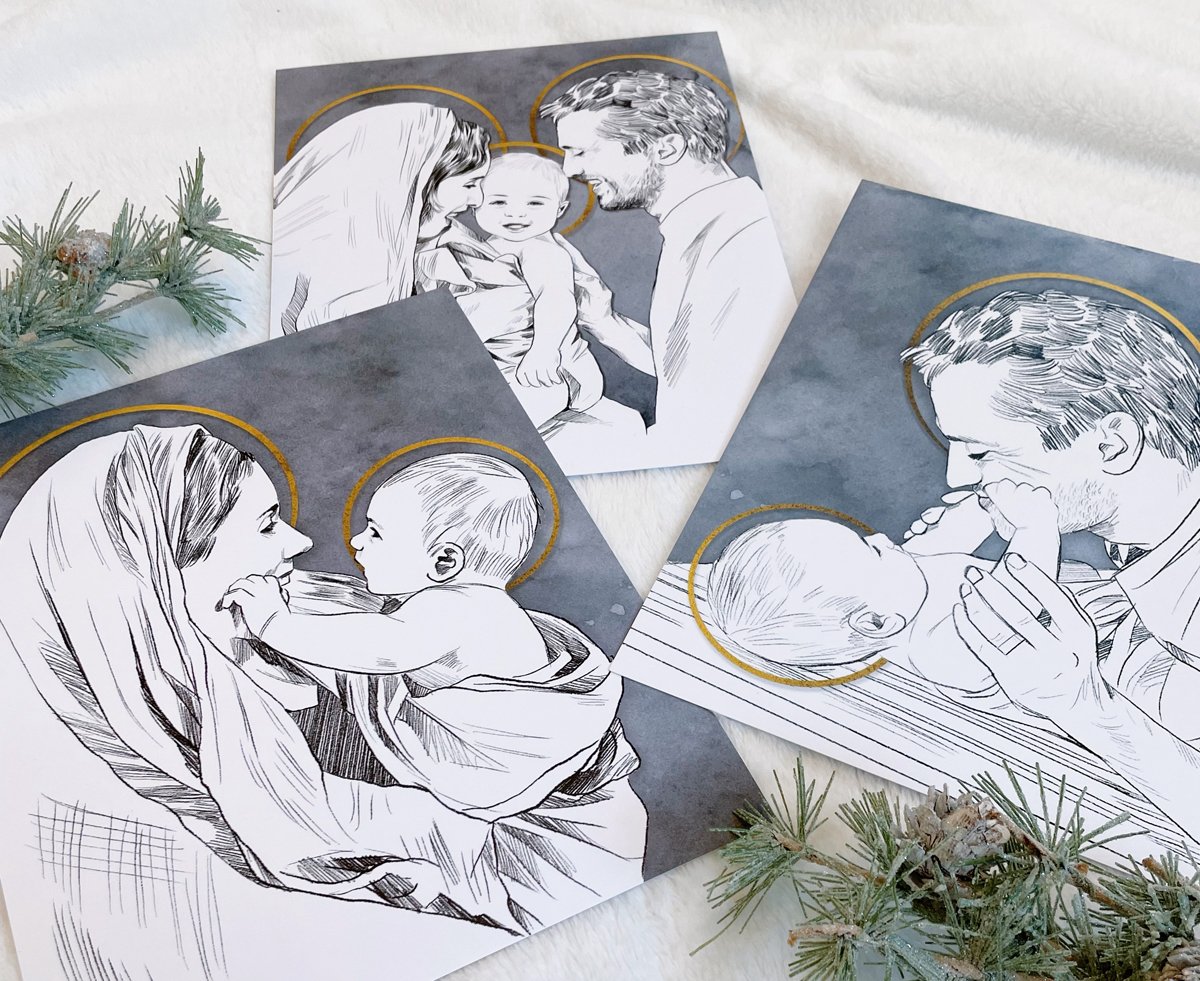 Catholic Mom Review: Few pieces of art draw you into a moment. The Holy Family Collection invites you into the everyday holy moments of raising a family; only this one is THE Holy Family. We seek to love like they loved and live like they lived. These images, so expertly crafted, give a witness to family love. These black and white images are beautiful and can turn any space into a holy place of prayer. One of my favorites this year!
Coupon Code: Enjoy 10% off your order + free U.S. shipping with code CATHOLICMOM. This code does not expire!
Social Media:
Website: JustLovePrints.com
Facebook: @JustLovePrints
Instagram: @justloveprints
Meyer Market Designs is your go-to shop for Catholic Gifts and meaningful home decor. Whether you're looking for a children's gift, paper goods, Catholic themed pillows and art, they've got what you're looking for! Bernadette's work is saint-inspired and seeks to provide something beautiful to gift or fill your home with! This year Meyer Market Designs is featuring their brand new Jesse Tree Ornament set and Devotional book! A wonderful way to celebrate Advent with your family!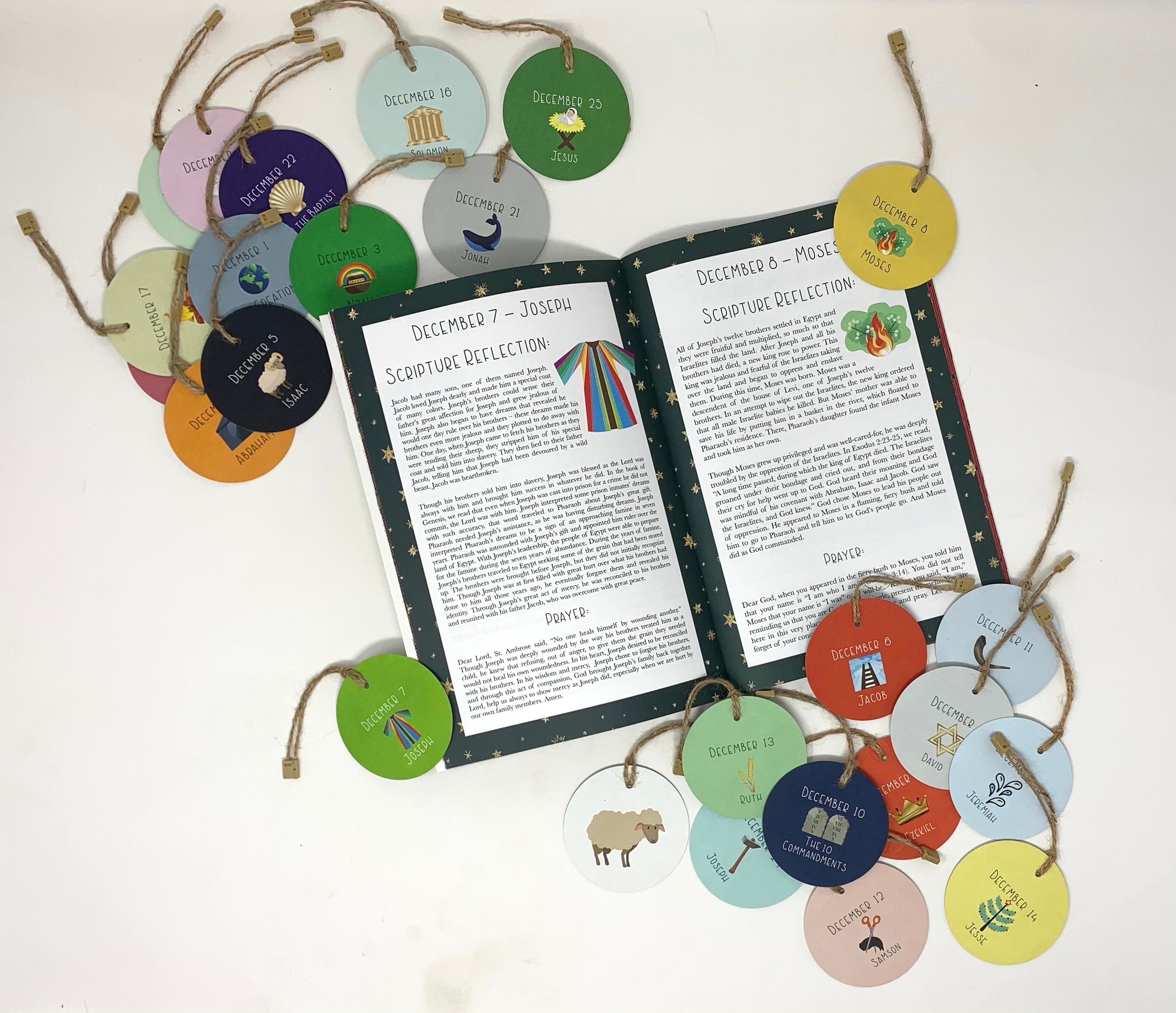 Catholic Mom Review: One of my family's long standing traditions is the Jesse Tree. The tradition of The Old Testament passages foretelling the New Testament stories always brings our family into new discussions of the immensity of God's plan for our lives. The Jesse tree tradition is a great way to teach our children that from the beginning, God has a rescue plan for His people. This kit from Meyer Market Designs is charming, inviting for kids, and a collectible for families to cherish over the years.
Coupon Code: Use code THANKYOU for 15% off your purchase through December 31. 2021.
Social Media:
Website: MeyerMarketDesigns.patternbyetsy.com
Instagram @meyermarketdesigns/
Facebook: @MeyerMarketDesigns
Stocking Stuffers
Abundance of Grace was created to provide you with access to the beauty of the Catholic faith through Scripture, tradition, and the saints. Every item in the shop is hand designed and lettered. Every item in the shop has a story behind it, an inspiration from the Holy Spirit or lives of the saints. "The grace of the Lord is abundant." (1 Timothy 1:14)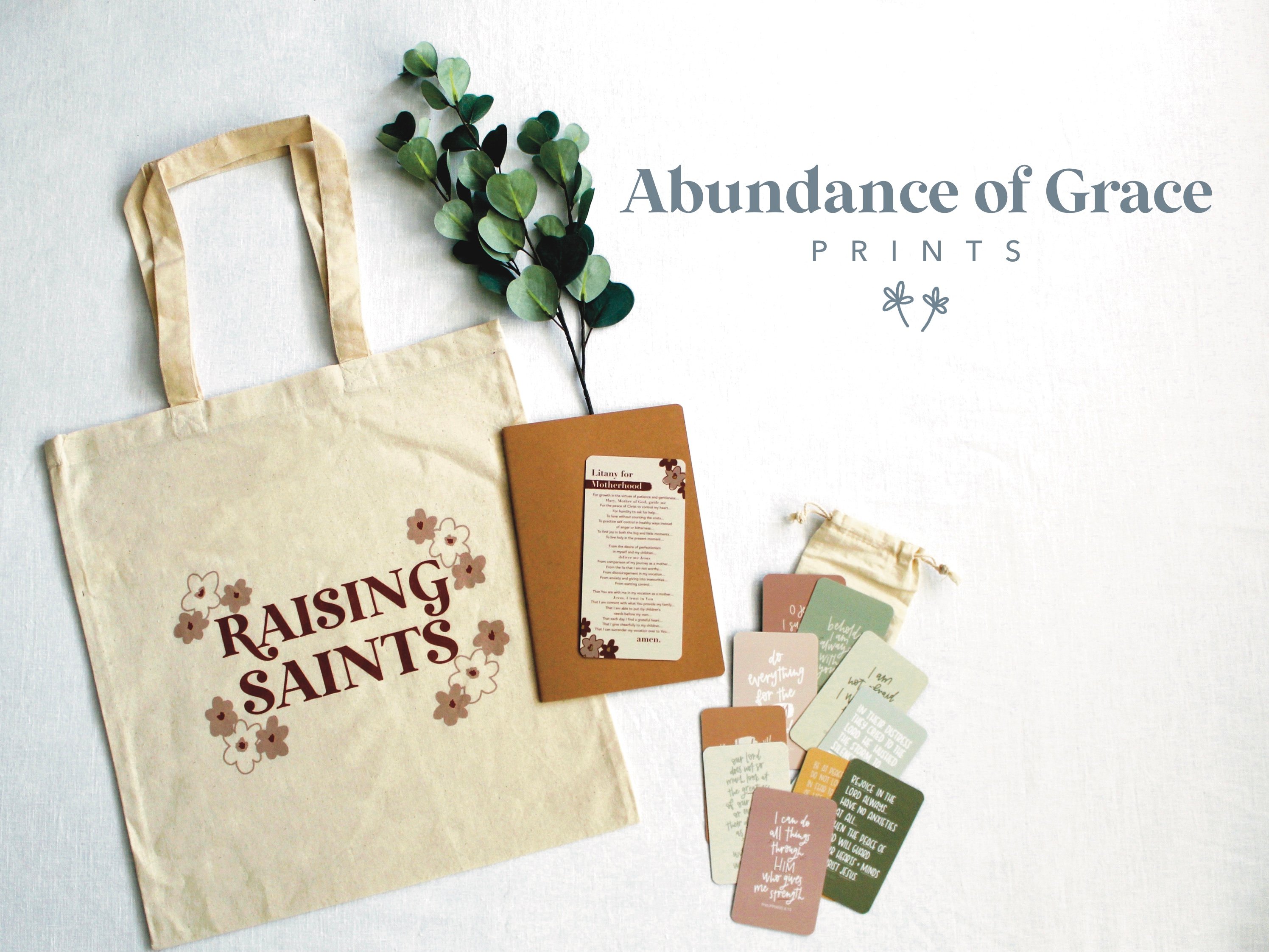 Catholic Mom Review: I love a good Catholic stocking stuffer. I think my kids will be 50 years old and still shaking their heads as I throw a prayer card or a medal in their stocking. These prayer cards from Abundance of Grace allow you to be a bit more personal. This year, I will be adding one of each of these cards to my kids' stockings with a personal note telling them why it spoke to me. These cards are also great for the occasional pick-me-up needed in a lunch box, or a note to a friend. My college age daughter uses these on the cork board outside her dorm room. Thoughtfully made, these will make great stocking stuffers.
Coupon Code: Use code CATHOLICMOMS21 for 10% off the entire shop through November 22, 2021
Ordering Deadline: December 15th for Christmas arrival
Social Media:
Etsy: Etsy.com/Shop/AbundanceOfGrace
Instagram: @abundanceofgraceprints
Facebook: @abundanceofgraceprints/
Saint Clare + Francis offers adorable Catholic stickers, t-shirts + decor. Each product is designed by a high schooler on a mission to spread encouragement and joy through simple, yet faith-filled designs! Designed with Catholics in mind, the Catholic key fob will hang perfectly and comfortably around your wrist. Perfect for carrying car keys or keychains and makes remembering them so much easier!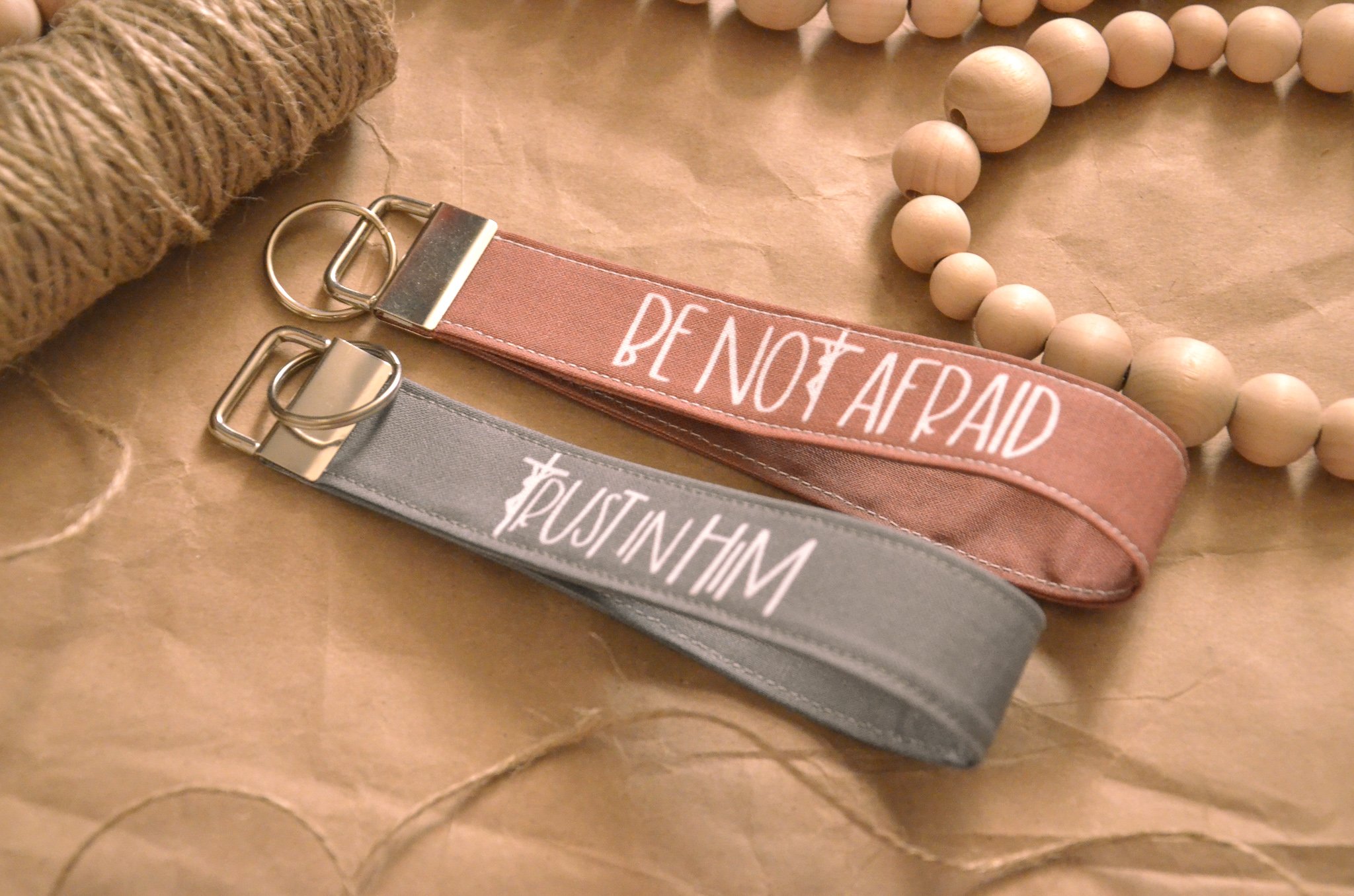 Catholic Mom Review: With older kids in the house, there is an endless need for keychains! I find stockings or St. Nicholas Feast Day a perfect opportunity for small little gifts like this. They are both necessary and faithful; little reminders of who we are and who we are striving to be. These key fobs are both stylish and classic.
Coupon Code: Use code CATHOLICMOM for 15% off everything. Code expires December 25, 2021.
Ordering Deadline: December 10. Orders ship in 2-4 business days.
Social Media:
Website: SaintClareAndFrancis.etsy.com
Instagram: @clareandfrancis
Gifts that Keep Giving
Roasted by Carmelite monks in Wyoming. Delicious flavored roasts, single serve cups and more. Our favorite is the Hermits Bold Blend. The liveliest of the extra dark roasts, Hermits Bold Blend is a special blend of Arabica coffees from Indonesia and Central America.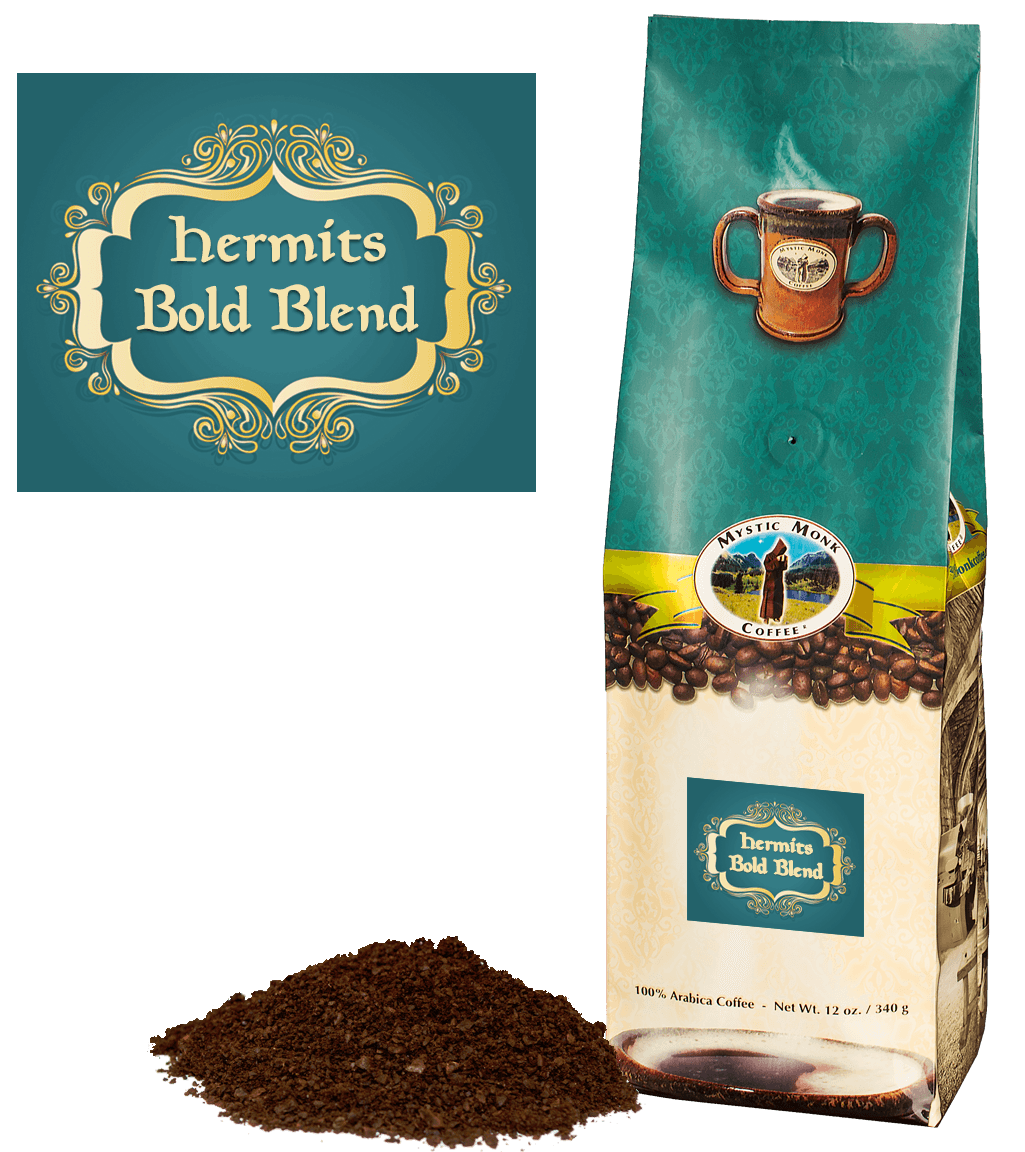 Catholic Mom Review: Coffee is the language of Dad in our home. As our kids grow older, it is common to hear the kettle in the morning and the beans grinding the day's coffee. Mystic Monk Coffee helps support the Carmelite monks in Wyoming. Not only do we purchase their coffee and their tea, but we seek them out for their prayer intentions and share our own family prayers with them. Their blends range from bold to fruity. The Hermit's Bold Blend is a favorite right now with deadlines for college students and early mornings for parents. The flavors also change liturgically as well which adds a fun variety. They have many great gift sets as well, making an easy hostess gift and also a way to support those in religious life.
Ordering Deadline: December 5 for Christmas arrival
Social Media:
Website: MysticMonkCoffee.com
Facebook: @mysticmonkcoffee
For the men in our lives: don't forget our clergy and religious
Product Description: You may think it is just a T-shirt, but Totally Catholic Tees is dedicated to spreading the Gospel through our apparel. All shirts are made of the highest quality, but more importantly, they tend to start meaningful conversations. Our tees are bold, unique, and profound. The fact that they are comfortable is only a bonus. Preach the Gospel, and sometimes use a Catholic T-shirt.
The Sacred Heart T-shirt, part of our signature BEHOLD™ line. An awesome image of the Sacred Heart … and a cool sleeve woodcut design from an old missal. Wear HIS HEART on your sleeve. On a premium unisex soft style tee.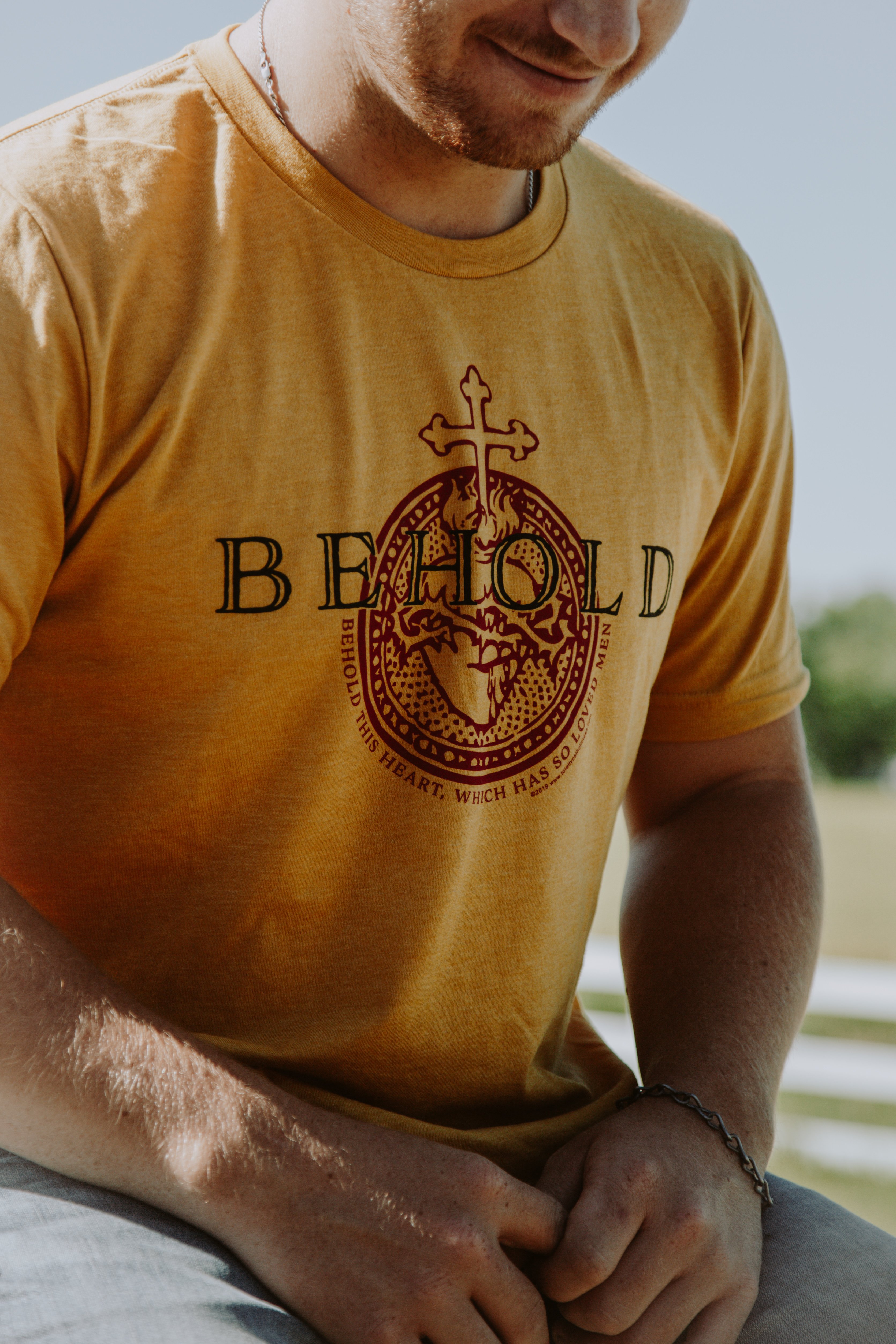 Catholic Mom Review: This t-shirt is bold and creative. It's color is warm and rich with mustard and crimson Earth tones. The t-shirt is soft and comfortable. The design is a statement of faith. As Christians, when we wear what we believe, we seek to cultivate those beliefs within ourselves. Sometimes a t-shirt is all it takes to begin a conversation as to how Jesus has worked in your life. My husband is a quiet man but will never turn away the invitation to share his faith journey. He enjoys wearing t-shirts that invite a conversation.
Coupon Code: The biggest sale of the season is November 26 - November 29. Save 30% off all apparel with the code ADVENT21. If you miss that sale, the Last Chance Christmas Sale will be from December 3 - December 13: 15% off storewide with the code CHRISTMAS21.
Ordering Deadline: December 12. Everything will be shipped for the Christmas deadline on December 13.
Social Media:

Website: TotallyCatholicTees.com/
Facebook: @TotallyCatholicTees
Instagram: @totallycatholictees
Rugged Rosaries was the first to bring paracord rosaries and WWI replica rosaries to the Catholic market. We are now in our 10th year of making rosaries. We still make the rosaries by hand in our own studio in Houston, Texas every day. The Original Paracord Rosary collection is a customer favorite year after year. The Gentleman's Heavy Duty Rosary has gunmetal alloy beads and a lovely symbolic crucifix that includes "relic" soil from the catacombs of Christian martyrs in Rome. The paracord rosaries are especially loved by men because of their masculine look and larger size. They are very strong and unbreakable.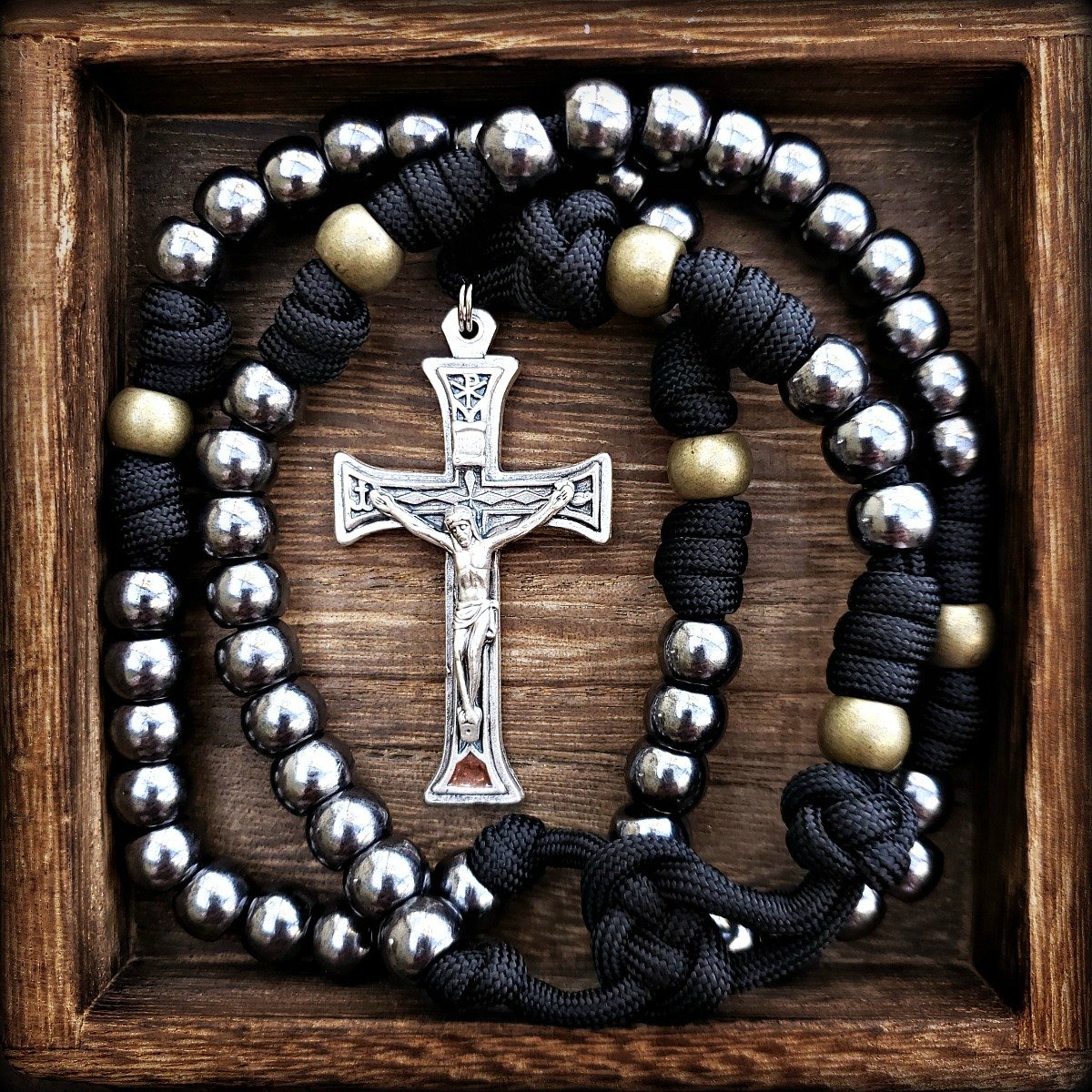 Catholic Mom review: Rugged Rosaries are unique in that they are handcrafted, very masculine in their design and also hold such beauty in their simplicity. Whether carried in a pocket, a laptop bag or in a coat, these sturdy rosaries will not break. These would make a great gift for a nephew, grandson or husband.
Coupon Code: Save 10% off your order with code SERVED10 at checkout.
Order Deadline: We recommend ordering by Dec. 15 but some of our items will very likely sell out prior to that.
Social Media:
Website: RuggedRosaries.com
Facebook: @ruggedrosaries
Instagram:@ruggedrosaries/
There are a lot of Christmas socks out there. None will be as authentically Catholic as these St. Nick Socks! Let your socks start conversations about the true story of jolly 'ole St. Nick. Can you think of a better gift to give on December 6th than to fill those shoes with this saintly touch? These socks are sure to be a conversation starter and evangelization opportunity.
Catholic Mom Review: These socks are so much fun! Pick a saint, any saint and Sock Religious probably has them upon a pair of socks. They make great family gifts, wedding party gifts, stocking stuffers, gifts for religious, and hospitality gifts. With a focus on creating an environment for evangelization, these socks open up the door for lots of fun discussion.
Coupon Code: Use code CATHMOM10 for 10% off all products, from today until January 1, 2022.
Order Deadline: December 15 is the last day to order to guarantee delivery by Christmas.
Social Media:
Website: SockReligious.com
Facebook: @sockreligious
Instagram: @sockreligious
Leanne Bowen is a Catholic mom and watercolor artist with a desire to make the merciful heart of Jesus known. This year, her Christmas line is designed to provide unique Catholic gifts for everyone on your list. This picture featured, "Under Mary's Mantle" comes in a greeting card, candle, and a variety of print sizes! Also choose between radiant gold and silver milagro ornaments, packs of Christmas cards, hand poured 100% soy candles, and Catholic prints.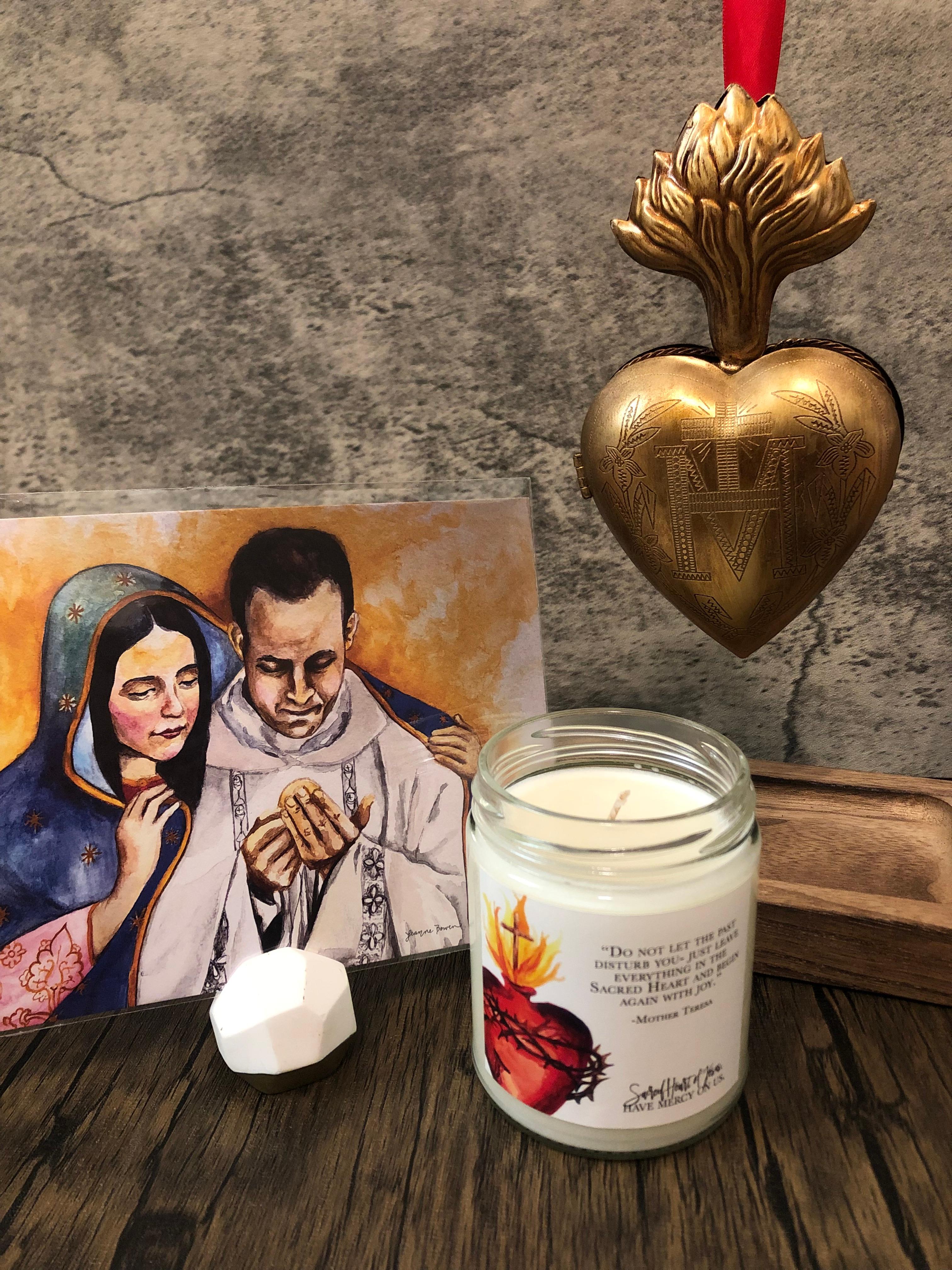 Catholic Mom Review: Leanne Bowen has such an incredible gift to capture the intimacy and love of Mother Mary. I chose this particular work to share as it will be our Christmas gift to the priests in our family's life. I love the rich royal colors Leanne uses. Mama's Mary's mantle wrapped so lovingly around the arms of her priestly sun, a son who has chosen a life of service and love. She shows her motherly support and love so tenderly in this painting. What a beautiful reminder to lift up and encourage our priests.
Coupon Code: Use code CATHOLICMOM20 for 20% off sitewide on all individual items.
Ordering Deadline: Order as early as possible due to projected shipping delays.
Social Media:
Website: LeanneBowen.com
Instagram: @leannesbowen
Facebook: @leanne.bowenart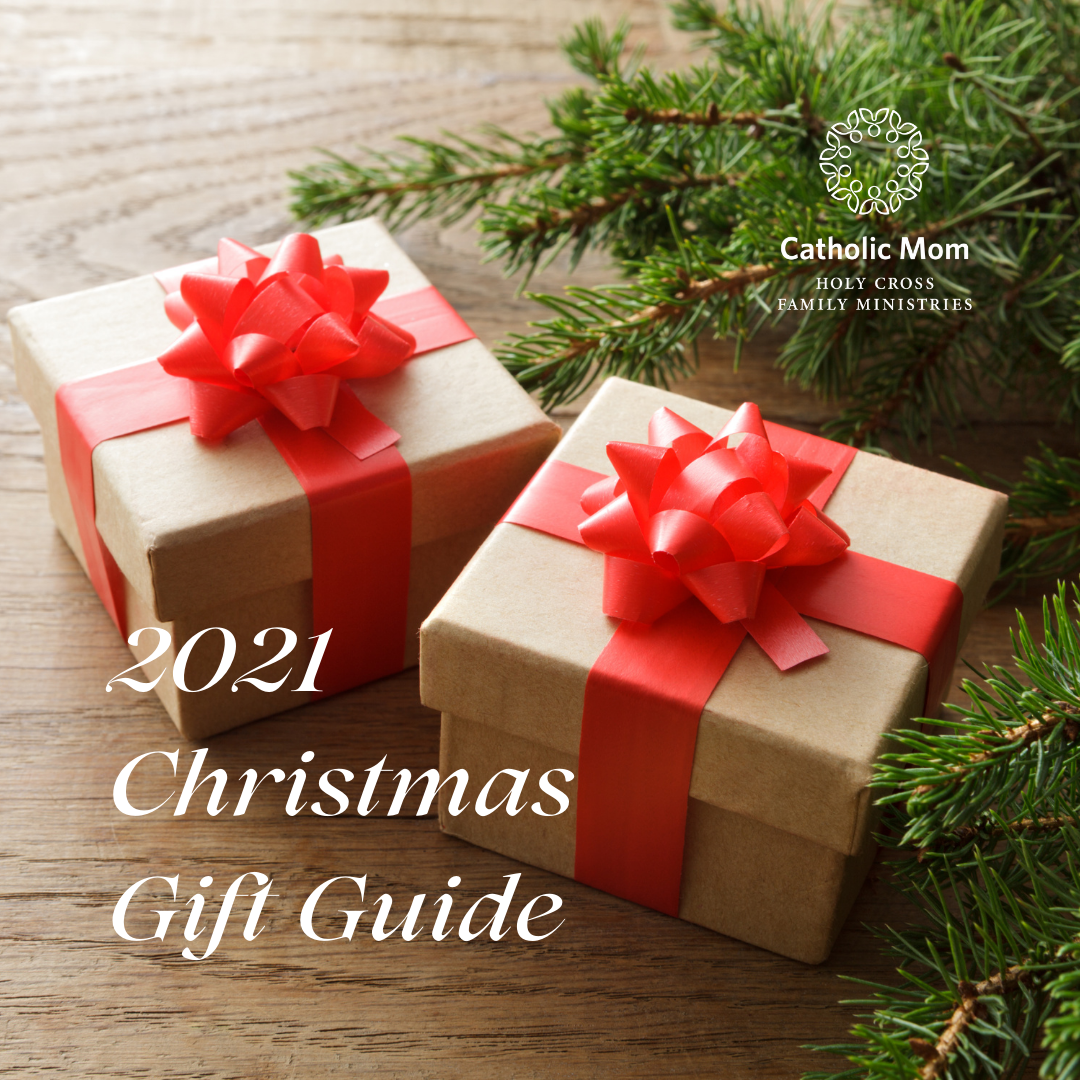 ---
Copyright 2021 MaryBeth Eberhard
Images: Canva Pro; product images provided by individual vendors and are used with permission
Information provided here is accurate at time of publication. Vendors may change the terms of coupon codes and other offers at any time.
About the Author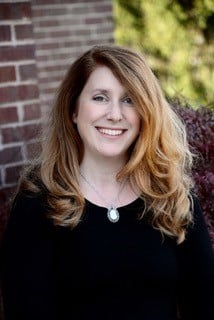 MaryBeth Eberhard spends most of her time laughing as she and her husband parent and school their eight children. She has both a biological son and an adopted daughter who have a rare neuromuscular condition called arthrogryposis and writes frequently about the life experiences of a large family and special needs. Read more of her work at MaryBethEberhard.com.