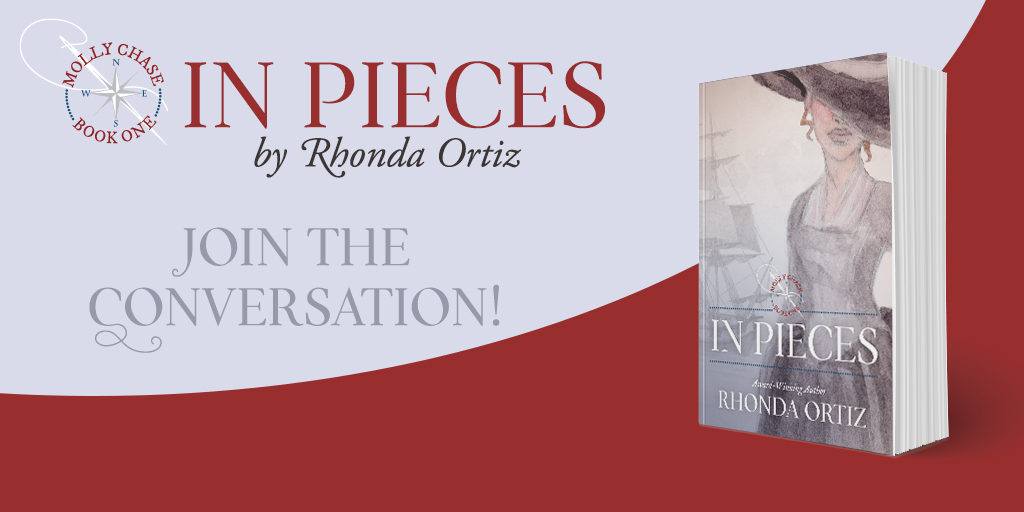 Announcing Catholic Mom's next Book Club selection: In Pieces, a historical novel by Rhonda Ortiz, published by Chrism Press.
---
In this richly detailed post-Revolutionary War love story, Rhonda Ortiz transports the reader to 18th-century Boston. Molly Chase, the beautiful and talented only child of a prominent Boston fabric merchant, suffers nightmares and other mental-health challenges after discovering her father's body following his suicide. Her family's former servant, Mrs. Robb, takes her in, but the church ladies find much to gossip about when Mrs. Robb's young son, Josiah, who's as close to Molly as a brother, returns to the city from a long sailing journey. And they won't let up, although Josiah isn't even staying in the house.
With no parents, no husband, and no means of support, Molly decides to turn her hobby into a (literal) cottage industry using fabric from her father's warehouse to start her own business as a dressmaker. Mrs. Robb's small home, owned by her son, suddenly houses Molly, Mrs. Robb, Josiah's sister Deborah, and enough cloth to dress half the fashionable young women in Boston. And those young women make fascinating characters in their own right, as does Mrs. Robb.
Readers will cheer for the strong female characters and the smitten, determined hero who battle rigid social expectations and a villain you'll love to hate. An "oh, no, he didn't!" King David-style conflict, a Custom-House mystery, some PTSD, and even a little espionage make In Pieces a novel you won't be able to put down. There's even a cameo by Alexander Hamilton!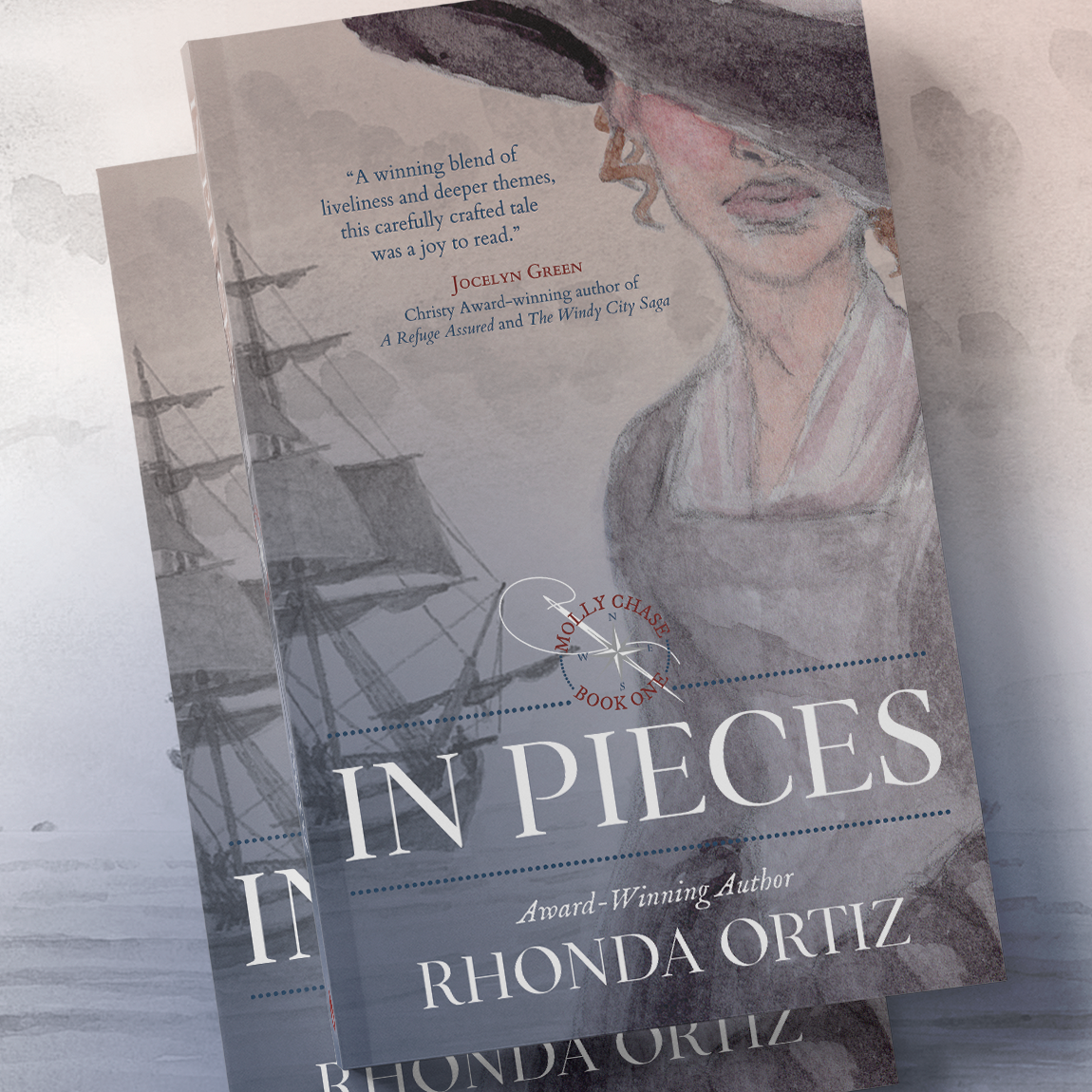 Chrism Press, the publisher, is offering Catholic Mom readers two ways to save on our Book Club selection:
Save 10% off In Pieces with coupon code CMBCIP10 when you purchase the book or ebook from Chrism Press
Save 20% off when your purchase the book or ebook of both In Pieces and Adrift, book 2 in the series, with coupon code CMBCIPA20
These coupon codes expire October 25, 2023.
Here's how the Book Club works:
We'll have four live Book Club video presentations, simultaneously on Facebook Live and YouTube, that you can tune in to (or watch later) to participate. These will be on Thursdays at 7 PM Eastern—we're skipping October 5. Mark your calendar for these dates, and be sure to follow us on Facebook and YouTube:
September 14
September 21
September 28
October 12
On the Saturdays following the Book Club live presentations, we'll share the video here on the Catholic Mom website. You can even sign up for Book Club emails that bring you right to the videos every Saturday.
There's no charge to participate, though we do encourage you to read the book in order to have the best experience. Why not invite a friend to watch together?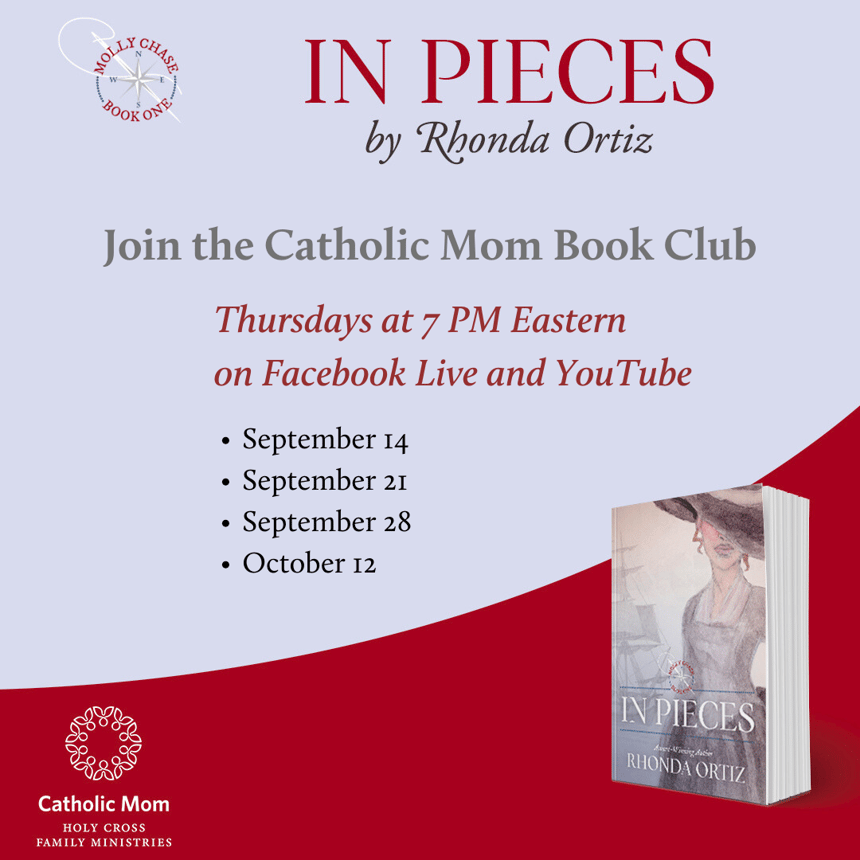 Click to tweet:
Let's talk fiction with @WritingRhonda and @Chrism_Press: Fall #BookClub #CatholicMom
Bonus Links
Visit Rhonda's website: RhondaOrtiz.com
Follow Rhonda Ortiz on Facebook: @WritingRhonda
Follow Rhonda Ortiz on Instagram: @WritingRhonda
Follow Rhonda Ortiz on Twitter: @WritingRhonda
Visit the Chrism Press website: ChrismPress.com
Follow Chrism Press on Facebook: @ReadChrismPress
Follow Chrism Press on Instagram: @ChrismPress
Follow Chrism Press on Twitter: @Chrism_Press
About Chrism Press:
Chrism Press is an imprint of WhiteFire Publishing dedicated to stories informed by Catholic and Orthodox Christianity that may not be able to find a home in either mainstream secular or Christian (Evangelical) presses. These two ancient faiths share a sacramental and incarnational vision that illuminates the imagination, as well as a centuries-old literary tradition spanning from Dante to Dostoevsky and beyond.
Whether Christian themes are presented overtly, subtly, or symbolically, Chrism Press seeks Spirit-filled fiction in all genres. We are not afraid of darkness; we enjoy the strange and the weird, as well as humor, romance, adventure, and fun. We strongly believe that fiction should never be boring. We invite readers to "Anoint Your Imagination" with a wide array of stories that enlighten while they entertain.
Stay connected!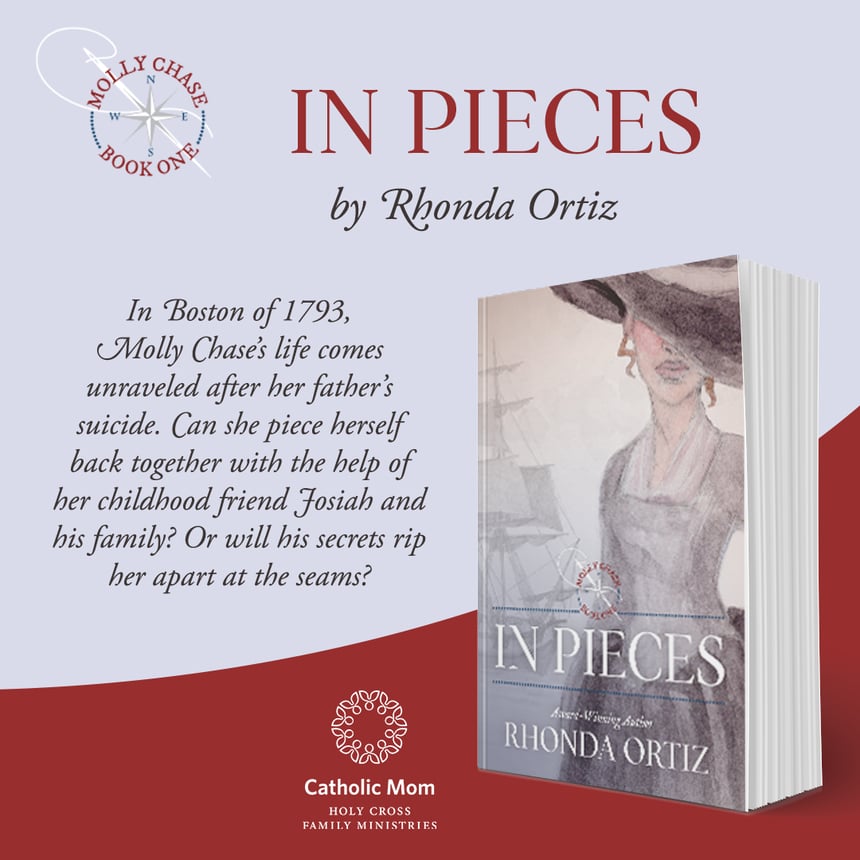 ---
Copyright 2023 Barb Szyszkiewicz
Images copyright 2023 Chrism Press, all rights reserved.
About the Author