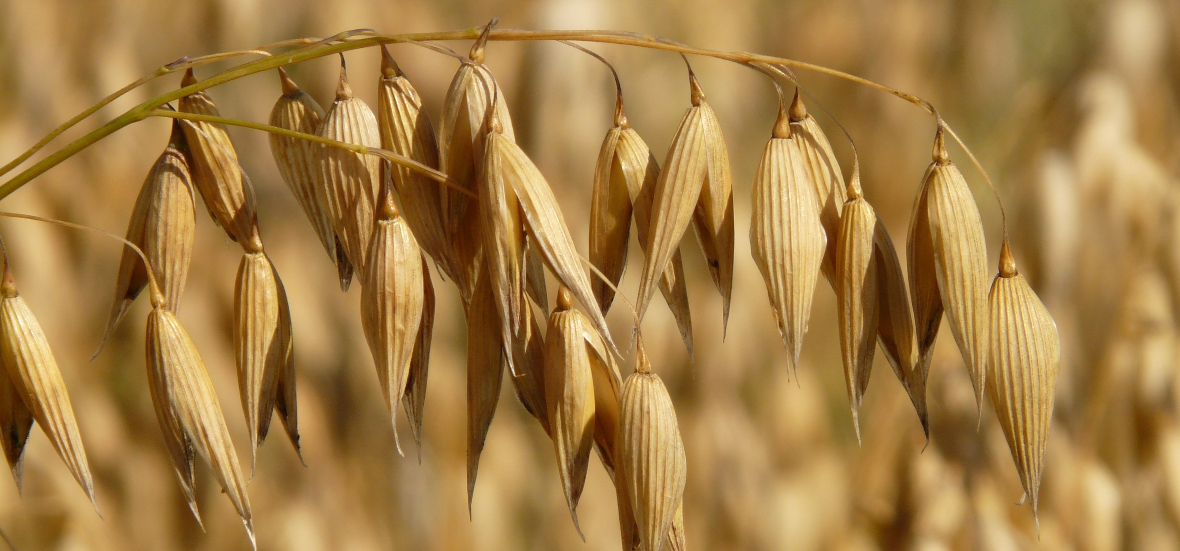 Margaret Rose Realy, Obl. OSB, introduces an Irish saint whose miracles provided food for many in a time of famine.
Saint Ciaran of Clonmacnoise, an Irish abbot whose feast day is September 9, is also known as Saint Kieran the Younger. Considered one of the Apostles of Ireland, many miracles were attributed to him, and early-on in his monastic life!
In the Northern hemisphere the gold season of harvesting oats and wheat is often completed before his feast day. Here is just one of many recorded miracles performed by him that is associated with the harvesting of grains, one being that of the holy oats.
Ireland has seen its share of famines, and one recorded in the Gaelic Irish annals took place from 536 to 539 when unusually cold temperatures caused widespread crop failures. One day Ciaran was carrying a small sack of recently harvested oats to be milled in order to provide a little food for the monks. He prayed in gratitude for the oats that managed to grow when the fine wheat for bread had failed.
As he prayed and sang the Psalms, the single sack of oats became much heavier and was miraculously transformed into the equivalent of four sacks of purest wheat. After the wheat was milled, Ciaran returned home and baked many loaves of bread with this holy flour. The older monks said the bread was the best they had ever tasted. These loaves not only satisfied their hunger but also were said to heal every sick person in the monastery who ate them.
Another agricultural miracle, and possibly his first, occurred while he traveled to Clonard monastery. He asked his family for a cow to take with him as a gift to the monks, but they refused. At this he went to the herd he had tended to for so long and blessed it. As he departed for the monastery, a cow and her calf followed not far behind.
When he discovered his bovine companions, he was delighted at the cow's loyalty but dismayed that two animals had left his family's herd. While offering a prayer for the cow's safe return home, he drew a line in the ground instructing the cow that she should travel no farther. The cow refused to cross the line and turned back, but the calf continued her pursuit of Ciaran.
This calf, when mature, miraculously provided enough milk for all of the monastery and its guests.[1]
CLICK TO TWEET
An Irish saint whose miracles provided food for many in a time of famine. #catholicmom
[1]

Margaret Rose Realy, A Catholic Gardener's Spiritual Almanac: Cultivating Your Faith throughout the Year (Notre Dame: Ave Maria Press, 2015), 184-185.
---
Copyright 2020 Margaret Rose Realy, Obl. OSB
Image: Pexels (2016)
About the Author