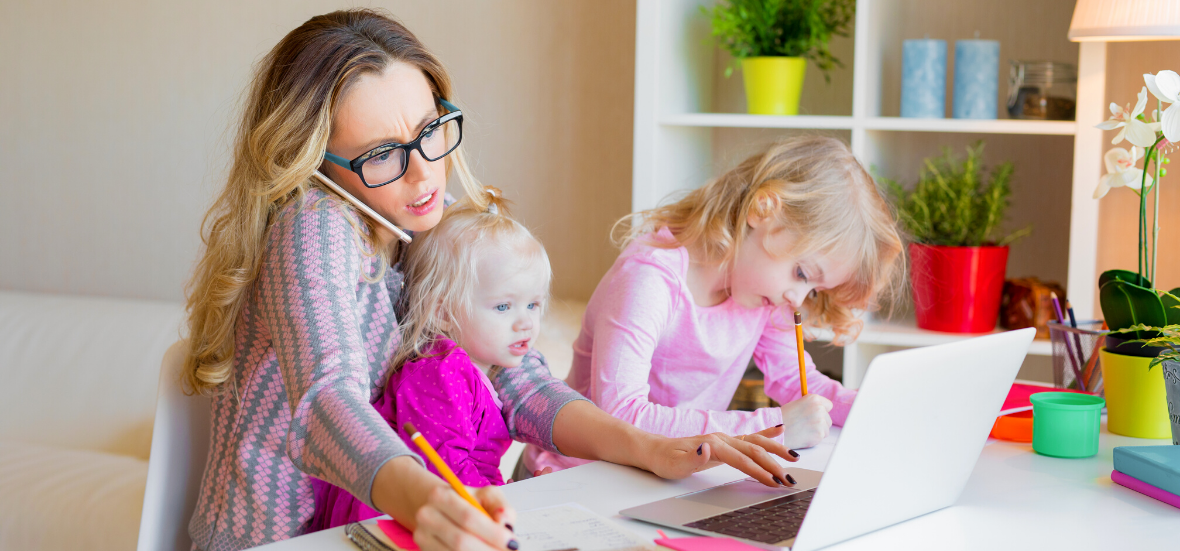 Allison Gingras shares survival strategies for work-at-home moms whose children are studying at home during the pandemic.
While working from home with a school-aged child has been relatively easy for me, it has not been without a few hiccups. In fact, enough of them to bring me to discuss this topic with the Catholic Mom Community. Not so much a misery wanting company situation, but more like a momma wishing to have some extra strategies as these days progress. I assume, too, I am not the only one looking for that kind of support.
My daughter is fourteen; however, she's only in the 7th grade due to some learning delays. We adopted Faith, who is deaf, from China at four years old; the foster home had not provided her an opportunity to learn to communicate. This sweet child has come leaps and bounds, though we know she'll always face communication and comprehension difficulties. Faith attends a fantastic private school for the Deaf and Hard of Hearing, and they've done an outstanding job throughout the pandemic providing excellent educational opportunities to their students.
Thankfully, the school's great, but I still share the challenges of being a working mom with a remote learner in my midst. Luckily, as a Catholic social media consultant and author, I work from home already. My office is in the living room since I offered up my bedroom last year to give my college-age son more privacy for his studies. Thankfully, he chose a remote program before it became a thing. This 'open-air' office space worked out just fine when Faithy attended school for ten hours a day, offering me ample time for quiet writing time, podcasting silence, and online meetings. It is a little more problematic now that she's with me 24/7 and seems to need assistance at the most inopportune times.
If you listen to the Catholic Momcast, you'll see how difficult this situation can be. In a recent episode, my co-host Danielle Bean asked me a question -- ironically, about work -- and I entirely blanked on my reply. Nothing, nada, came to me, because two seconds earlier, my sweet daughter, not realizing the situation, began to sign to me from across the room. Luckily, we were not live on-air, and Danielle is an incredibly understanding co-host (and mom of 8, so she gets interruptions).
Sure, there will be obstacles to overcome and interruptions to forbear, but how do we better prepare to juggle our work and our family, as if that wasn't hard enough before they set up camp with us during our office hours? Just a few simple things I try to implement (especially after today):
Set up two school areas: one where you can supervise, and one where they can work independently. They need the quiet to focus as much as we do!
Arrange meetings around school hours when possible. I also try to tag-team with my husband, who is presently alternating work weeks between home and office.
Remind myself this is not forever. Even if the pandemic continues beyond 2020, eventually, she will graduate and/or I will retire.
Keep a sense of humor; we are truly in this together!
Pray. Simple, yet, the one thing I always forget to add to my plans. Not only are we in this together, but we are not alone, the One that promises never to forsake or abandon us, sees the difficulties and hears our sighs, and has the grace in abundance to get us through!
How do we better prepare to juggle our work and our family, now that they've set up camp with us during our office hours? #catholicmom
---
Copyright 2020 Allison Gingras
Image created by the author in Canva.com
About the Author