Receive Daily Gospel Reflections in your inbox
Today's Gospel: John 14:6-14 - Feast of Sts. Philip & James In today's Gospel, Jesus tells Philip, His disciple, "I am the way, the truth, and the life." Philip is struggling to understand Jesus. In speaking to Philip, Jesus also speaks to us. I sometimes feel like Philip. I want to believe. I want to understand, but just don't see what's right in front of my eyes (or in my heart.) Jesus is patient with Philip, reminding him that He is God, "I am in the Father, and the Father is in me." Like Philip, I sometimes need Jesus to shake me up a little bit and say "Look! Here I am!" Jesus has laid out the path to our salvation. We need to follow Him. I find that encouragement in this Gospel reading. If one of Christ's own disciples needed to be shown the way, I can find the courage to follow – even when I don't quite understand everything in front of me.
Ponder:
Do you sometimes feel overwhelmed or insecure about your faith? Remember Christ's words: "I am the way."
Pray:
Lord Jesus Christ, please give me the grace of a deeper faith.
---
Copyright 2018 Maria Morera Johnson Receive CatholicMom.com newsletters in your inbox, including the Daily Gospel Reflection each morning!

*

indicates required
About the Author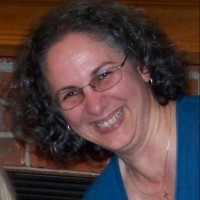 Maria Morera Johnson, author of My Badass Book of Saints, Super Girls and Halo, and Our Lady of Charity: How a Cuban Devotion to Mary Helped Me Grow in Faith and Love writes about all the things that she loves. A cradle Catholic, she struggles with living in the world but not being of it, and blogs about those successes and failures, too.