Receive Daily Gospel Reflections in your inbox
Today's Gospel: Matthew 10:24-33 On a daily basis, our routine can seem somewhat mundane. We need to get ourselves out of bed (not always an easy task, especially in the winter), dressed and ready for the day, off to our jobs and/or take care of our little ones, prepare meals, straighten our homes, and tackle other tasks requiring our attention. None of this may be particularly exciting, but it is what God is calling us to do with great love. In the midst of all of this, however, is the fact that we belong to someone else, and He loves us without measure. Our Father knows even what the sparrows are doing, and has counted every hair on our heads. He is always watching over us, and loving us. Even going about ordinary tasks, our lives are extraordinary because the Creator of the universe made us who we are. Some days, however, our lives may not be so mundane. Those days may be filled with anxiety and fear because of serious medical or emotional concerns. We do not need to be afraid of what we may face on a given day, though, when our heavenly Father is right there beside us. We should take courage in our faith in the face of what is before us. "Nothing is concealed that will not be revealed, nor secret that will not be known." God has our back, always. I am a person prone to anxiety, and I need to remind myself of this often. We can keep our chins up, because God is always there.
Ponder:
In what small ways can I see God working in my life on a day-to-day basis?
Pray:
Lord, I know that You are there even though I cannot see You with my eyes. Help me to trust You more as I move through my day.
---
Copyright 2018 Tiffany Walsh Receive CatholicMom.com newsletters in your inbox, including the Daily Gospel Reflection each morning!

*

indicates required
About the Author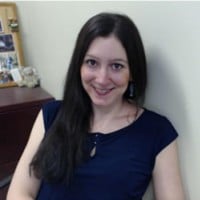 Tiffany Walsh is a wife and mother, a native western New Yorker, and a college librarian. She is a cradle Catholic who rekindled her childhood faith as a graduate student via her love of books, and is the author of Exploring the Catholic Classics, part of the Stay Connected Journals for Catholic Women series. She enjoys writing about faith, crafting, dance, fitness and wellness. Visit her blog at Life of a Catholic Librarian.