Receive Daily Gospel Reflections in your inbox
Today's Gospel: Luke 6:39-45 - 8th Sunday in Ordinary Time Jesus' words in today's Gospel could and should be written in every parenting book, ever! "No disciple is superior to the teacher, but when fully trained, every disciple will be like his teacher." What a beautiful perspective on what it means to raise children. In many ways, our culture is encouraging parents to treat their children as equals before they are, as Jesus said, "fully trained." We are all children of God, and in that sense no matter whether we are 1 or 101 we are equal in God's family. However, within our families there is a certain hierarchy. As parents, we have been entrusted with our children's physical, emotional, spiritual and intellectual welfare. When our children were baptized, we one of the first questions we were asked was "You have asked to have your child baptized. In doing so you are accepting the responsibility of training him (her) in the practice of the faith. It will be your duty to bring him (her) up to keep God's commandments as Christ taught us, by loving God and our neighbor. Do you clearly understand what you are undertaking?" Our children require love, attention, and nurturing. They also require training, discipline, boundaries and a willingness to tackle the difficult questions together. When you stop to think about it, our children are like our disciples. They follow us around, asking us questions (lots of questions) and trying to become like us. They are the literal and proverbial fruit from the tree of our marriage. However, just as our children are our disciples, we must ensure that we remain disciples of Jesus. The more we seek to become like our teacher, the better our children can become like Him too.
Ponder:
How can I work this week to grow closer to my teacher, the Great Teacher, Jesus?
Pray:
Dear Lord, please inspire my heart to seek after You always. Help me to train my children to grow in their knowledge and love of You so that they also may seek to become like You.
---
Copyright 2019 Kate Taliaferro Receive CatholicMom.com newsletters in your inbox, including the Daily Gospel Reflection each morning!

*

indicates required
About the Author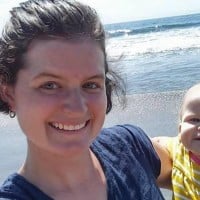 Kate Taliaferro is an Air Force wife and mom of 6. She has a Masters in Religious Education and tries to find God's presence in all parts of her day, be it cooking, cleaning or just the everyday ordinary. She enjoys homeschooling, stitching crafts and finding cheerios between the couch cushions. She blogs at Daily Graces.